Safer Streets by Design
As well as trying to change behaviours, we should also arrange our physical environment so the danger of collisions is reduced without sacrificing the pedestrian character of city streets.
By Ryan McGreal
Published August 30, 2006
On Thursday, August 24, 2006, 13-year-old Stephan Clarke was riding his bike down the sidewalk of Glow Avenue. He swerved onto the street to avoid a woman pushing a stroller toward him, jumping off the curb the way children always do. (Who am I kidding? I do it, too.)
Instead of cruising on asphalt, Stephan plowed into a pickup truck and died from the resulting head injury.
People are already discussing the fact that he wasn't wearing a helmet. Maybe that would have saved his life; maybe it would have rendered him comatose or vegetative. It certainly wouldn't have made things worse.
People are also discussing the fact that he was riding on the sidewalk and cut suddenly onto to the road. The first rule of safe cycling is to be visible and predictable so motorists can guess what you're going to do.
A common theme in these responses is that they approach this tragedy as a behaviour problem and focus on what the cyclist should have done.
The trouble is that it's difficult to change people's behaviour. We can make rules and run education campaigns, but change comes slowly, if at all. It's just too much fun to jump the curb; few children can resist the urge.
Instead of scolding his decision to ride on the sidewalk (in fact, children are allowed to ride on the sidewalk) or swerve between the sidewalk and the street, we can ask ourselves: why was it impossible for Stephan Clarke to find a safe place to ride his bicycle in the first place?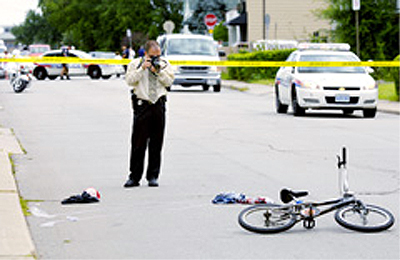 A police officer investigates the fatal cycling collision on Glow Avenue (Photo Credit: Barry Gray, Hamilton Spectator)
Let's regard it as an engineering problem rather than a behaviour problem. When engineers design systems, they try to make them foolproof, meaning safety is inherent to the system's design and does not depend on conforming behaviour.
Obviously, the goal of a completely foolproof street is elusive, but some simple changes would make the fateful street that took Stephan Clarke's life much safer.
Wider Sidewalks - Stephan had to swerve around the oncoming pedestrian because residential sidewalks are very narrow, often less than two metres. If the sidewalk was, say, three or four metres wide, Stephan might not have had to swerve onto the road to get out of the mother's way. The character of urban streets includes wide sidewalks because they allow a more diverse set of people to share the space.

Lower Vehicle Speeds - Below 25 km/h, the fatality rate for vehicle collisions essentially drops to zero. At lower speeds, it's easier to avoid a collision by stopping, and when collisions do occur, they result in less serious injuries.

There are a number of ways to lower vehicle speeds. The most obvious, of course, is simply to lower the speed limit. However, this transforms the engineering problem back into a behavioural problem.

Better still, we can arrange the street so that drivers must go slowly. Glow Avenue, the street where Stephan was killed, is wide, straight, and unimpeded by parked cars or other obstacles. That means drivers can proceed rapidly between Parkdale Ave. and Woodward Ave. With narrower lanes, curbside parking, extended crosswalks, and other traffic calming measures, the realistic top driving speed would drop toward that crucial 25 km/h benchmark.

Bicycle Lanes - I'm not entirely convinced about bicycle lanes, since they create a non-intuitive arrangement at intersections (motor vehicles to the left may turn right across the path of cyclists proceeding straight through). However, a bike lane on Glow Avenue would have provided a margin of space between Stephan and the pickup truck, possibly saving his life.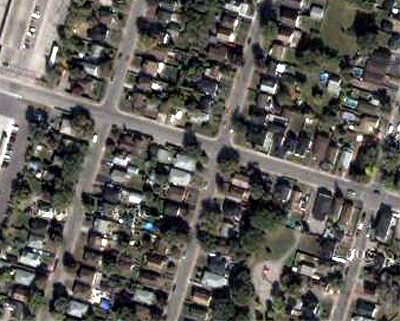 Glow Avenue (east-west) is wide, straight, and unimpeded (Photo Credit: Google Maps)
Our streets are already engineered. Traffic lights, turn lanes, one way streets, and so on, are all engineering attempts to maximize the flow of automotive traffic. Today, some consideration is given to non-vehicle safety, but it usually comes at the expense of freedom of movement, by restricting the times and places that pedestrians can move around so they don't get in the way of motor vehicles.
This is based on the false premise that streets exist mainly for automobiles, a premise that kills far too many pedestrians and cyclists each year. It's time we start engineering safety and mobility for all modes of traffic.
Post a Comment
You must be logged in to comment.