Partridge has Blocked at least 32 People on Twitter
The Waterdown Councillor told the Hamilton Spectator she has only blocked 'around ten' people.
By Ryan McGreal
Published November 16, 2018
This article has been updated.
In April 2017, Waterdown Councillor Judi Partridge blocked me on Twitter after I wrote an op-ed in the Hamilton Spectator fact-checking an op-ed she wrote that made several inaccurate claims about Hamilton's light rail transit (LRT) project.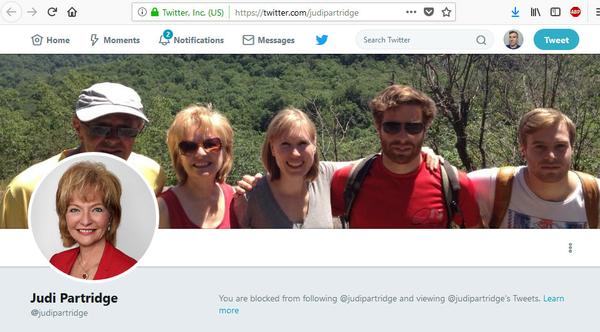 Screenshot from Twitter: Account blocked by Judi Partridge
To be clear, I never wrote anything that could be construed as insulting, abusive or harassing. I simply challenged her false claims and provided the correct information in response.
The issue of politicians blocking citizens on social media came up again this week after Ottawa Mayor Jim Watson settled a lawsuit with three constituents who sued him for blocking them on Twitter.
At the time, the mayor argued his Twitter account was "personal," and said he had "the right not to be attacked and harassed by the same individuals on a regular basis."

The mayor now concedes his Twitter account is public because he uses it "in the exercise of his day-to-day duties as Mayor of the City of Ottawa."
The Spectator ran an article on Wednesday that cited Partridge claiming, "she is currently only blocking about 10 out of 3,200 followers, typically for comments she sees as 'bullying' or 'untruthful' about her."
Naturally, Partridge's proclivity to wield the banhammer inspired a hashtag, #blockedbyjudi, and it quickly became clear that she has blocked more than ten accounts. I put out a call yesterday, and as of this morning, no less than 32 Twitter users have reported being blocked:
angleonfire63, @brookscappadoci, @brundle_fly, @craig_burley, @Crazy4Waldorf, @d3talk, @dogfacedon, @donhanzel, @ericgillis, @ian_reynolds, @jason77leach, @jddneary, @JoeyColeman, @karl_andrus, @LeachKathleen, @MargZelle, @mattjelly, @mikesmoniz, @mobinfiltrator, @ntomkin, @MzPJ, @PaulMason2, @PaulSeczek, @PippenandFiona, @raisethehammer, @Rolfe_, @RyanMcGreal, @Stratscat, @the_lissa, @Ward10Viv, Ward2ForAll, and @whytock79.
Needless to say, this is not a list of abusive trolls. Several of the people don't even know why they were blocked, reporting that they haven't even had any interactions with Partridge. Others were blocked merely for asking questions.
It's entirely possible that Partridge does not know how many people she has blocked and just made a guess at ten. However, the recent court settlement in Ottawa should give pause to any politician reaching for the block feature as a way to silence mere disagreement.
A year ago, Maureen Wilson wrote an article that argued politicians blocking people on social media amounts to censorship:
Access to Information is the key to freedom, which makes it the key to democracy. A civil society and a healthy community depend on our ability to talk with each other, civilly, so that we can find the grounds of shared values while learning to respect the points of difference.

To this point, Hamilton City Councillors Judi Partridge (Waterdown) and Terry Whitehead (West Mountain) have made liberal use of blocking to prevent constituents from accessing their publicly-funded social media platforms.

Moreover, Councillor Whitehead has moved to strike much of his archive of twitter posts, a great many of them combative and controversial, from the public record. Also erased from his publicly-funded account is a pattern of insulting constituents, many of who have challenged his fact claims.

All this happened without the bat of an eye from our Integrity Commissioner, the Head of Council or the Councillors' elected colleagues.
Wilson is, of course, the Ward 1 Councillor-elect and will take office in just a couple of weeks. It will be interesting to see if she proposes a motion to establish some rules around how councillors use social media.
---
Update on 2012-11-19: Added @ntomkin and @Ward2ForAll to the list.
Post a Comment
You must be logged in to comment.