Sgro Joined by Bratina, Skelly in Anti-LRT Conference Call
Character matters. Any mayoral candidate who embraces the backing of such unprincipled, obstructionist, visionless politicians should be viewed with concern.
By Ryan McGreal
Published October 04, 2018
Mayoral candidate Vito Sgro has defined his entire campaign by disingenuous opposition to the city's Light Rail Transit (LRT) plan, so it should not surprise anyone that he was joined in an invitation-only conference call last night by anti-LRT politicians Bob Bratina, Liberal MP for Hamilton East-Stoney Creek, and Donna Skelly, PC MPP for Flamborough-Waterdown.
CBC reporter Samantha Craggs live-tweeted the conference call and wrote an article on the event, and I encourage you to check out her reports.
Meanwhile, I'm more interested in the fact that Sgro brought Skelly and Bratina on board to support his "Stop the Train" campaign. Of course this is a free country and they're welcome to endorse whoever they want, but voters should carefully what it means that these are the politicians climbing under his tent.
Not a Champion
Bob Bratina was the belligerent, isolationist mayor of Hamilton from 2010 to 2014. He's best remembered for compromising on a new football stadium in the same location as the old one and for being censured by all of his colleagues over a ridiculous Council Code of Conduct violation.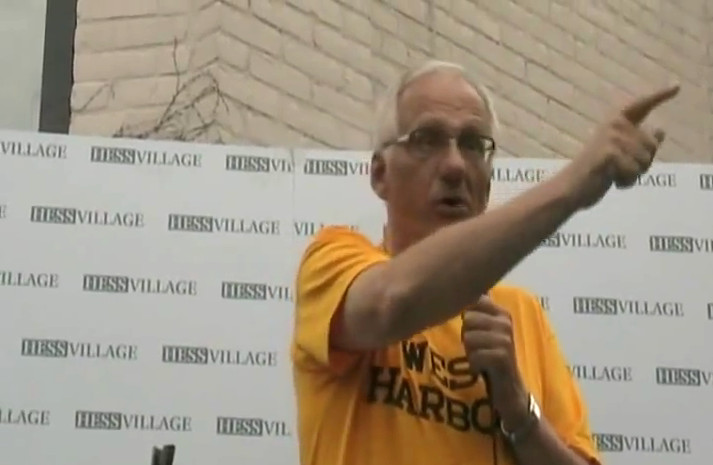 Bob Bratina wearing a West Harbour t-shirt at a rally in August 2010, before flip-flopping on the stadium location
He famously told radio host Bill Kelly, "I'm not a champion of very much in life," and this shows in a term almost entirely bereft of accomplishments. During his tenure, he introduced almost no motions, rarely participated in Council deliberations, and alienated every one of his colleagues.
Bratina ran for mayor in 2010 on an pro-LRT platform but flip-flopped not long after being elected, and spent most of his term trying to undermine and delay the project and attacking its supporters in the community.
He decided not to run for re-election, opting instead to represent the Federal Liberals in the 2015 election, where he was elected as part of the Liberal wave that gave Justin Trudeau's party a majority in the House of Commons. Despite his seniority and political experience, Bratina remains a backbencher in Prime Minister Trudeau's Liberal government.
Broken Promises
Donna Skelly was elected Councillor for Ward 7 by just 92 votes in a March 2016 by-election and served for a little over two years before jumping ship for the Ontario Legislature.
Skelly had run unsuccessfully for the PC party twice before, and during her municipal campaign, she promised that she was no longer a PC Party member and that her Council seat was "not a stepping stone." She also promised that she would honour Council's previous votes to implement LRT.
Despite her campaign pledge, she soon began working closely with the "No Hamilton LRT" group to undermine the project and spread misinformation about it. She even went so far as to crash public information meetings to attack the project while city staff were trying to answer questions from the public.
Skelly also distinguished herself by questioning the value of public libraries and suggesting putting bike racks on buses instead of building a protected bike lane on the escarpment access where Jay Keddy was killed riding home from work.
Less than a year and a half after taking her seat, she was abruptly acclaimed as the PC candidate for the Flamborough-Glanbrook riding by former PC leader Patrick Brown in a move that took the local riding association - and presumably her Ward 7 constituents - completely by surprise.
Obstructionist Outliers
Character matters. Any mayoral candidate who embraces the backing of such unprincipled, obstructionist, visionless politicians should be viewed with concern. But Sgro, a Liberal campaign strategist, actually helped organize Bratina's federal election campaign in 2015 after his mayoral term.
Sgro also helped organize the bizarre 2014 Provincial election campaigns of Liberal candidates Javid Mirza in Hamilton Mountain and Ivan Luksik in Hamilton East-Stoney Creek, who ran on an anti-LRT platform that ran against their own party's platform. (Both Mirza and Luksik lost to other pro-LRT candidates.)
Bratina is also an outlier when it comes to former municipal leaders and LRT. In June 2016, a distinguished group of former municipal mayors and regional chairs signed a joint letter urging Council to "re-affirm its commitment to continue working with Metrolinx" on the LRT plan when Council's fortitude was wavering.
The letter was signed by Anne Bain, Stoney Creek Mayor from 1997-2000; Terry Cooke, Hamilton-Wentworth Regional Chair from 1994-2000; Larry Di Ianni, Hamilton Mayor from 2003-2006; Don Granger, Flamborough Mayor from 1991-1994; Bob Morrow, Hamilton Mayor from 1982-2000; Bill Sears, Regional Chair from 1986-1988; and Bob Wade, Hamilton Mayor from 2000-2003.
Another joint bi-partisan letter of LRT support from June 2016 was signed by NDP MPs David Christopherson of Hamilton Centre and Scott Duvall of Hamilton Mountain, then-Liberal MPP Ted McMeekin of Ancaster-Dundas-Flamborough-Westdale and NDP MPPs Andrea Horwath of Hamilton Centre, Paul Miller of Hamilton East-Stoney Creek and Monique Taylor of Hamilton Mountain. (In the 2018 provincial election, McMeekin ran for re-election in the newly formed Hamilton West-Ancaster-Dundas riding and lost to NDP candidate Sandy Shaw.)
That letter noted the many benefits of LRT: new investments and jobs, economic uplift, rising property assessment, improved employment opportunities and better connection among Hamiltonians and reduced greenhouse gas emissions. "Our great city will, without doubt, become even greater."
And it came just a few days after another letter written by Hamilton West-Ancaster-Dundas MP Filomena Tassi, which celebrated Council's previous votes in support of LRT and called on Council to "move the dialogue forward with all three levels of government and provide Hamilton with the best decisions for future planning."
Post a Comment
You must be logged in to comment.