Downtown Update
Jason explores what's going up and what's going down through the core of the city.
By Jason Leach
Published August 30, 2006
Ballet at the Tivoli
It looks like the much-abused Tivoli Theatre will rise again. According to the Hamilton Spectator, the current owner has accepted an offer from Canadian Ballet Youth Ensemble. It should be finalized on September 7.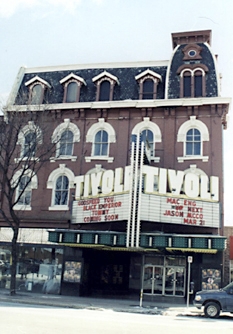 Tivoli Theatre before its front was torn down
More Construction
At the Spallacci block, the foundation hole has been dug, the area fenced off and the new Shoppers next door opened to the public. Construction has officially begun on the long-awaited eleven storey residential building in the heart of International Village.
Renovations continue on the entire building facing the Jarvis Square parking lot on King East. They are now advertising Jarvis Square Condominiums on the sign out front. Perhaps the parking lot will be replaced with a true "square" someday.
Volunteer Hamilton is soon moving to new space in the "big blue" building on King East. Art galleries and performance spaces will occupy the upper levels of this large complex.
Word is that demolition will begin in September on the block of buildings in the area of King William - Ferguson - Jarvis and the east-west alleyway at the south end of the site. Work will then begin on a new 15 storey condo building.
Construction has begun on the old Strathcona Ave firehall in preparation for a new five storey residential building on the site that will incorporate the historic firehall.
Construction has also begun on a new nine storey student residence complex at the old CNIB site on Main West. No design drawings have been made public to my knowledge.
Hey, Hey Hey, Goodbye
The chess tables are in place in Gore Park at King and Hughson. I strolled through one morning and saw a few office workers enjoying their coffee at the tables. Later in the day I saw what might be the first official game of chess taking place on the new tables.
In what I hope is an unrelated matter, the next morning I saw two cops dusting the phone booth nearby for fingerprints. Perhaps they were looking for the people who stole the Gore Park Music Festival and moved it into (as the lead man for the Nylons said, quite sarcastically and annoyed) "a parking lot in downtown Hamilton."
He followed up with this blast: "This is the only city left in Canada that still loves one-way streets." Ahh, nothing like showcasing the beauty of Gore Park with one of the most well known a capella groups in the world.
I'm sure they'd love to come back next year. Let's try the parking lot at Main and Hughson this time.
James North
Speaking of showcasing beauty, the folks at Fercan developments are finally starting to revive the old Eaton Centre. Hart Department Store opened recently and is a welcome addition to the downtown.
No more trekking to Eastgate or Burlington for those everyday household items that were becoming hard to find downtown since Eaton's left.
Also, a deli plans to open in one of the street-facing stores along James North. Hopefully now Fercan will follow through on their promise to flip around the James St walls of the place and create a nice, pedestrian environment with patios and store entrances.
New artist studios are available on James North, next door to the You Me Gallery just north of Barton. A sign in the window has all relevant info for those interested.
James North was recently featured in a flattering National Post article. Check it out if you haven't already seen it.
More Restaurants
T4U Tea House and Sushi Bar has been fabulously renovated and will soon open at John and Jackson.
Pho Bo Con is also doing a great reno job and progess is coming along quickly. It opens on August 15th at York and Queen.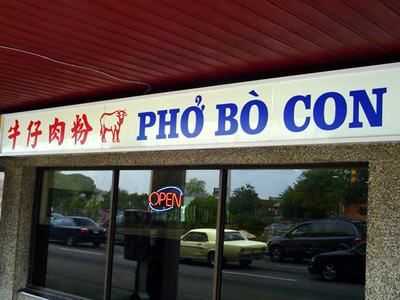 Pho Bo Con Restaurant
Blondie's Bistro and Music Lounge has opened on James North, next to Dunas Verde Café. A nice streetfront patio adorns this new space.
A new Japanese restaurant, Sapporo Japanese Restaurant, is opening in the old Akita Buffet space on Main East.
The renovations to the old Corktown Tavern are looking great. Slainte bought the establishment and plan on re-opening it as an Irish pub.
St Antonio's Italian restaurant is opening shortly on James South in the ground floor of the Chateau Royale condo tower. There will be a street patio as well.
Bread and Roses Café on King William is now open for business. The menu is fabulous with all products being organic, fair trade and locally grown. It is in the ground floor of the Sky Dragon Centre.
Pho Bo Con is now open at York and Queen, and yes, it's fabulous!
A new fruit, vegetable, and flower market has opened on the same block of James South at Augusta. It will be a much-welcome addition to this vibrant neighbourhood.
Bonus Feature
This is not really downtown, but in the vibrant Concession St neighbourhood overlooking the city, a new tower crane has been erected near Upper Wentworth on the Mountain brow for a new 11 storey condo. On recent walks through Bayfront Park, Sam Lawrence Park and along York Blvd, Pier 4 and 8 this crane was easily visible.
I haven't seen any design drawings for the new building, but given its prominent location and visibility I hope the design will be striking. The views from the building will be spectacular. Let's hope the views of the building will also be great.
Post a Comment
You must be logged in to comment.