People Keep Getting Crushed on Hamilton's Dangerous-By-Design Streets
Year after year after year, we fail to act on the urgent, pressing need to make our streets safer.
By Ryan McGreal
Published September 05, 2018
As the popular saying goes, the definition of insanity is doing the same thing over and over and expecting a different result.
Early this morning, a driver at King Street and Hess Street collided with a pedestrian and then fled the scene. The man who was struck has been rushed to hospital with critical injuries.
The collision backed up traffic, and Hamilton Police decided to allow drivers to use the Bay Street cycle track, which is not physically protected between King and York Boulevard. So vulnerable road users were put at additional risk from cars after a vulnerable road user was struck by a car.
Two and a half weeks ago, a block away from this morning's collision, a man riding his bike on Queen Street at King Street West was killed when the driver of a cement mixer turned right and collided into him.
Two weeks later, this past Monday, right next to the flowers that had been placed to commemorate the fatality, three cars were involved in a serious collision that left one car flipped upside-down and hurtled another car into a building.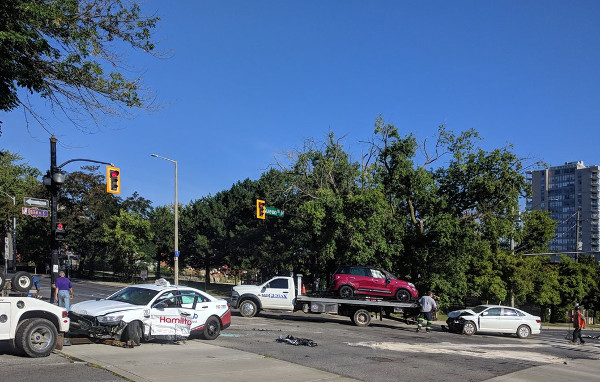 Multi-car collision on Monday, September 3, 2018
Meanwhile, last Friday, a car crashed into a motorcycle on Queenston Road at Nash Road when the car crossed the motorbike's path to turn into a shopping plaza. The motorcyclist was rushed to hospital with life-threatening injuries.
Also on Friday, an 18-wheel transport truck driving through the downtown core jumped the curb on Main Street between James Street and Hughson Street, taking out a utility poll and crashing into a building.
But somehow our multi-lane urban arterial thoroughfares are our "competitive advantage" and we can't do anything to make them safer or more inclusive. So Hamilton continues to look like the 1970s year after year, and pedestrians and cyclists continue to be at elevated risk of getting crushed by high speed automobiles.
The very definition of insanity.
The municipal election is on Monday, October 22. I wonder how many of us will do the same thing yet again on election day and expect a different result.
Post a Comment
You must be logged in to comment.