Making Your Municipal Vote Count
What will the effect on our quality of life in Hamilton over the years to come be if 66 percent of eligible voters don't vote in October?
By Nicole Smith
Published August 20, 2018
Hamilton Spectator reporter Matthew Van Dongen wrote a very informative article recently about "Hamilton Council's hidden attendance problem". In other words, most Councillors attend most compulsory Council meetings. (Whether or not they really attend all the committee meetings listed on their official page is another matter altogether, to explore another time.) However, as anyone who frequents City Hall meetings can attest, Councillors often leave meetings for stretches of time, sometimes shortly after the meeting begins, and at times do not return at all. As long as one of their votes is recorded, they are listed as present.
The article goes on to say that Mayor Fred Eisenberger emailed Council in May to chastise Councillors about the difficulty achieving and keeping quorum. Councillor Matthew Green pointed out, fairly in my opinion, that the Mayor's leadership by example would be a significant help, especially at times when numbers are low.
The article goes on to defend Councillors. "But also worth noting: just because you can't see a politician in Council chambers during a meeting doesn't necessarily mean they're not working. Councillors can listen to meetings from a private antechamber while grabbing lunch, responding to a constituent's emergency or studying reports."
Unfortunately, following a meeting while multi-tasking is not participating. The Councillor might be gaining a little information about what is going on, if the distractions are not too great. After all, we cannot really multitask - we only switchtask. But more importantly, if your Councillor is not in the chamber, she or he is not representing you there.
Responding to emergencies? That is the responsibility of Councillors' staff during the hours Councillors are working to represent their constituents.
Grabbing lunch? It makes a whole lot more sense for Council to have breaks at 1.5 hour intervals so people may together take a break and come back. There is a wide consensus that regular breaks are the key to high productivity. This basic change in the way that Council operates is necessary to implement as soon as possible.
Studying reports? Sorry, an important part of each Councillor's work is to spend non-meeting time doing the necessary preparation for those meetings. We wouldn't accept teachers walking out in the middle of a class because they had to catch up on educational reports, to give only one example of other work arenas where this is clearly not an option.
Of course there are legitimate reasons to miss meetings, such as medical emergencies and necessary competing meetings or events.
Campaigning for another political position, however, is not a legitimate reason. Former Councillor Donna Skelly left her ward in the lurch when she began campaigning, and five months went by before Council finally chose a former Councillor from twenty years ago. That is an unacceptable length of time for a ward to go without representation.
Also, Councillor Judi Partridge was temporarily unavailable until she saw the writing on the wall even before the June 7 election. I would provide a sample tweet but as is her habit toward a growing number of Hamilton residents, Councillor Partridge has blocked me from her Twitter feed.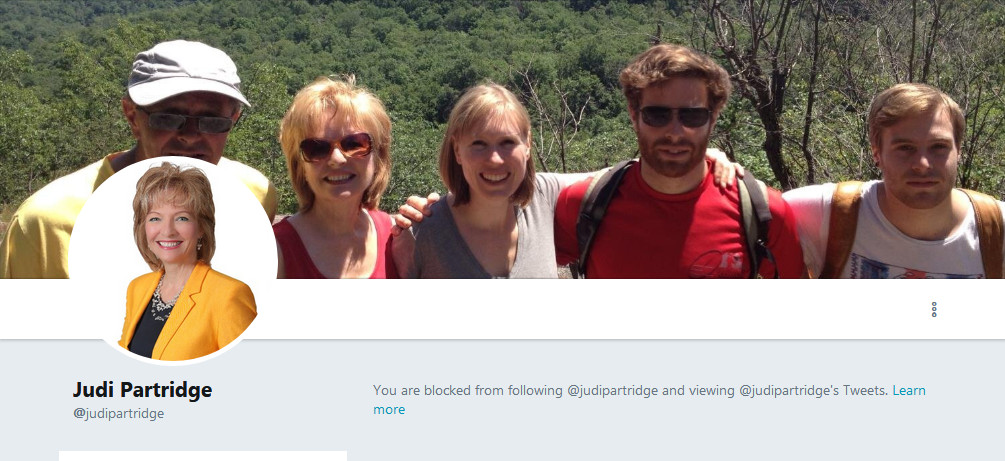 Screenshot: blocked by Judi Partridge on Twitter
A new feature is coming: Hamilton will follow Toronto, which "electronically tracks "recorded" Council votes - those specifically listing the names of Councillors for and against a motion - with a push-button electronic system. That allows a citizen to easily search a Councillor's voting record, download the results and compare attendance. Hamilton recently upgraded its Council chamber technology to allow this in theory, but so far, the feature is not in use."
When this feature is in use, I urge you to find out how well your Councillor currently represents you. Do not let your vote be in vain, either because it is in support of someone who has not been there in Council to represent your interests, or because you did not vote at all. Almost exactly one-third of eligible voters showed up at the 2014 municipal polls.
You may not think your vote matters. Consider this: non-voters handed the presidency to the current US President, and there were only 30 percent eligible to vote who didn't. What will the effect on our quality of life in Hamilton over the years to come be if 66 percent of eligible voters don't vote in October?
---
Editor's Note: Nicole Smith is a registered candidate for Ward 2 in the upcoming October 22, 2018 municipal election. You can see the official list of registered candidates on the City of Hamilton's Nominated Candidates for Mayor and Ward Councillor web page.
Raise the Hammer has a longstanding policy of not endorsing candidates, and this article should not be regarded as an editorial endorsement of the author. However, all candidates are welcome to submit articles for publication. We will accept any submission that does not violate our submission guidelines. Raise the Hammer is a free, volunteer-run publication that does not charge money for access to content and does not receive any revenue of any kind, including for commercial or political advertising.
You can find all of our municipal election coverage on our elections website.
Post a Comment
You must be logged in to comment.