Canada's Food Security is Vulnerable to American Political Chaos
The United States has an erratic, abusive President. Can anyone say with confidence that he would not threaten food exports to Canada in order to get his way?
By Karen Burson
Published June 20, 2018
Some of you know me from my community-based local food projects and advocacy work, so it shouldn't surprise you to hear that I sometimes look at things with a food-focused 'lens'. The disturbing changes happening in the United States will have an impact on our lives, for good or for ill, and whether we like it or not.
Last night, while considering the potential for change and/or chaos in our relationship with the US, I thought about one of the reasons why local food security is important for every community, region and province in Canada.
I remembered an important point made many years ago by Wayne Roberts, who used to manage the influential Toronto Food Policy Council.
Wayne would sometimes mention in his lectures that if the Canada-US border ever shut down for whatever reason, the dominant system of food distribution called "just-in-time" food delivery would leave most of Canada with only a three-day supply of fresh food. Just-in-time delivery has all-important cost-savings at its heart, but it is vulnerable to disruption.
Potential border-closing situations could occur due to things like a major disease outbreak - like SARS or bird flu - or a security situation - a terrorist threat or anything else that's real or, these days, imagined - like shoe smuggling.
I have no way of knowing, at this moment, whether that level of disruption in our food availability is still the case, but we do still rely on this system. But without better local food systems, we lack the resiliency that we would need to cope if there were ever a sustained lack of access to our usual source of imported produce, which has been California.
An increasing portion of growing for Canada is taking place in Mexico. This is generally a good thing, due to California's rapidly drying climate and growing regions threatened by global warming. However, most food is transported by truck, which means it must travel through the US to get here!
I don't think US President Donald Trump would hesitate to use this threat against us if it ever suited him politically to get his way on trade, or to protest our legalization of cannabis. Hey, he has surprised people a lot so far! I wouldn't put this kind of hard-ball past him - would you?
Our agricultural trade relationship is one of our most important. I think most Canadians would be shocked that, even with vast parts of our country being dedicated to being one of the world's chief suppliers of wheat and other commodities, the fact is that we import more of the food that we depend on than we export to other countries.
All of this is to say: new Ontario Premier-designate Doug Ford had better keep his hands off Ontario's Local Food Act! This important, multi-faceted legislation aims to protect and improve our food security while building resiliency to shocks that could interrupt our access to affordable healthy food.
It supports programs that give low-income earners better access to fresh, healthy food by giving tax breaks to producers who donate to recognized community food access programs. It is an attempt to keep our family farms functioning and incomes adequate. It tries to support agri-business by strengthening our food exports, too.
We know conservative politicians love driving us backwards. My hope is that our new premier knows enough to keep us moving in the right direction: keeping Ontario and its residents' food secure, both now and in the future.
With suburban sprawl being one of the threats to the preservation of agricultural lands for the growth of food for humans, Ford's lack of respect for Ontario's Greenbelt is of concern to me.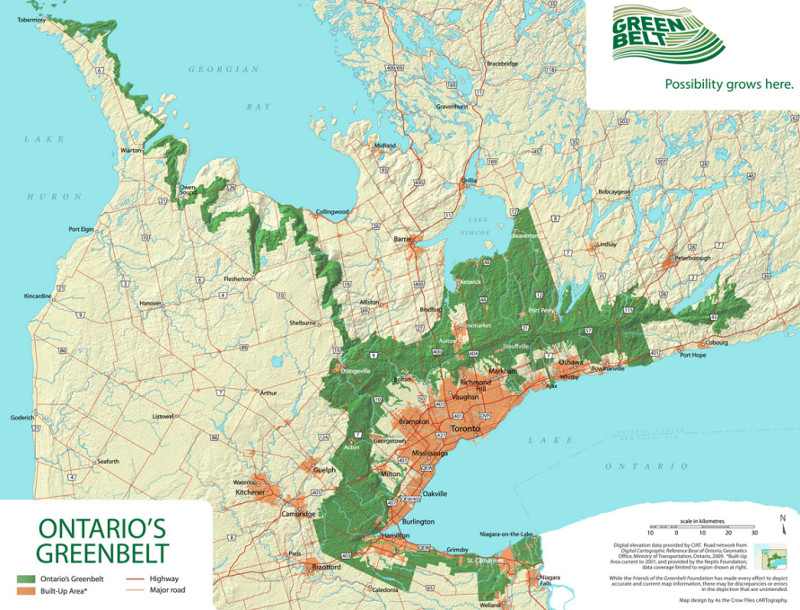 Ontario Greenbelt map (Image Credit: Friends of the Greenbelt Foundation)
But the countryside isn't the only place where local food can be grown. Many people are beginning to realize that urban agriculture can also be one of the ways that we can strengthen and protect Ontario's local food supply. Here's Wayne Roberts on this, one of his favourite subjects for research and writing:
[T]o this day, a narrow and absolutist mindset straitjackets our thinking about food policy in cities.

To wit, the way cities agonize over a policy (note the singular) for urban agriculture (note the singular), rather than a suite of policies (note the plural) to help as many who are interested, for whatever reasons (note the plural), be they love or money, to eat foods (note the plural) they have grown or raised or foraged in varieties (note the plural) of spaces (note the plural) - from front yards, to back yards, to green roofs, to green walls, to balconies, to windowsills, to allotment gardens, to community gardens, to beehives, to butterfly gardens, to teaching and therapeutic gardens, to edible landscaping, to soil-based, hydroponic and aquaponic greenhouses, to vacant lots, to public orchards, to community composting centers, to grey water recycling for lawns and gardens, to formally-sited farms and meadows.
Sometimes it feels like what is happening in America is "their" problem. As Canadians, we know better. We've been sleeping next to this elephant long enough to know that what happens there has a profound effect on what happens here, whether directly through trade policy or indirectly through cultural influences. Our food systems are intertwined.
We know that Trump likes walls. He no doubt favours fences, too. For that reason, we need to tend to our own backyard with the kind of focus and resources that we could never have imagined before someone like Donald Trump set himself up in the White House.
Post a Comment
You must be logged in to comment.