Metamorphosis: Climate Change Documentary Chronicles Ingenuity and Hope
From the deep ecological connection humans share, a radical form of optimism emerges. These stories of creative, flexible, versatile and systemic solutions offer hope of a livable future.
By Doreen Nicoll
Published June 04, 2018
Who knew the fallout from climate change and environmental devastation would include beauty, creativity, sustainable ingenuity, uncomplicated survival and hope? Viewers of Metamorphosis, the 2018 documentary by Nova Ami and Velcrow Ripper, will.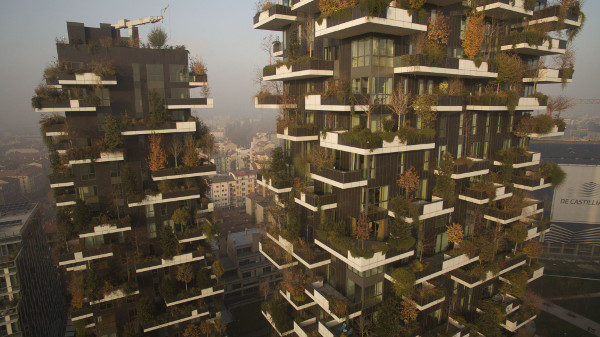 Metamorphosis
With increasing frequency, forest fires consume entire communities, species become extinct, and ecosystems collapse. Unrestrained economic growth and unrestricted resource extraction continue destroying all life as we know it. Fortunately, Ami and Ripper discovered those experts with insight and transferable skills who are turning this crisis into awe-inspiring opportunities for sustainable transformations.
This minimalist film superbly documents how an insatiable appetite for economic growth has increasingly ravaged the natural world while simultaneously detailing the birth of a slower, more adaptive, environmentally workable way for humanity to evolve a new definition of civilization.
Shapeshifters, in the form of environmentalists, artists, children, landscape architects, farmers, economists, architects, poets, photographers, and green energy specialists, offer hope to biodiversity under siege and humans facing certain futurelessness.
Take Phoenix, Arizona, a virtual graveyard of unused swimming pools that are being repurposed into self-sustaining ecosystems capable of feeding the families living in this veritable food desert.
Northern Mexico is being invaded by Earthships. These self-sufficient homes fashioned from repurposed everyday recyclable materials reuse every drop of water several times over before eventually irrigating all of the food grown within these incredibly creative autonomous environments.
Meanwhile, architects in Milan, Italy have created a way to diminish impending environmental harm by designing urban towers covered with trees and bushes. These modern apartments effectively reduce carbon dioxide, produce oxygen, and bring new life to urban landscapes simply by integrating vertical forests.
Then there's the artist helping to replenish decimated coral reefs in the Caribbean. Over the past 50 years over 80 per cent of the natural coral reef in this region has been destroyed. Concrete cast in human forms construct the base for the regenesis of these reefs.
Not all changes are large scale. Teams of volunteers are installing free solar panels in underserved neighbourhoods in Los Angeles. This not only provides cleaner energy to individual families who would not be able to afford it, but positively impacts the entire global community as well.
From the deep ecological connection humans share, a radical form of optimism emerges. These stories of creative, flexible, versatile and systemic solutions offer hope of a livable future.
Metamorphosis cinematically delves into humanity's transformation to beautiful, sustainable ways of living in tune with nature while staving off the environmental crises we have created.
Metamorphosis (85 minutes), the Clique Pictures/Transparent Film/NFB co-production, opens across Canada in June:
June 1 (French-subtitled version) at Cinéma Le Clap, Quebec City and Cinéma du Parc, Montreal.

June 7 and June 8 at 9 p.m. at Hot Docs Ted Rogers Cinema, Toronto

June 8 Carlton Cinema, Toronto

June 20 Globe Cinema, Calgary

June 22 and June 23 at Metro Cinema, Edmonton

June 24 and 25 Cinecenta, Victoria

June 26-28 Vancity Theatre, Vancouver
Post a Comment
You must be logged in to comment.