Skelly Thanked for 'Shout Out' to Hate Website
City Councillor and PC candidate promoted 'Free Bird Media' during a speech at a campus conservative function.
By RTH Staff
Published May 29, 2018
According to Press Progress, Hamilton City Councillor and Progressive Conservative candidate Donna Skelly recently gave a "shout out" to an extremist right-wing website at a Christmas formal event for campus conservatives.
The event was organized by the McMaster University and Mohawk College Campus Conservative associations and featured several guest speakers, including Skelly and Alex Van Hamme of "Free Bird Media", a far-right website that has published content by notorious white supremacist Paul Fromm, anti-Semitic blogger James Sears, anti-Muslim blogger Kevin Johnston, and neo-Nazi supporter Faith Goldy.
Sears and Johnston have both been charged with hate crimes for their racist attacks. Goldy was fired by right-wing hate site Rebel Media last year after promoting white supremacists during the Charlottesville, Virginia race riot.
During Skelly's talk, she held up a red "Free Bird Media" ball cap styled after Donald Trump's "Make America Great Again" hats, prompting Free Bird Media correspondent Cosmin Dzsurdzsa to thank her in a Facebook post for the "shout out":

Facebook post by Cosmin Dzsurdzsa thanking Skelly for 'shout out'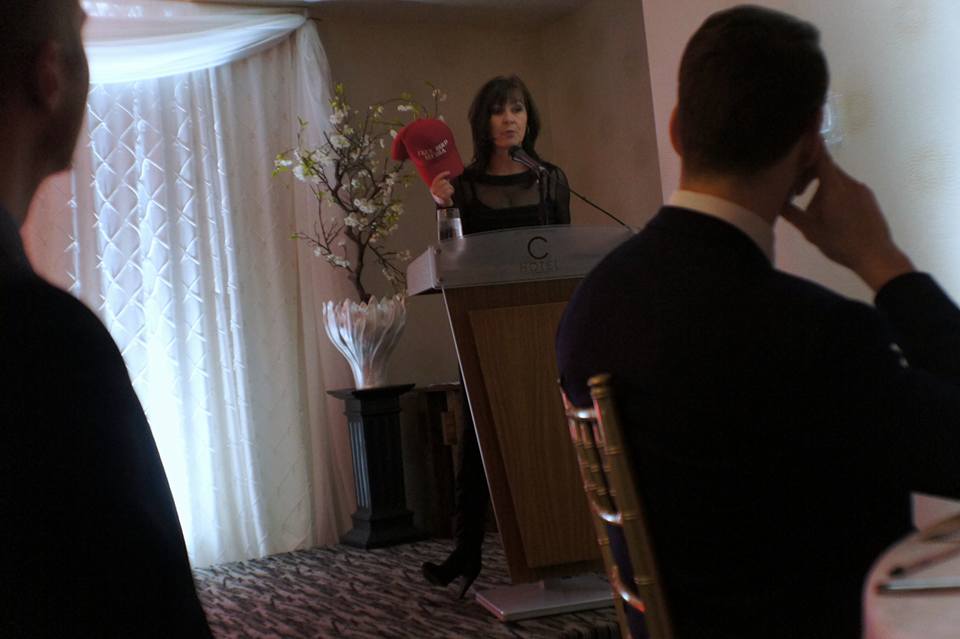 Skelly holding up the red 'Free Bird Media' ballcap (Image Credit: Facebook)
The McMaster Conservatives, one of the organizers of the Christmas function, asserted that Skelly is "a close friend of our President" in their post about a meet-and-greet held this past February 13.
Skelly is the PC candidate for Flamborough-Glanbrook and has been the Ward 7 Hamilton City Councillor since a March 2016 by-election.
Pattern of Extremist Pandering
Skelly is just the latest PC candidate discovered to be entangled with right-wing extremism. PC leader Doug Ford quickly removed Tanya Granic Allen as a candidate after reports surfaced of her expressing homophobic and Islamophobic statements, but other candidates with similar records remain in the PC slate.
London West candidate Andrew Lawton, whom Ford personally appointed after promising that every candidate would be elected by the local riding association, has a long history of making misogynist, racist and homophobic statements.
Lawton tried to excuse some of his comments by suggesting he had been suffering mental illness until 2013, but his hateful statements continued from 2015 through 2017 in his appearances on Rebel Media.
Kanata-Carleton candidate Merrilee Fullerton, a medical doctor who has expressed support for privatized two-tier health care, also has a recent history of xenophobic and Islamophobic social media posts. (Her Twitter profile is now private.)
Ford himself engaged in dog-whistle politics at a recent Northern Ontario debate when he responded to a question about how he will bring more immigrants to northern towns by saying, "I'm a pretty generous guy - I'm taking care of our own first."
Post a Comment
You must be logged in to comment.