Hamiltonians Want Responsible Change and a Liveable Downtown
The City's adoption of a blanket 30-storey height limit for downtown Hamilton is a significant break from previous discussions with the community.
By Cameron Kroetsch and Shawn Selway
Published March 19, 2018
On March 6, about 200 people came together at the Central Library for an event organized by the People's Plan for Downtown Hamilton to talk about the City's proposed plan for downtown.
The event was organized over a couple of months by a small group of people, ourselves included, who reached out to leaders involved in distinct communities covering broad social areas like art, environment, heritage, immigration, music, neighbourhoods, small business, and tenants. We reached out to these people because we were concerned about what we saw in the new Downtown Secondary Plan.
There had been a dramatic shift in the proposed Plan when the City released a new draft in October 2017. We felt this was a big leap from what had been released in May 2017 and deviated greatly from the conversations that the City had been having with the community since 2011. We wanted to see what others thought about it.
Downtown building heights in the May draft of the Secondary Plan are given as a range.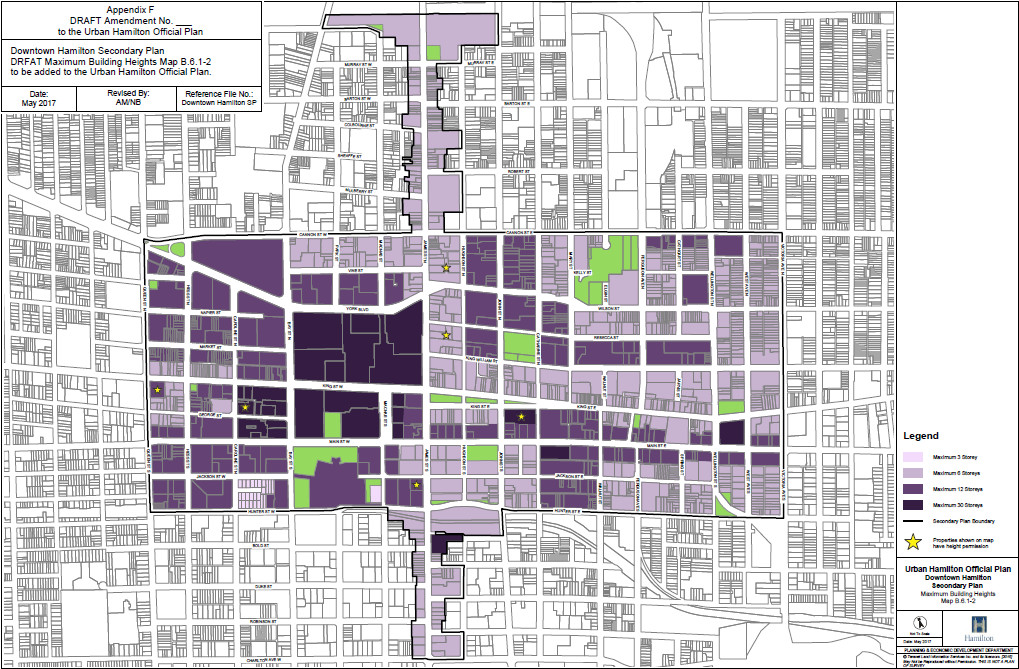 Proposed maximum building heights, May 2017
In the October draft, the height range is largely replaced with 30 storey zoning.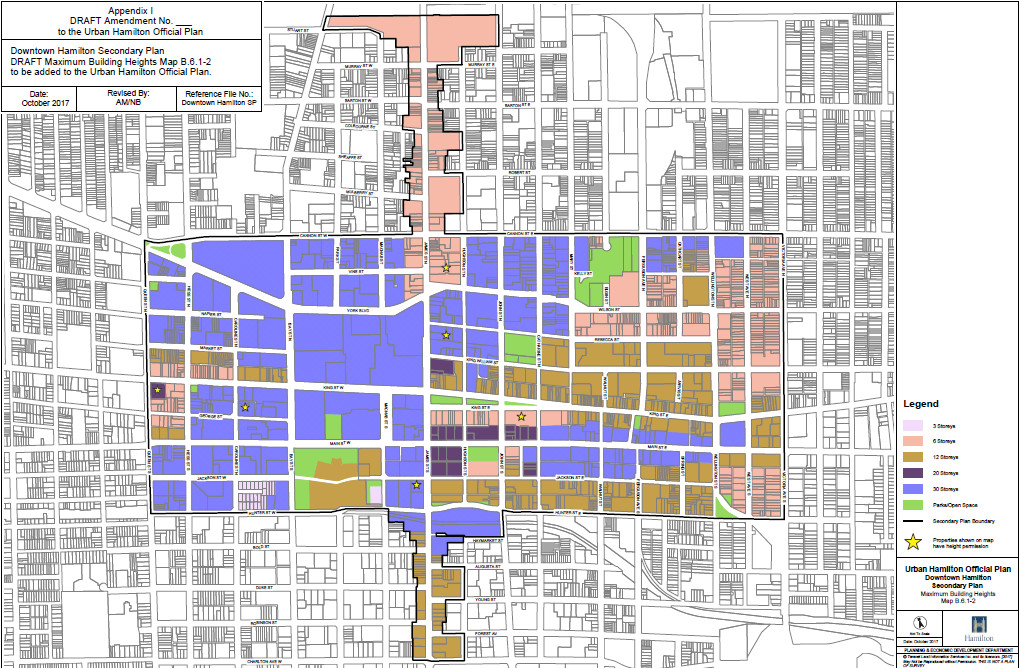 Proposed maximum building heights, October 2017
People's Plan for Downtown
A group of about 20 people met at the Evergreen storefront on James North on February 6, 2018 to discuss the latest draft. To our surprise, there was a general consensus and a tone of concern about what was missing from the plan and who would be affected most by the changes. At the end of the meeting there was agreement that we ought to try to bring together a broad cross-section of Hamiltonians to talk about their downtown and the City's Plan for it.
We also thought that, if there were enough interest at the larger meeting, we ought to get together a petition and perhaps organize a workshop for people who wished to write letters to the City and/or delegate to the Planning Committee meeting on April 17 at which the final iteration of the Secondary Plan will be considered.
The second, much larger meeting, took place at the Central Library on March 6. We expected between 50-75 people to attend. More than 200 showed up to watch presentations about the Plan and its implications, and to get involved in the conversation. We had about 10 themed breakout tables with 10-15 participants at each.
People talked about what mattered in their particular communities, breakout chairs wrote this information down, and some of the organizers met over the weekend of March 10-11 to collate the material and draft a petition.
We're circulating the petition widely with the hope that the City will listen to what Hamiltonians have to say and that the next draft of the Plan, due to be released around March 19, will demonstrate that the City is listening.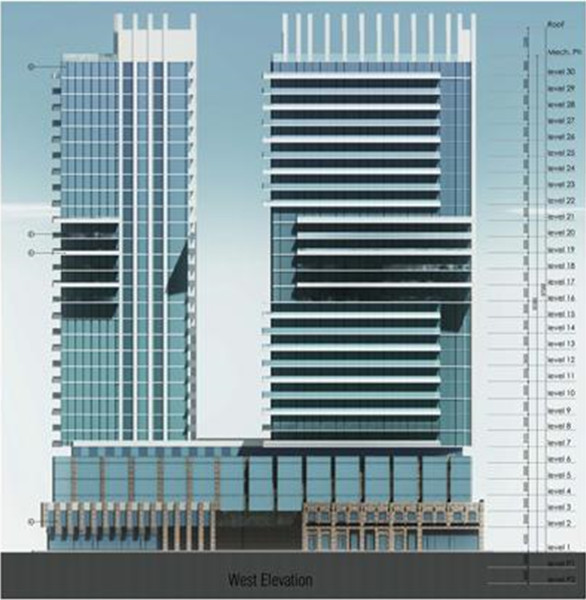 Thirty storeys on the Gore. LIUNA and a partner have permission to build something like this on the site of the now-demolished Kresge building on the Gore.
Who We Are
Apparently some find it troubling that there is no figurehead or leader of this group. Organizers, presenters, and bystanders were asked at the event about who the leader was, who sponsored this event, and what our intentions were. We are a loosely assembled collective of like-minded people who see a different future for the City of Hamilton than the one entailed by the current draft of the Downtown Secondary Plan.
We think we've been transparent about our intentions but to the rest of it: it's just a few community folks getting together to talk about something that affects us all. We're volunteers, we don't have a budget, and we're doing this strictly because we want everyone to be aware of what's being planned for their city and we want them to have a voice in the process.
We should add that this sort of event could not have happened without the previous efforts of groups, many made up of volunteers, like the Ward 2 Neighbourhood Associations, Environment Hamilton, the Hamilton Tenants' Solidarity Network, ACORN Hamilton, Immigrant Settlement Services, and the Hamilton Community Legal Clinic. Most of these organizations have been working away at the problems and challenges of our rapidly changing city for more than a decade.
We're happy to say that, at this point, both the petition and the workshop on letter writing and delegation are happening.
Position Statement
Although the March 6 meeting was about the Downtown Secondary Plan, those who attended had many other issues and problems to raise, so to accompany the petition we have compiled a position statement [PDF] that provides more details. We're still in the process of planning the details of the workshop.
There will be a very brief presentation, a chance to watch some successful delegations that have happened on similar issues, and then another opportunity to get into breakout groups to talk about strategies for ensuring that Council hears from the greatest possible number of us.
Conversations in Hamilton, of late, have been about tension, change, and what people envision for a possible future in this City. Many don't see a place for themselves in that future, and we want to change that. Every Hamiltonian who wants to be here should be able to stay, live, and thrive in this City.
For more on the March 6 meeting, see the article by The Inlet, who covered what happened at the event. Those who weren't able to attend on March 6 can check out our Facebook event page where all of the presentations have been posted.
Please sign our petition and come out to our workshop, which will be co-hosted by some of the Ward 2 Neighbourhood Associations, on April 3, 2018 at 6:30 PM at the Hamilton Public Library (Hamilton Room) to learn more about how to write a letter to the City about this and how to put together a delegation to City Hall for the Planning Committee meeting on April 17, 2017.
If you want to be added to our mailing list or to reach us for more information, send an email to peoplesplanfordowntown@gmail.com or find us on Facebook.
Post a Comment
You must be logged in to comment.