Review: Into the Woods at Drury Lane Theatre
This dynamic and delightful new production of the Stephen Sondheim classic is sure to please even the most discriminating of palates.
By Daniel Gariépy
Published November 17, 2017
Despite the fact that it's been 30 years since Stephen Sondheim's "Into the Woods" burst onto the stage, its impact has by no means diminished. With its plethora of fairy tale characters whose stories merge, overlap and intertwine, there's no danger of tedium. Indeed, Drury Lane's dynamic and delightful new production is sure to please even the most discriminating of palates.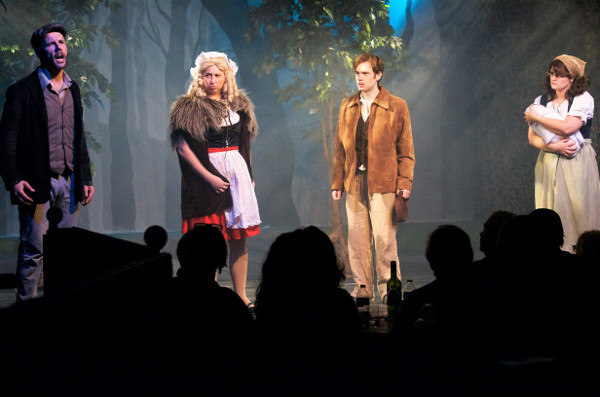 As Act I unfolds, we follow the familiar tales of Cinderella, Jack (of Beanstalk fame) and his mother, Little Red Riding Hood and Rapunzel, and the not-so familiar tale of a childless Baker and his Wife, persecuted by a rather unforgettable witch.
While the first act closes like a happy-endings dream, Act II turns all we've come to expect from fairy tales on its head, showing us that even happily-ever-after isn't always easy.
Director Michael MacLennan has envisioned a delightfully evocative enchanted forest permeated with mist, dappled by mysterious light and populated by cleverly moving trees for swift scene changes. Kudos to Michael Belton's simply gorgeous set design and Chris Belton's moody lighting. The choreography (also by director MacLennan) is as beautifully tailored to the space as the constant smoothly flowing motion of the ongoing action.
All of the performers in this multitudinous cast are giving it their all to enchant us, and succeeding admirably.
To choose the standouts: Kristen Di Cecco as Little Red Riding Hood brings a badass perkiness and comic chops that make her shine. Adam Holroyd adds just the right menacing presence to the Wolf, making a meal out of "Hello Little Girl" and just the right pretentious charm to Cinderella's Prince.
Gregory Flis embodies gracious authority in the role of the Narrator who holds all the disparate elements in this hodgepodge of tales together. He also pulls out all the stops as the "Mysterious Man", a wonderfully contrasting role delivered with panache.
To steal the show from a cast this talented is no mean feat. However, Maria De Palma as the Witch manages to do just that. She is the main event with her wonderful snarling speaking voice and her powerful mezzo singing voice. Add to this her powerful and commanding acting skills and you have a double threat. Her wonderful comic timing and gusto show to great advantage in "Greens". (Yes, she can also rap - so let's call her a triple threat.)
The ensemble numbers are among the best and tightest in the show. Brava to Musical Director, Anne Barnshaw and her outstanding band. They are second only to any moment involving Maria De Palma as the witch, particularly her show-stopping tour de force delivery of "The Last Midnight".
Also deserving of special mention is the memorable and touching "No One is Alone". It develops beautifully from solo to duet and eventually quartet largely due to Alix Kingston and Marco Lutterotti's masterful facility with Sondheim's difficult and complex melodies.
There are still seats available for this incredibly energetic show, which is more than worth the drive to Burlington.
Highly recommended!
Into the Woods continues on November 17, 18, 23, 24, an 25 at 8:00 PM, and on November 19 and 26 at 2:00 PM.
Location: Drury Lane Theatre, 2269 New Street, Burlington, ON
Phone: 905-637-3979
Post a Comment
You must be logged in to comment.