Road Work Accommodates Driving, Not So Much Walking and Cycling
The City's drivers-first priority is even on display when reconstructing a sidewalk.
By Karl Andrus
Published October 06, 2017
Moving on foot, as I frequently do, I was headed back from a quick stop at the Farmer's Market and some clothing shopping with my partner at Jackson Square yesterday. Those who walk or cycle east from downtown know that outside the Cannon Cycle track, Main and King Street are among the ugliest walks south of Barton.
Even through the International Village you still contend with smog, high-density automobile traffic and angry drivers.
So I elected to walk down Young Street. It has east/west cycle lanes between Ferguson and Wellington, plus speed humps to reduce vehicle speeds, making it far better then alternative routes to my home in Stinson.
However, at Corktown Park I found the north-curb sidewalk blocked and the westbound cycle lane full of equipment and workers. There is no south-curb sidewalk.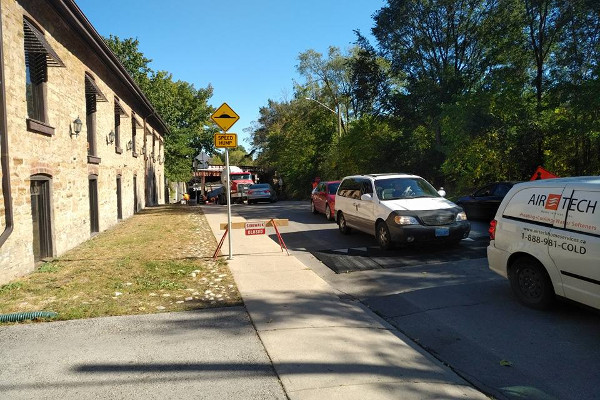 Sidewalk closed on Young east of Ferguson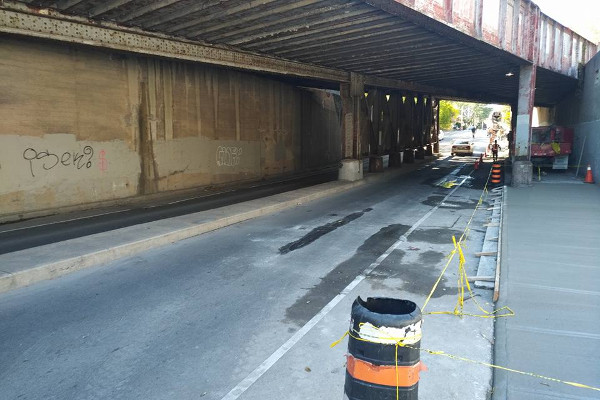 Sidewalk closed on Young through rail underpass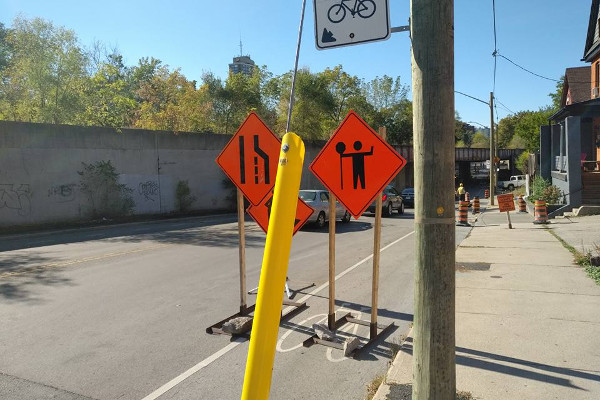 Sidewalk closed on Young west of Wellington
I paused for a moment to ask the traffic controller on duty where he suggested I walk. He had no answer and apologized.
I asked other workers: where am I supposed to walk on the road? This was going on as I dodged cars and moved to the south side cycle lane.
I asked why, if traffic had to be limited to one lane anyway, more accommodation was not made for cyclists or walking.
A kind driver overheard my questions and I helpfully shouted a suggestion out of his window that I get a car.
In the end, I was forced to break the law and walk in the road.
There was a paid traffic controller to make sure automobile traffic could continue to flow in both directions. Some of the money for the needed reconstruction of the only sidewalk on this section of Young was paid to reduce the inconvenience to motorists.
An accommodation had even been made with an extra pylon-separated area for workers, presumably out of safety concerns, but nothing for cyclists or pedestrians.
In discussions around walking or cycling, I am often told that those who get around without a car are entitled moochers or otherwise a drain on society. Facts and experience suggest the opposite.
Post a Comment
You must be logged in to comment.