Greg's Ride 2017
For the first time, Greg's Ride was held in Hamilton this past Saturday.
By Kevin Love
Published September 28, 2017
For the first time, Greg's Ride was held in Hamilton. This was last Saturday, September 25, 2017. The ride was a great success, even although it was a hot day, with the temperature hitting a high of 29 degrees Celsius.
Greg's Ride History
The Share the Road website reads in part, "In 2006, OPP Sergeant Greg Stobbart was killed while cycling on Tremaine Road in Milton. After Greg's death, his wife Eleanor McMahon founded the Share the Road Cycling Coalition in his memory to advocate for safer roads for all Ontarians."
This inspired Eleanor McMahon to stand for election as MPP for Burlington. She was subsequently appointed Minister of Tourism, Culture and Sport on June 13, 2016.
Greg's Ride 2017
Minister McMahon addressed the participants before the ride, talking about Ontario's efforts to reduce traffic violence, particularly the new Ontario law on careless and distracted driving.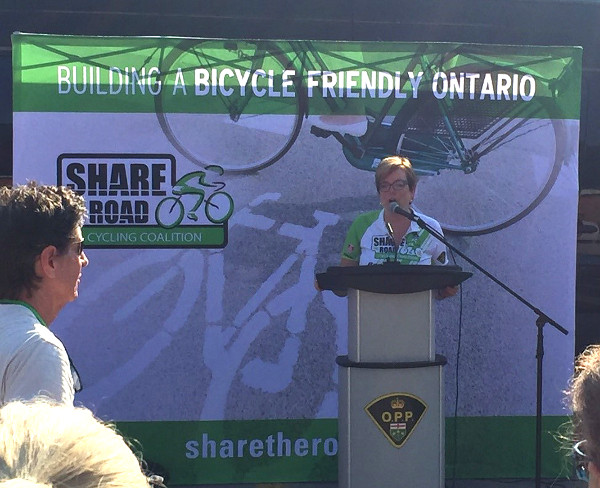 Minister Eleanor McMahon addressing Greg's Ride participants
Then it was time to ride! There were 8 km, 37 km and 77 km routes available.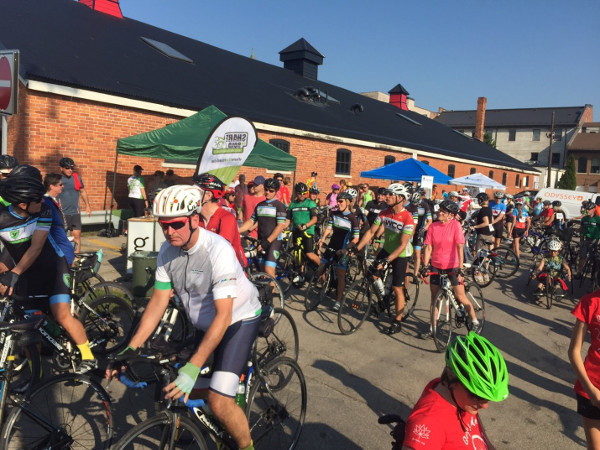 Greg's Ride participants getting ready to go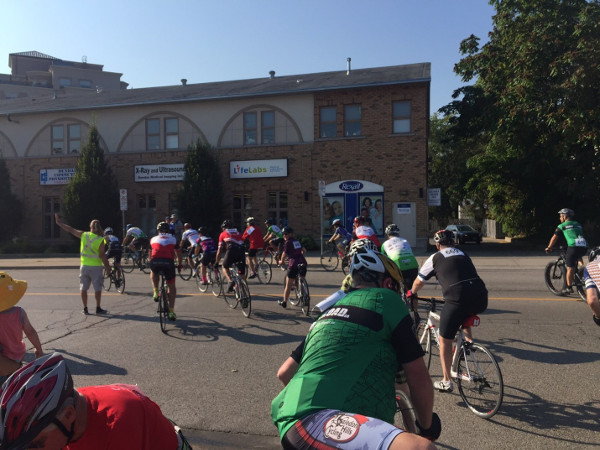 And they're off!
For the route volunteers, such as myself, the work began the day before. I was in charge of the 8 km route. This started with putting up the route directional signs, which were loaded into my bike trailer.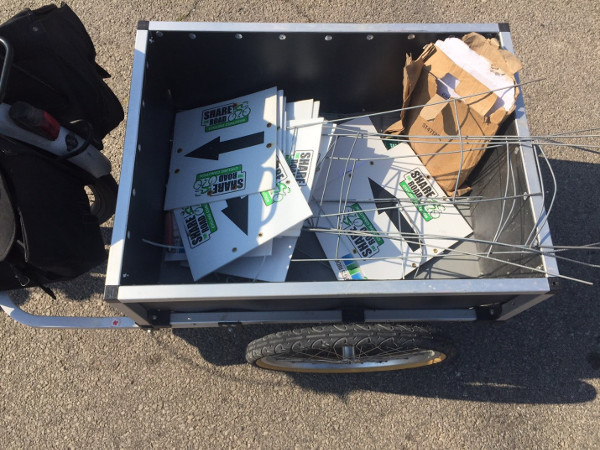 Kevin's bike trailer, loaded with route directional signs
Putting the route signs up was not made any easier by the sunshine and 32 degree temperature. But all the signs got up, thanks to a lot of hydration, a broad-brimmed Tilly hat and not pushing too hard.
On the day of the event, I got my official badge, which got me in for a free lunch after the ride.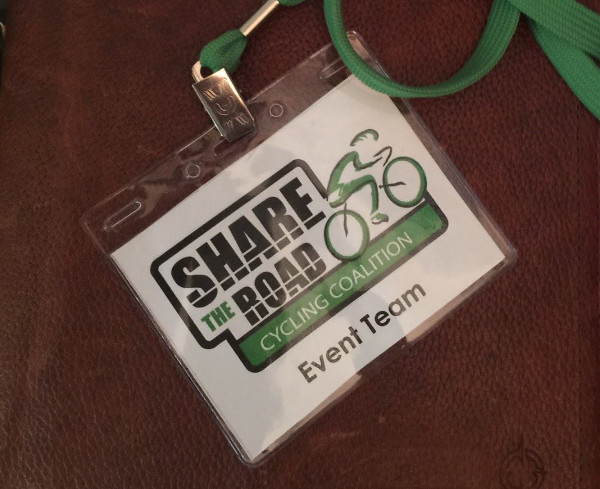 Kevin's official badge
During the ride, I positioned myself where the route for the 8 km riders split off from the other routes, to ensure that people made the correct turn. After the ride (and my free lunch!) I rode around the route taking down all the signs and loading them back into my trailer.
Another successful event!
I would encourage people to participate in the ride next year, or to volunteer to help out. It is for a worthwhile cause, which is advocacy for safer roads at the provincial level of government.
Post a Comment
You must be logged in to comment.