Review: Tara Bursey and Aaron Murphy, Two-Person Show at you me gallery
Bursey is an interdisciplinary artist whose work is heavily rooted in nature, while Murphy builds digital montages from a large collection of images he has created and acquired.
By Mackenzie Kristjon Jenkyns
Published June 27, 2017
Whenever I approach Art Crawl, I really try to surrender myself with a great sense of abandon to absorb some new content and learn some new things. On June 9, 2017, I stumbled into You Me Gallery to find some fascinating work by Tara Bursey and Aaron Murphy.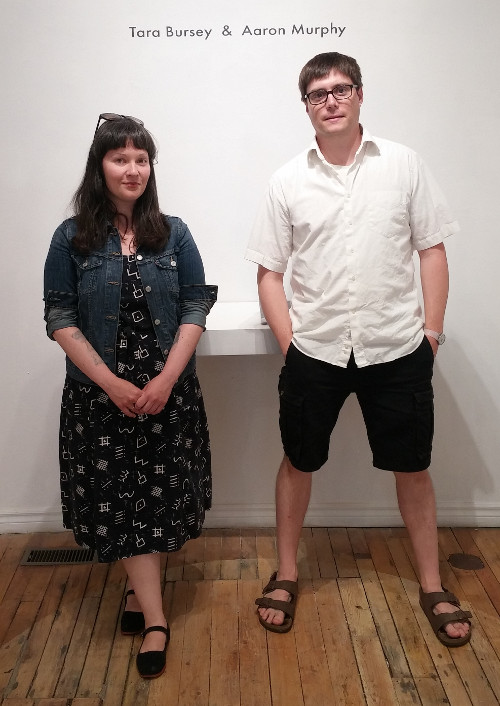 Tara Bursey and Aaron Murphy
I wound up speaking to Aaron very briefly and immediately hired him to appear in my upcoming music video. The beginning of a new career!
After the dust settled, I went back to have a longer look and speak to the artists about their work.
Tara is an interdisciplinary artist whose work for this exhibition is heavily rooted in nature. On the one hand, she has pastel-looking canvases with quotes from the Grapes of Wrath juxtaposed with what appear to be fossils (although she has made these) and then she has prominent Hollywood film images made out of beans.
At a certain point, I realized that the "paint" she used was actually fruit and vegetable juice spread out over the canvas. I asked her if she was worried about it rotting and whether she treats the juice, and here is what she had to say:
I've been doing work with food for a really long time and that's never been something I've taken on. I just figure we'll let nature take its course, and I've had some strange things happen! It inevitably happens when you play with new materials that sometimes things don't work, and so you might come across your work a year later and it's completely disgusting.
I found that to be an intriguing embrace of the transience of material objects especially when juxtaposed with the fake fossils that suggest something more permanent.
Both artists make intriguing publications which were on display as well. In Aaron Murphy's case, his are books of poetry that he considers to be conversations between himself and whatever art work the book happens to be about. The other ones he makes are dialogues between him and others.
As I marveled at the production value of these gorgeous books, I asked how much they cost and it turns out they are one-offs and not for sale!
In some ways, they developed out of people asking him about his work, wanting to know the history or narrative behind the images. So he started making things up that sounded interesting and that led to these books.
Aaron's art on the walls are digital montages created from his large archive of images he's created and acquired through the years. Apparently he bought a box of 4x5 negatives in Pennsylvania that were documenting all the plays that were taking place at a theatre.
From this he used one of the negatives to overlay onto a very natural-looking Canadian scene culled from a postcard he purchased in Kingston. And then of course, there's more treatment and other elements. Each of the pieces works something like this.
When experiencing Aaron's work, one is struck by the sophistication of the design elements and the artistic choices. It does not surprise me in the least that people ask him about the stories behind the work as they allude to hidden abstract mysteries.
Definitely worth seeing. On until July 9.
Gallery: you me gallery, 330 James St North, Hamilton, (905) 523-7754
Hours: Wed-Sun 12-5
Opening Reception: Friday, June 9, 7-10 pm (James N. Art Crawl)
Runs: June 9 - July 9, 2017
Post a Comment
You must be logged in to comment.