City of Hamilton participates in Internet Performance Testing
The City of Hamilton has partnered with the Canadian Internet Registration Authority to launch an Internet performance test for city residents.
By Sarah V. Wayland
Published April 24, 2017
Municipalities across Canada are working to deploy smart community strategies to help equip their communities to compete in a rapidly changing digital economy. To this end, the City of Hamilton has partnered with the Canadian Internet Registration Authority (CIRA) to launch an Internet performance test for the city.
The City of Hamilton encourages all residents and businesses to test their connections at: https://performance.cira.ca/Hamilton.
Residents can use the test to better understand the speed and quality of their Internet connections. The test is crowd-sourced, meaning that it produces better data with widespread participation. The municipal government and local Internet leaders can, in turn, use the data collected city-wide to create a comprehensive profile of broadband access within Hamilton's boundaries and move to address any areas of inequality.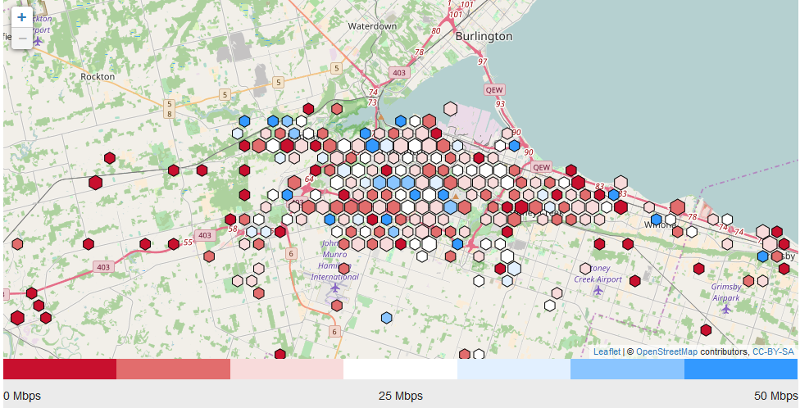 Measured internet speeds in Hamilton (Image Credit: CIRA)
The City of Hamilton's pilot agreement with CIRA is scheduled to end on August 22, 2017. In addition to running single tests, the software allows users to set up a schedule for speed testing at regular intervals.
This project is supported by Hamilton Mayor Fred Eisenberger's Intelligent Community Task Force, which has been meeting since September 2016. Mayor Eisenberger states:
As we make the transition from an industrial to a more digital-based economy we want to ensure that all of our citizens have the skills and tools to more fully participate. The Mayor's Intelligent Community Task Force is working to achieve those goals. We hope the data from this testing will mobilize even more community leaders, non-profit, public and private organizations to join us in working towards making Hamilton a digital leader recognized around the world.
Results from the testing will provide the task force with data to promote Hamilton's IT infrastructure, develop a city-wide digital strategy, and improve Hamilton's brand as an intelligent community.
CIRA is the organization that manages Canada's .CA domain name registry, develops and implements policies that support Canada's Internet community, and represents the .CA registry internationally.
CIRA's Internet Performance Test is run on an open data platform and is built on the globally-recognized M-Labs testing technology, with test nodes across the country. The test operates independently from any major Internet Service Provider networks, ensuring unbiased measurements and data. Leveraging a custom heat-map interface, CIRA's solution provides insight into the relationship between geography and connectivity - isolating performance by ward, neighbourhood, or county.
Please read the press release to find out more information about our partnership.
Other participating municipalities in Ontario are Burlington, Kitchener, Mississauga, Ottawa, and Stratford. Three cities outside of Ontario complete the pilot: Annapolis Valley, Nova Scotia; Leduc, Alberta; and Surrey, British Columbia.
Additional resources
Post a Comment
You must be logged in to comment.