We Need Light Rail to Grow Our Tax Base, Reduce Our Infrastructure Liability
Please don't fool yourself into thinking Council can kill the goose and keep collecting the golden eggs.
By Ryan McGreal
Published April 18, 2017
With Council set to vote on the Environmental Assessment (EA) amendment for the city's Light Rail Transit (LRT) plan, there has been very little discussion about environmental issues and a lot of scary speculation about the future Operating Agreement, which Council will receive next year and have a chance to vote on.
Unfortunately, the report that's coming next year has overshadowed the report was presented to Council on March 28 and deferred until April 19.
Some Councillors are suddenly saying they can't approve the EA Amendment because they don't know what the Operating Agreement is going to say.
I'm pretty sure I can't convince any Councillors that this vote on the EA amendment should just be about the EA amendment, and that Council will still have a chance to vote on the Operating Agreement when it comes forward next year.
But in the meantime, maybe we can turn the temperature down a bit.
The Operating Cost Scare Tactic
Council has already received an email from Hamilton LRT Director Paul Johnson with the operating cost context. Metrolinx is expected to cover the financing, lifecycle and insurance cost, since they will own the system, so we'd be looking at the operating and maintenance cost.
As Paul Johnson points out, Hamilton's LRT is not like Toronto's Eglinton Crosstown line, which has a long underground section and much higher operating costs.
Instead, we should look to the more comparable Waterloo Region ION LRT. The ION LRT is 19 km long and will cost $8.5 million a year in combined operating and maintenance cost.
Scaling from that, the 11 km Hamilton LRT from McMaster to Queenston Traffic Circle will cost around $4.9 million a year. And just for fun, the full 14 km LRT from McMaster to Eastgate will be around $6.3 million.
Is that a lot of money? Let's find out.
According to the City's Public Works Department, the 2015 operating cost for the B-Line was $5.7 million. So our LRT cost will be around the same as what we're currently paying for the express bus it will replace.
Hamilton B-Line Corridor 2015

| Route | Gross Cost | Revenue | Net Cost |
| --- | --- | --- | --- |
| 01-King | $9.7 million | $5.6 million | $4.1 million |
| 05-Delaware | $13.7 million | $5.5 million | $8.2 million |
| 51-University | $4.4 million | $2.2 million | $2.2 million |
| 10-B-Line | $5.7 million | $2.1 million | $3.6 million |
| Total | $33.5 million | $15.3 million | $18.2 million |
Here is a direct comparion between the Express Bus operating cost and the estimated LRT operating cost:
Cost Comparison: B-Line Express Bus vs. LRT

| System | Operating Cost |
| --- | --- |
| Express Bus | $5.7 million |
| LRT to Queenston | $4.9 million |
| LRT to Eastgate | $6.3 million |
And that's without looking at potential savings on the other bus routes that are currently serving the LRT corridor, since some of those riders will shift to LRT - let alone the increase in operating revenue from ridership gains. And yes, there will be ridership gains with LRT.
So can we please put this operating cost scare tactic to bed? City staff and Metrolinx will negotiate an Operating Agreement next year once a winning bid has been selected in the RFP, and Council will have a chance to vote on the agreement at that time.
There is no credible, good-faith reason today for making the Operating Cost a reason not to approve the Environmental report.
Growing the Tax Base
Speaking of scary numbers, we need to talk about how much it will cost us to turn down the LRT - and I'm not even talking about paying back the $20-70 million that Metrolinx has already spent and committed on our behalf.
Kitty corner from City Hall is the small block bounded by Main, Bay, George and Caroline. Two properties on that small block have gone from paying $56,000 in municipal property tax to $900,000 after they were developed. That's not even the entire block!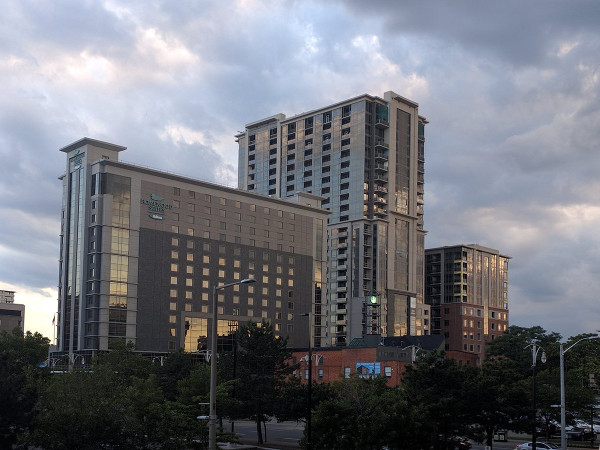 Homewood Suites and 150 Main West (RTH file photo)
Here's a map of the central downtown core, bounded by Queen, Cannon, Wellington and James, highlighting the many surface lots that are generating a pittance in property tax when they could be generating many tens of millions of dollars.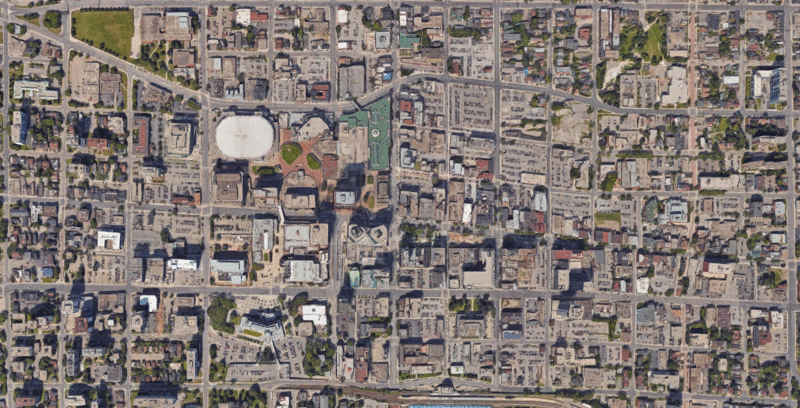 Hamilton downtown core with LRT and vacant properties highlighted
Don't take it from me. The City's Planning Department is already hearing from developers that LRT is a significant factor in new projects going ahead.
Or listen to the developers themselves, who are telling us loud and clear that LRT means more development. For example, this article:
The market being targeted by that building, he added, will appreciate the city's proposed light rail transit line.

"Shaw went after this location because he wanted something close to the new LRT line," Norton said. "At that location you couldn't get any closer if you tried."
The prospect of the city's light rail transit line, among other changes here, drew him to Hamilton, Kemper says.

"Without the LRT, we wouldn't be building this building."
The builder behind a 20-storey downtown student residence under construction is calling on council to commit to LRT or risk watching other developers "walk away."
Even the 2010 Canadian Urban Institute (CUI) uplift study, which used the most conservative numbers, concluded that we will get a lot more development with LRT than without it.

2010 CUI Uplift Study
It's not a coincidence that after years in which most development has been on suburban greenfields, we're finally seeing a major resurgence in new development in the core and along the LRT corridor.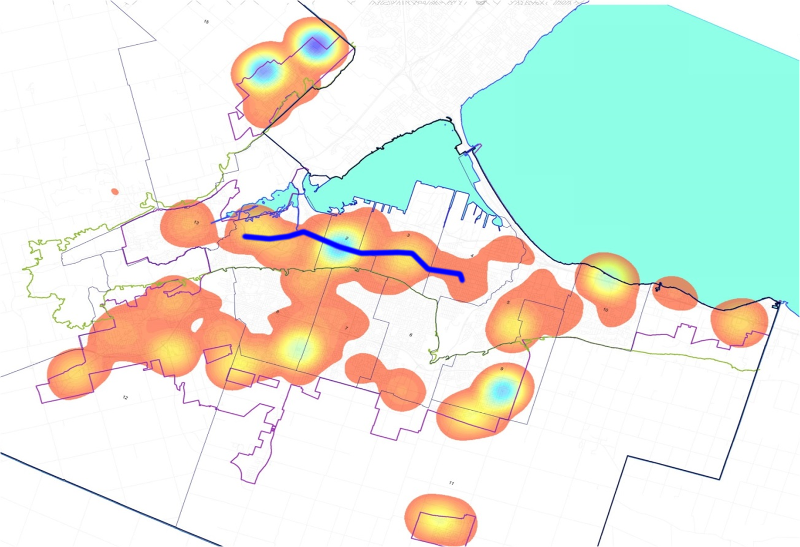 2016 Building Permit Activity by Dollar Value, with LRT Corridor Superimposed
Please don't fool yourselves into thinking you can sacrifice the goose and keep getting the golden eggs.
Infrastructure Liabilities
But LRT doesn't just grow the city's revenues, it also reduces the city's growth in liabilities.
Waterloo Region made the hard decision to invest $253 million in local levy dollars in LRT because they calculated that it would cost a lot more not to do it.
Their choice was LRT and transit-oriented growth, or another 500 lane-km of roads to accommodate car-oriented growth. Or as they put it, another 25 Hespeler Roads. Here's what Hespeler Road looks like.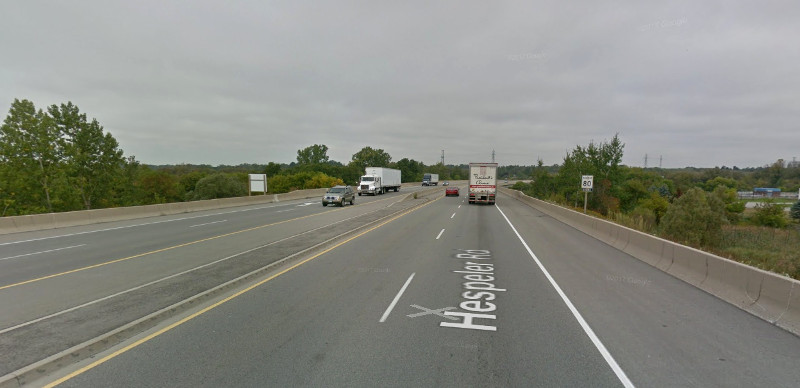 Hespeler Road, Waterloo Region (Image Credit: Google Street View)
We have a much easier choice: we can accept 100% full capital funding for LRT from the Province, or we can give up on our strategic growth strategy and try to fund the staggering cost in road expansion on our local tax levy.
Population, Area, Ridership, Hamilton and Waterloo
Hamilton
Waterloo

*

The Province increased Waterloo Region's 2031 population projection based in part on completion of the LRT system.
Population - 2011
520,000
507,096
Population - 2031
683,000
742,000

*

Area
1,117
1,369
Urban Area
231
202
Total Annual Ridership
21,000,000
22,000,000
Daily Ridership - LRT Corridor
20,000
20,000
Bus Fleet
221
251
Total Service Hours
650,000
640,000
LRT Capital Cost
$811 million
$818 million
Waterloo Region is actually an extremely good comparator for Hamilton in a whole variety of ways: size, population, area, urban area, distinct communities, transit service levels and ridership, you name it.
Waterloo Region committed to LRT even though they had to cover 30% of the capital cost. We're getting 100 percent capital funding covered for us. Is this really a tough decision?
Post a Comment
You must be logged in to comment.