Wasted Electricity Generating Potential in Brantford
When private companies own Grand River water rights, these tend to be used for electrical generation. Publicly owned water rights should also be used.
By Kevin Love
Published March 06, 2017
It never ceases to amaze me how much power I see wasted. This is true on the small scale of people not turning off electric lights when they leave a room. This is also true on the large scale of so much of Ontario's hydroelectric potential being neglected.
In order to see a good example of this latter type of waste, I invite people to ride along the lovely Hamilton-Brantford Rail Trail. When you get to Brantford, keep going along the trail until you get to the Grand River. You can then watch the entirety of the Grand River flow over the Wilkes Dam.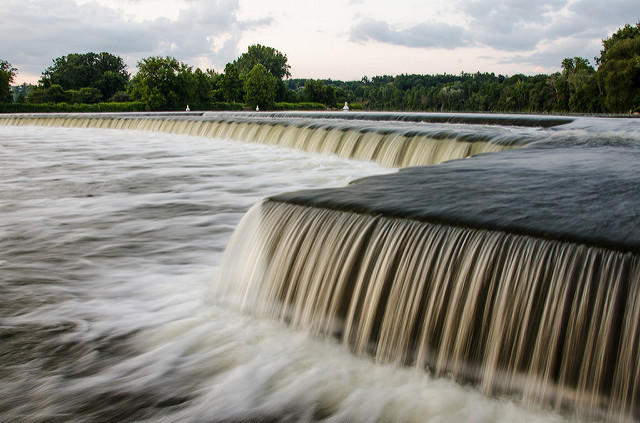 Wilkes Dam, Brantford (Image Credit: Flickr/Grand River Conservation CC BY-NC-SA)
When you have finished admiring this lovely waterfall, the next stop is to see the ruins of the Alfred Watts Lock and Hydro Generating Station.
In the year 1885, Mr. Alfred Watts build the first hydro-electric power generating station in Brantford. The new technology of electricity rapidly caught on, and the power plant was steadily expanded. By 1905 it was generating 895,000 watts of power [PDF] or 895 KW.
In 1908, Brantford was connected to the "Dominion Power" (Later Ontario Hydro) provincial electrical grid. The private power company was unable to compete and the Brantford hydro-electric generating station closed in 1911.
What would be the value of this electricity today? Although electrical generation equipment is more efficient today than in 1905, to be conservative let us assume that we will only get the 1905 output of 895 KW.
Using our current mid-peak price of 13.5 cents per kWh, this gives a yearly production worth $1,058,000.
Over a million dollars a year! Not bad.
But it gets better. Please note that the Alfred Watts power station only used that small part of the Grand River that was diverted into the Brantford Cut of the former Brantford Canal.
Simply eyeballing it, I estimate that this is less than 1/50th of the total flow of the Grand River. So if we were to use all the water currently pouring over the Wilkes Dam, this would generate over $50 million per year of electricity.
And it gets even better yet! The advantage of hydroelectric generating stations based at a dam is that during off-peak demand times, one can stop generating electricity and let the water build up behind the dam. Then during peak demand times, that stored water can be released to generate electricity.
Run-of-the-river hydroelectric generating facilities, such as Niagara Falls, cannot do this.
When private companies own Grand River water rights, these tend to be used for electrical generation. A recent example is that of Shaman Power in Elora. Publicly owned water rights should also be used.
For hydroelectric projects, usually the most expensive part of the project is building the dam and providing compensation for the flooded area that the dam creates. In the case of Brantford, the Wilkes Dam already exists. It is simply a matter of using the water power that currently is wasted.
Post a Comment
You must be logged in to comment.