Interview With Larissa Ciupka
Interview with Larissa Ciupka, Director of Marketing and Communications, Art Gallery of Hamilton
By Jason Leach
Published February 19, 2005

This month, the Downtown Bureau interviews Larissa Ciupka, Director of Marketing and Communications at The Art Gallery of Hamilton. The gallery is currently in the final stages of a major reconstruction project that is already catching the attention of people with it's fantastic, post-modern design. It is sure to be a huge hit when it re-opens in May.
Raise The Hammer (RTH): As we approach the long-awaited re-opening of the gallery, fill us in on what's been going on behind the scenes - any new initiatives underway, or mostly just construction work?
Larissa Ciupka, Art Gallery of Hamilton (AGH): As you know, Future Cities, our off-site exhibition project (with a main space at Jackson Square) featuring the work of over 40 local, national and international artists, was a great success. We collaborated with businesses in the downtown area and other organizations to an extent never before accomplished by any Canadian gallery.
I think we can attribute a great part of our success in this venture to working with others and their willingness to partner with us. But we've had other activities on the go during construction, including representing Canada with David Rokeby at the Sao Paulo Biennial in 2004.
We've continued with children's and adults' classes and workshops at various off-site locations, thanks to partnerships with organizations such as the Hamilton Conservatory for the Arts, the Kiwanis Club, the City of Hamilton's Civic Museums, and others. Because school groups can't come to the Gallery, we've sent art educators into the schools with our Gallery Classroom program.
Our film program is going strong at Famous Players, Jackson Square and the Westdale Cinemas. Key works from our permanent collections have been conserved, to prepare them for re-opening and the tours to other institutions that follow. Research and coordination continues on many of the exhibitions we'll feature at re-opening (and in years to come). For example, Lasting Impressions has been in the works for five years and Heaven and Earth Unveiled for the past four years, even before we announced the donation of the Tanenbaum Collection to the public. Naturally, we're also working feverishly on re-opening activities.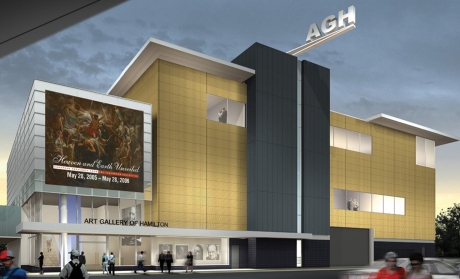 Artist's Rendition of the New Art Gallery of Hamilton exterior (Credit: Art Gallery of Hamilton)
RTH: How is construction progressing?
AGH: Construction is progressing well and is on schedule for our May 28th public re-opening. We're very much looking forward to welcoming visitors to the Gallery again!
RTH: What will visitors to the new gallery experience now compared to before the renovation project?
AGH: If I listed all the improvements, we'd be here all day! So here are some highlights...
I believe visitors will be completely amazed that it's a renovated building as opposed to a new build because of the scope of the work done. First and foremost, I think visitors will be attracted to the new glass-enclosed front entrance on King Street; this should solve the commonly-asked pre-construction questions of "I'm downtown at the Sheraton. Where are you located?" and "How do I get in?". The new Sculpture Atrium on Gallery Two has turned unusable outdoor space on the second floor into a true showcase for our sculptures with forty-foot high windows overlooking the Sculpture Garden and City Hall.
The renovations will also improve accessibility within the Gallery for visitors in wheelchairs and those with limited mobility. Enhancements include a new lift to the Community Gallery in the Upper Lounge and a wheelchair-accessible washroom on the Office Level for Gallery staffers and visitors using the Boardroom and Studios located on that floor.
The AGH's climate control system - the system that regulates temperature control, air quality, and humidity - has been completely overhauled, bringing the Gallery up to stringent international museum standards, better protecting our works on view and enabling us to host major banner exhibitions.
The renovations will also help visitors experience our outdoor spaces with ease. The Irving Zucker Sculpture Garden will contain grass, trees, water features, a staging area, and sculptures from the Gallery's Collection within a fenced enclosure with gates that open onto Commonwealth Square.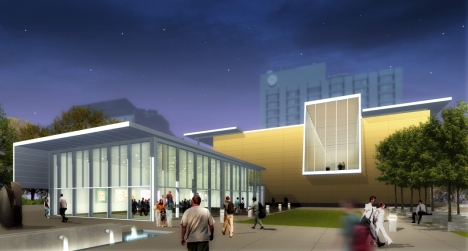 Artist's Rendition of the New Art Gallery of Hamilton exterior (Credit: Art Gallery of Hamilton)
As the Sculpture Garden will be located beside and accessible from the Gallery's new multi-use Pavilion, the Garden will become a natural extension of the Gallery experience for visitors. One of the project architects put it best when he said that the buildings around Commonwealth Square "turned their backs" on this area. Now that visitors will be able to see out onto the Garden from Gallery Two and walk out into the Garden from the glass-enclosed Pavilion, I think visitors to the Gallery and people who work and live downtown alike will discover the Garden is the perfect spot for enjoying lunch or a break on a lovely day.
Having a café on site has been one of our visitors' most frequent requests, so a new cafe - somewhere to have a light lunch or grab a coffee - will also be a feature of the new Gallery. All in all, I think visitors will agree the renovated Gallery is truly worthy of the treasures they'll see within.
RTH: Obviously, art is the main attraction here, so give us a preview of your grand re-opening show.
AGH: We're celebrating our renovated building by showcasing our first-class collection! What a way to open our doors...and from then on, there will always be collection projects on Gallery Two. We have one of the finest collections of art in Canada - in terms of quality, it ranks up there with the Montreal Museum of Fine Arts, the National Gallery of Canada in Ottawa and the Art Gallery of Ontario in Toronto. So it's fitting that our re-opening exhibitions celebrate our collection.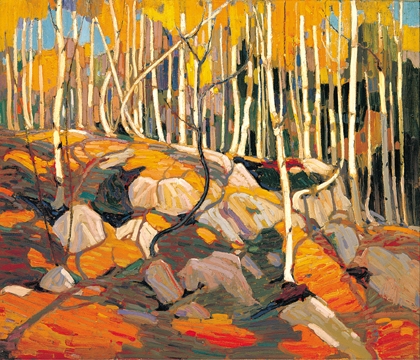 Tom Thomson, The Birch Grove, Autumn 1915-16; oil on canvas, Art Gallery of Hamilton, Gift of Roy G. Cole, in memory of his parents, Matthew and Anne Bell Gilmore Cole, 1967 (Photo Credit: Art Gallery of Hamilton)
The rich variety of nineteenth-century art is celebrated in the 200 paintings and sculptures that comprise Heaven and Earth Unveiled: European Treasures from the Tanenbaum Collection. Donated to the AGH in 2002 by Joey and Toby Tanenbaum, this collection is one of the most significant privately assembled collection of the period anywhere.
In addition to representing major aesthetic movements of the nineteenth-century, Heaven and Earth Unveiled examines the poignancy of the human condition: our ideals, aspirations, struggles and emotions are captured variously in grand religious and historical compositions, portrayals of everyday life, high-society portraits and scenes of labour and social unrest.
Heaven and Earth Unveiled will be on view at the Gallery for one year, after which time about 80 highlights from the 200-strong collection will tour nationally and internationally.
Where Heaven and Earth Unveiled focuses on European - mainly French - works of the nineteenth century, Lasting Impressions: Celebrated Works from the Art Gallery of Hamilton straddles the nineteenth and twentieth centuries with a close look at the very core of the Canadian collection (and sideways glances at American, British and French art).
Deftly tracing the evolution of modernism in Canada, the exhibition highlights the various artistic movements that defined Canadian art over a period of several decades as suitably bracketed by two powerhouses, William Blair Bruce's Phantom of the Snow (1888) and Alex Colville's Horse and Train (1957).
Other Canadian art icons on display will include Maurice Cullen's Logging in Winter Beaupre and Cape Diamond, Tom Thomson's The Birch Grove, Autumn, Lawren Harris' Ice House, Coldwell, Lake Superior, Emily Coonan's Girl in Dotted Dress, Charles Comfort's The Dreamer, and Prudence Heward's Girl Under a Tree.
Key works in Lasting Impressions are currently undergoing conservation to prepare them for viewing and for the six-city Canadian tour that follows the exhibition's five-month premiere at the AGH. Gallery Members and visitors will be able to see favourite works as they would have appeared fresh off the easel when first painted.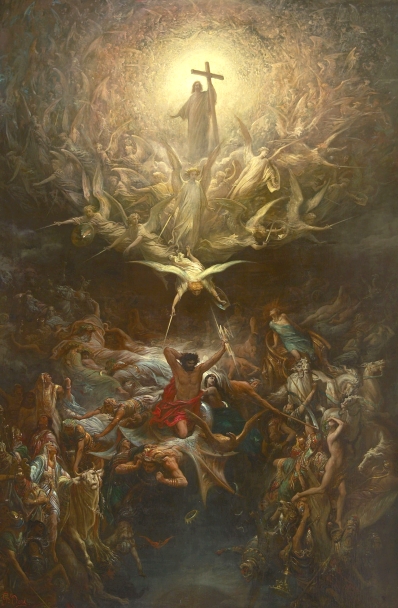 Selection from Heaven and Earth Unveiled (Photo Credit: Art Gallery of Hamilton)
We'll also be showing recent acquisitions to the collection, including installations by Kim Adams, An Whitlock, Richard Serra, Arnaud Maggs, and John Massey, as well as an exhibition that explores the Group of Seven member A.Y. Jackson's role in building the AGH collection as part of a province-wide initiative celebrating the Group of Seven's 85th anniversary.
The strong relationship between the AGH and the Women's Art Association continues, and we are pleased to invite them to inaugurate our new Community Gallery during the re-opening celebrations by presenting their 109th Annual Juried Exhibition.
RTH: Will the gallery still offer free admission?
AGH: Thanks to the generosity of Orlick Industries, admission to the Gallery will be free, with the exception of our banner exhibitions, which will have ticketed admission. On re-opening, our banner exhibition is Heaven and Earth Unveiled: European Treasures from the Tanenbaum Collection.
AGH Members and groups of 15 people and above will receive discounts on admission tickets. We'll also have several opportunities throughout the year for people to see the banner exhibition at no charge, again, thanks to Orlick Industries. We've also taken a close look at our hours of operations and made changes to accommodate people who work and to encourage visitation downtown in the evenings.
Beginning May 28, our new hours are:
Tuesday, Wednesday, 12 noon - 7 pm;
Thursday, Friday, 12 noon - 9 pm;
Saturday, Sunday, 12 noon - 5 pm.
While we're normally closed on Mondays, we will be open statutory holidays (with the exception of New Year's Day, Christmas Day and Boxing Day), including those that fall on a Monday. So we're also hoping to attract tourists downtown on stat holidays as well as encourage Hamiltonians to become tourists in their own city.
RTH: Regarding downtown revitalization, what would the AGH like to see the city do to make downtown more people friendly?
AGH: I believe the City of Hamilton is moving in the right direction in regards to downtown rejuvenation. For example, the City of Hamilton is one of our partners in our $18 million renovations (joining Canada-Ontario Infrastructure Program through the governments of Canada and Ontario, Dofasco and members of the steel industry, other corporations, foundations and individual donors), and they've been on board since the very beginning.
Several long-term initiatives, such as providing developers with incentives to build/convert residences downtown, are encouraging people to live downtown again, and that's key to a vibrant core. The City's support of Tourism Hamilton is allowing this organization to grow in influence and effectiveness; Tourism Hamilton has been an invaluable resource for the Gallery, instrumental in helping us shape our strategies to attract tourists to the city.
Personally, any dealings I've had with the City regarding Gallery business have positive and productive, whether it's dealing with Economic Development or GIS or the Parking Authority. The City's Downtown Secondary Plans are really exciting (check them out on the city's website) - including making King Street two-way again, slowing down traffic and generally making downtown more pedestrian-friendly.
There have been some improvements already and we need to encourage the City to ensure the political will and funding remain to continue with these postive changes. I truly believe downtown Hamilton is on the verge of a rebirth. We just need to do that little bit more to make it happen. Municipal support of a project is often the first step to securing support from other investors, so naturally getting the green light from City Hall is a big step for any venture to succeed.
RTH: How do you see the arts contributing to the revitalization of our city?
AGH: The vitality of any city is generally mirrored in the vitality of its arts scene. We have a remarkable community of artists, musicians, performers who call Hamilton home. Companies and individuals looking to relocate tend to look at what's available in city before they move. What's available? Is there a vibrant performing arts scene? A number of private and public galleries?
A vibrant arts community gives a city depth. That said, arts can't be seen as a magic bullet or cure-all for what ails a community. It's one component in a thriving community and can be an important catalyst for rejuvenation.
RTH: You've used the old Bank of Montreal space for quite a few art events. The space is well received and quite appropriate for arts uses. Is there anything in the works with the building's owners to try to get it converted to gallery or studio space?
AGH: Yale Properties (Jackson Square owner) has been a key partner to the Gallery in making that space and its staff resources available to us. Here's hoping that the Gallery's activities there have planted the seed of inspiration for other creative uses for that space.
For example, we have partnered with the 91st Highlanders Association on an incredible exhibition connected to the Indoor Games in Hamilton from February 1 - March 2005. The space is an ideal venue for this purpose and reinforces our commitment to working with other groups in the community.
RTH: What sort of economic impact will the new gallery have on the downtown core?
AGH: Overall, we're looking at an economic impact of $27 million.
RTH: Has the AGH ever considered spearheading a Hamilton International Art Festival or something similar?
AGH: The Gallery has an outstanding curatorial team. Hamilton can look forward to see dynamic exhibition projects featuring international artists and of an international stature in the coming years. The Future Cities exhibition project was in fact based on the international biennial model, inviting artists to explore one theme and then building other activities around that theme. Look to see more.
(For More Information please see http://www.artgalleryofhamilton.com.)
Post a Comment
You must be logged in to comment.