Save 18-28 King Street East from Short-Sighted Thinking
If we destroy what makes us distinct - particularly now, just as the rest of the world is discovering what we have created and sustained here - we will be sabotaging our own revival.
By Ryan McGreal
Published January 13, 2017
A version of this was submitted to Council and the City Clerk to be included in the correspondence for the Tuesday, January 17, 2017 Planning Committee meeting. If you care about heritage in Hamilton, please consider writing a letter and/or making a delegation to the meeting.
---
This year, we celebrate the 150th anniversary of Canadian Confederation, when the Dominion of Canada was formally established to unite the four British North American provinces of Ontario, Quebec, Nova Scotia and New Brunswick in 1867.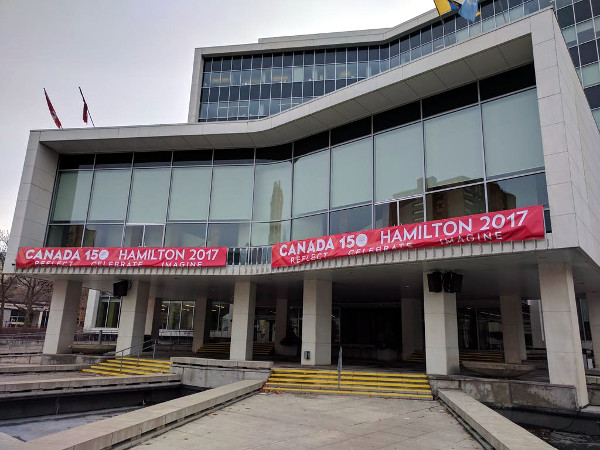 Canada 150 banner hanging at Hamilton City Hall
While Hamilton prepares to participate in the celebration of this important anniversary of Canada's heritage, Council is being asked to approve the demolition of our own precious and irreplaceable heritage, right in the heart of the city.
At risk are 18-28 King Street East, buildings on the south side of King Street just east of James, fronting the Gore Park promenade.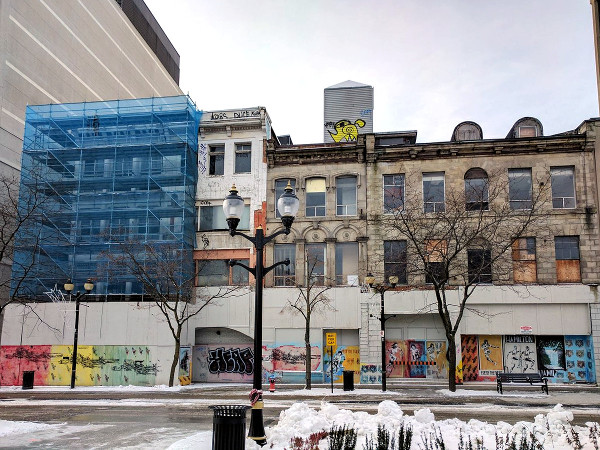 18-28 King Street East
Heritage Buildings
18-22 King Street East, the two three-storey buildings on the right side of the photo above, were designed by the great 19th century architect William Thomas in the Renaissance Revival style and built in 1840. The buildings are decades older than Confederation itself - some of the only such properties left standing in Hamilton.
William Thomas also designed St. Paul's Presbyterian Church, the Ballinahinch, Arkledun and Inglewood mansions, and numerous iconic buildings across Ontario.
Other Thomas buildings in Hamilton have not been so lucky: the Bank of British North America on King Street was demolished in 1953, the Orphan Asylum and Aged Women's Home on Wellington was demolished in 1959, and the Undermount Villa was demolished in 1966.
24 and 28 King Street East were designed in the Victorian Style and built in 1874-6 for James A. Skinner, a crockery merchant and William H. Glassco, a furrier.
A heritage evaluation prepared for Council in 2012 concludes: "All four buildings face Gore Park and are integral components to the King Street East streetscape and the character of the Gore area."
Demolition Threat
Just three years ago, in December 2013, after the property owner had submitted a demolition notice to the City, Council acted with courage to designate these buildings under the Ontario Heritage Act.
Council also offered the property owner $1 million in public grants to protect the buildings' heritage through restoration and adaptive reuse.
The owner has challenged the heritage designation and has fought to overturn it, while also attempting to negotiate a resolution with the city. The proposal going to Council is to demolish 24 and 28 altogether, and to demolish most of 18-22 while keeping the facade.
The Planning Committee will consider the proposal this coming Tuesday, January 17 at 9:30 AM. The proposal is detailed in Hamilton Municipal Heritage Committee Report 16-010, which is linked under item 8.1, Discussion Items, in the Planning Committee agenda. (I can't link directly to the report because the committee meeting website is unusable by design.)
The Municipal Heritage Committee voted to defeat the motion to demolish the buildings, but that decision could be overturned at Planning Committee.
It is essential that the Planning Committee, and then full Council, stand by their December 2013 decision to uphold the heritage designation of these buildings and protect them from demolition.
We Can Afford to Wait
Demolition supporters argue that we can't afford to wait around while these buildings continue to sit empty - that some development, even if it destroys our built heritage, is better than nothing. But that kind of short-term thinking entirely misses the logic of heritage preservation.
Consider Sandyford Place, the gorgeous row of limestone houses on Duke Street at MacNab. It was built in 1856 and very nearly demolished in 1973 for a block-busting apartment tower. A group of residents formed a corporation and made an offer to buy the building. The owner refused to sell.
After some legal maneouvring, Council designated it under the brand new Heritage Act in 1976. Then it sat empty for another seven years - including a fire in 1977 - until it was finally restored and reopened in 1982.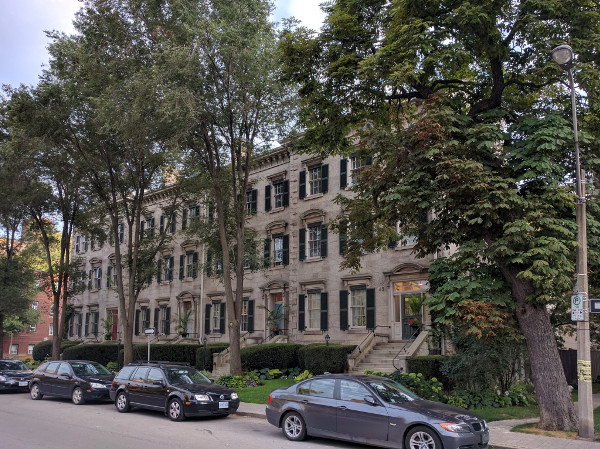 Sandyford Place (RTH file photo)
Can you imagine the enormous pressure that the property owner brought to bear during that difficult time to just go ahead and allow the demolition already? Can anyone claim today that the restoration was not worth the wait?
When we preserve heritage, we are not preserving it for today or next week or even next year. We are preserving it for our children and grandchildren.
We Are a City
You might say Hamilton is having a moment. We find ourselves amidst a sweeping urban renaissance that has been almost two decades in the making. Outside of Toronto, Hamilton is the only municipality in southern Ontario with a real city downtown, and we are being recognized as a magnet for people seeking the kind of urban living that Hamilton makes possible.
A recent Postmedia article first published in the Toronto Sun reported that Hamilton's population of millennials is growing rapidly and they now outnumber baby boomers.
Millennials are attracted to Hamilton because they want to live in dynamic, mixed urban neighbourhoods that offer a high quality lifestyle.
While other municipalities in the Greater Toronto and Hamilton Area are scrambling to retrofit a downtown into their suburban built forms, Hamilton inherits the fortuitous legacy of an urban built form that was established in the 19th century and has mostly survived the tumult of the 20th century.
We are also reaping the rewards of Council decisions in the late 1990s and early 2000s to pull the lower city back from the brink of an American Rust Belt-style urban calamity. In 2001, Council established a new downtown land use plan that emphasized safer, pedestrian-friendly streets, protection and adaptive reuse of our built heritage, and a healthy mix of residential, commercial and employment uses.
The City has tended to drag its feet in implementing this ambitious vision, but early successes like the Downtown Residential Loan Program and the two-way conversions of James and John Streets began paying immediate dividends.
Vision for Urban Revival
Today, we are seeing successful adaptive reuse projects across the downtown, including the recent award-winning Templar Flats redevelopment on King William Street.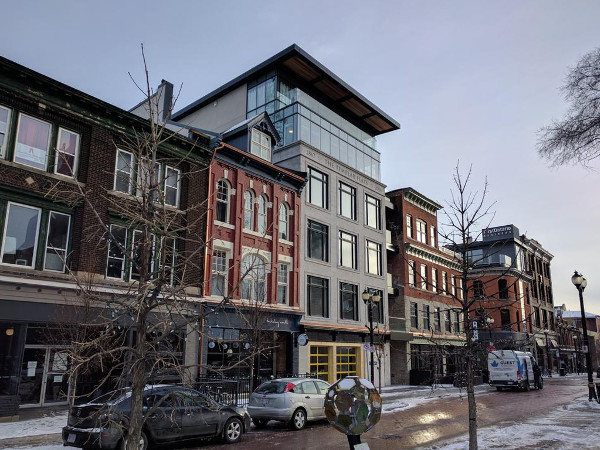 Templar Flats
18-28 King Street East and the vision for urban revival that it embodies is an essential part of what makes Hamilton desirable.
The buildings are standing, and they will continue to stand as long as they must, until they have an owner who recognizes their value and invests in restoring and adapting them for new use.
Please, Council: this is no time for short-term thinking, desperation planning, or the self-loathing acceptance of something-is-better-than-nothingism.
If we destroy what makes us distinct - particularly now, just as the rest of the world is discovering what we have created and sustained here - we will be sabotaging our own revival.
Post a Comment
You must be logged in to comment.