Friends of the Gore Statement to Heritage Committee
Ownership of important buildings like these is a responsibility. That is why the Heritage Act exists - to ensure that the short-term private interests of temporary owners do not overtake the long-term value of shared community assets.
By RTH Staff
Published December 15, 2016
An ad hoc heritage organization called Friends of the Gore has submitted the following statement to the Hamilton Municipal Heritage Committee regarding a proposal to approve the total demolition of 24-28 King Street East and the partial demolition of 18-22 King Street East, despite the fact that Council voted unanimously to designate these buildings under the Ontario Heritage Act.
---
Attention: Municipal Heritage Committee
Hamilton City Council
Regarding: Gore Buildings
Heritage Permit Applications HP2016-027 and HP2016-028
18-22 King Street East and 24-28 King Street East
Date: December 15, 2016
Submitted by: Friends of the Gore
Introduction
"Friends of the Gore" is an ad hoc group of concerned Hamilton citizens which was formed in response to the proposed demolition of the historic buildings at 18-22 and 24-28 King Street East fronting onto Gore Park.
We are committed to seeing these important and foundational Hamilton buildings filled with life and vibrancy and we urge the City and developer to ensure that the properties are adaptively re-used and developed in manner which sincerely celebrates their unique character, history and architectural significance.
We oppose the complete or partial demolition of these structurally sound buildings and we support City Council's unanimous resolution of December 11, 2013 to designate them under Part IV of the Ontario Heritage Act.
Overview
The property owners of 18-22 and 24-28 King Street East have submitted two Heritage Permit Applications, one seeking to demolish all of 24-28 King Street East (HP2016-028) and the other seeking to demolish all but the façade of 18-22 King Street East (HP2016-027).
The Heritage Permit Review Subcommittee recommended denial of these Applications in June, 2016.
The City's Planning and Economic Development staff have recommended that the Applications be approved. Regarding the complete demolition of 24-28 King, the staff report PED16193(a) offers no rational for supporting the proposal other than stating that approval "would be consistent with Council's direction for redevelopment."
We believe this is fundamentally an error. Council has not openly given any "direction for redevelopment" to staff. Council passed a motion asking staff what kind of process would have to be in place if it were to accept the developer's proposal. Council has not given staff any direction regarding these Heritage Permit Applications or the developer's proposal to demolish.
Regarding the demolition of all but the façade of 18-22 King, the staff report PED16194(a) acknowledges that façade retention only is not a best practice, but that the Intention to Designate does not list the entirety of the buildings in the list of heritage attributes.
However, the listed heritage attributes in the Intention to Designate are specifically worded so as to be non-exclusionary and nothing in the Heritage Act limits the City to designating only "attributes" listed in the Notice - to the contrary: Heritage Designation applies to the property as a whole.
On December 15, 2016, the Municipal Heritage Committee will recommend approval or denial of these Applications and we are urging you to recommend denial. Council will then vote on the matter on January 17, 2017 (Planning Committee) and subsequently on January 25, 2017.
How Did We Get Here?
Council has decided that these buildings, undoubtedly some of the most central and important heritage buildings in this City, are worthy of protection under the Ontario Heritage Act. The Intention to Designate 24-28 and 18-22 each refer to these buildings as "integral components of the King Street East streetscape and the character of the Gore area."
The Intention to Designate 18-22 notes the paramount significant of these preconfederation buildings designed circa 1840 by William Thomas, describes him as "a key figure in Canadian architecture," and refers to the buildings as "among very few preconfederation stone commercial buildings remaining in Hamilton."
All of the reports in the materials (notably including those commissioned by the developer), acknowledge the undisputed heritage value of the entire strip of buildings.
It is outrageous that, even in the face of Council's Intention to Designate, the proposal contemplates nothing short of demolition of almost all of what is there - including most of the Hamilton bricks and escarpment limestone that make up the William Thomas buildings.
These are buildings which are unmatched in this city in terms of heritage value and they are certainly buildings which any other city in this country would be celebrating - especially as we approach Canada's 150th anniversary.
Three years ago there was a sea change of opinion on the subject of these Gore buildings and the consensus was that they are too valuable to the City as a whole, too meaningful in the collective consciousness of Hamiltonians, to allow demolition.
What has changed since then?
Are we afraid that the Conservation Review Board will overturn Council's unanimous decision to designate these buildings? No. That Board does not have the jurisdiction to make such a ruling.
So why are we back-pedaling in an effort to reach a "settlement" in advance of a Review Board hearing which we stand no chance of losing? The developer has succeeded in framing the discussion in a self-serving, all or nothing narrative: "demolition and redevelopment or desolation."
After evicting its tenants, allowing the buildings to deteriorate alarmingly, sustain water damage and be boarded up, after drawing the matter out for four years, the owners now expect the City to be so desperate for development that it should squander this unique and precious part of our history.
We all understand the attraction to development. Everyone wants to see this area blossoming with life. But it is very important to understand that desperation for development can be dangerously seductive when it leads to a false choice that has been cynically manufactured to make a mediocre proposal look like a well-reasoned compromise.
We Are Not So Desperate
This choice is not between development as proposed or no development at all; the choice is between responsible stewardship or irresponsible surrender. The kind of thinking that creates such false choices is outdated in today's Hamilton.
Ours is a very different City today than it was ten, even five years ago. Property values are rising, heritage is being widely celebrated and adaptively re-used and the downtown renaissance is bursting with heritage character.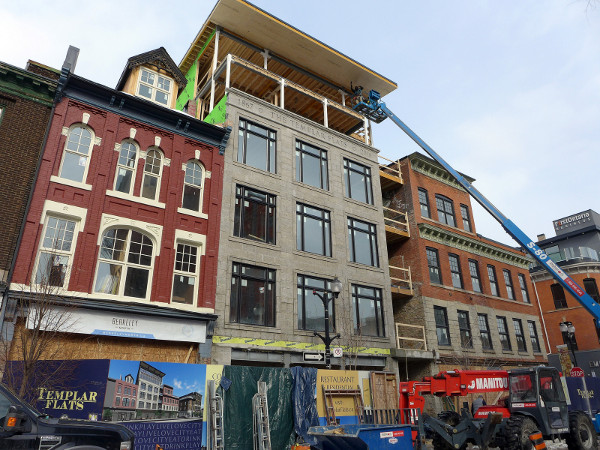 Heritage restoration and adaptive reuse on King William
Heritage adaptive reuse is thriving, winning awards, and attracting unparalleled investment on King William and across the street, the Mills China building on King East has just been stunningly revived.
The alternative to this proposal is not desolation on our beloved Gore, it is the opposite: The Heritage Act includes sweeping powers for the City and the Province to remedy situations just like these. And when a developer does not want to respect Hamilton's finest heritage buildings, there are are other developers who will.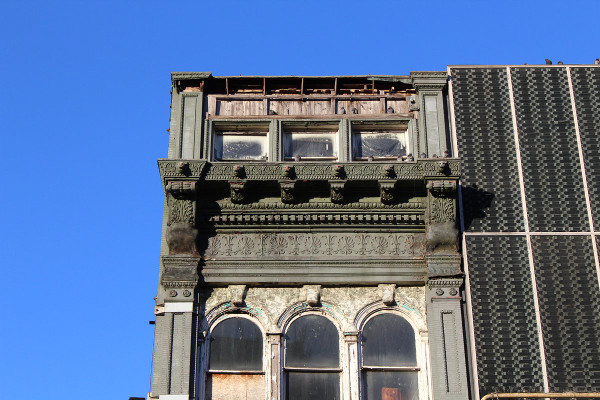 Mills China building before restoration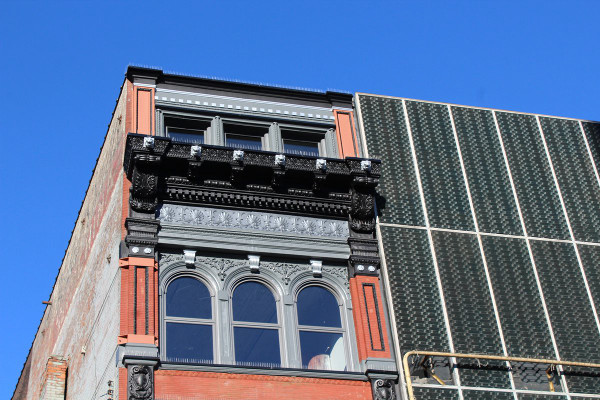 Mills China building after restoration
Façadism
The discussion has been framed around another false premise as well: Façadism. At what point did this issue become just about the Façades? The heritage value of these buildings is linked to the block as a whole, not simply a dormer here or a façade there. Façadism generally is token stewardship.
The proposal to save only one façade, is phoney stewardship at its worst. It ignores the importance of the streetscape, ignores the issue of stewardship, the wastefulness and arrogance of demolition, the backs of the buildings which create a unique heritage street wall and alleyway facing Main Street.
Façadism ignores the light-bringing courtyard that is built into the pre-electricity William Thomas building - which is large enough for a charming outdoor restaurant patio. There is so much potential in the totality of these buildings and talking about saving a façade of one or two of them, misses the point of heritage preservation altogether.
But the Buildings are "Falling Apart"
We have been repeatedly told by the developer that these buildings are "crap," "garbage," "falling apart," "shot" and "held up by scaffolding." This is a common refrain from developers who seek the easy road to profit and prefer the business case of demolition over the admittedly more complex route of heritage preservation and adaptive re-use. And in this instance, it is specious.
Remember the Lister Block: We were told the same thing about it. That it was garbage, falling down. Look at it now: It is the jewel of the downtown, our prized showpiece.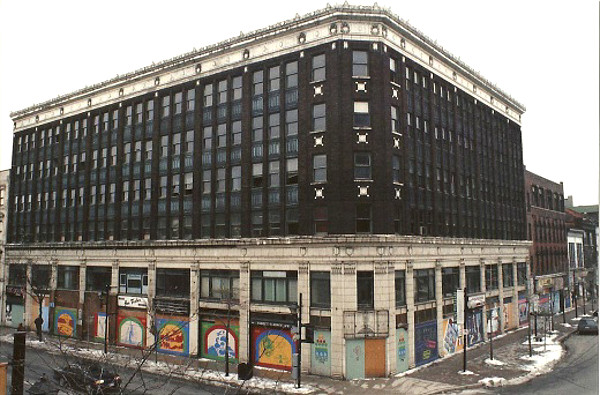 Lister Building before restoration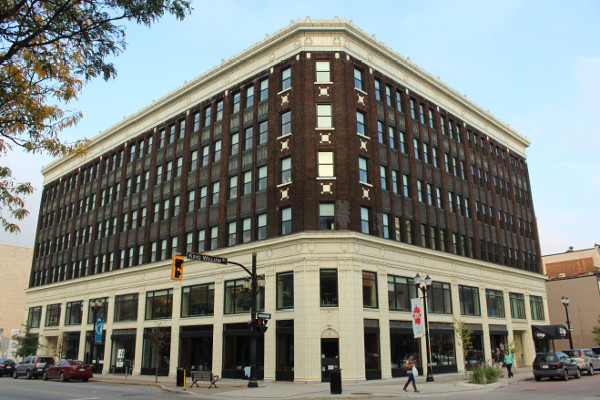 Lister Building after restoration
Contrary to the repetitive and disingenuous claims that these buildings are crap, the Peer Review of the developer's Structural Assessment makes it clear that these buildings are in fact quite sound. There is no suggestion the buildings are failing or are beyond repair.
Unfortunately, however, there is mounting evidence that the buildings are being neglected. Since their tenants were evicted over 4 years ago, they have remained empty and unheated and been often left open to the elements and knowingly allowed to deteriorate and sustain water damage. The developer has acknowledged that water has been damaging them throughout the winters.
These buildings have been entrusted to their owners through the centuries by the great craftsman and architects who founded this City. The current owners have deliberately abandoned responsibility for this important legacy and, by treating the buildings like "crap" they purport now to describe them as such in a cynical self-fulfilling prophecy designed to reward their own neglect. That is unconscionable.
These buildings are more than pieces of a private business portfolio. They are core assets of our common heritage which require stewardship and vision and, at the heart of our City, they demand the best possible solution.
Conclusion
Why are we backpedalling from the "Christmas miracle" of 2013 which saw Council swoop in at the 11th hour to prevent the demolition of these buildings? These Permit Applications must be considered in the broad context of the four year saga that brought us here, in the context of the downtown renaissance, in the context of Canada's sesquicentennial when our nation will be celebrating its 150 year history - a history that is younger that these venerable buildings - and in the context of the recent exciting restorations of Gore Park and other surrounding buildings.
The Ontario Heritage Act must not be used by the City merely as leverage in a development negotiation, but rather as an effective mechanism to genuinely save what is worth saving. This proposal to demolish structurally sound, recognized heritage buildings insults the heritage designation process and offends the spirit of the Ontario Heritage Act.
To accept this proposal amounts to a missed opportunity and irreversible blunder. Too often we have lived to regret many short sighted mistakes in the past. In this case, there is still time to find a solution.
Ownership of important buildings like these is a responsibility. That is why the Heritage Act exists - to ensure that the short-term private interests of temporary owners do not overtake the long-term value of shared community assets.
The mandate of the Hamilton Municipal Heritage Committee is to advise Council on heritage matters. Others will advise council on other aspects of this matter. But the HMHC's job is heritage and it is impossible to imagine that the heritage advice on this file could ever be "go ahead and demolish. This is good enough for us."
So we urge you, as the Permit Review Subcommittee has already done, to recommend denial of these applications and stay the course.
Respectfully submitted,
Friends of the Gore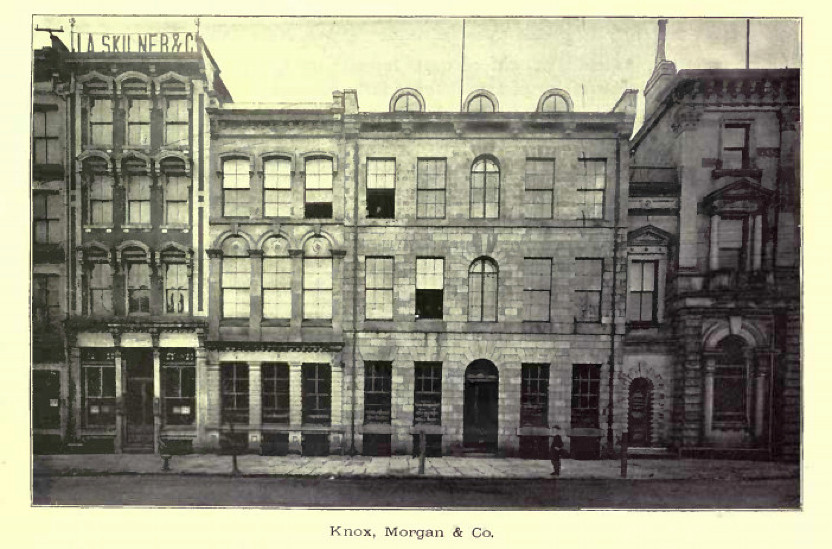 18-28 King Street East as it once was
Post a Comment
You must be logged in to comment.