AGH and HPO Present The Music of Strangers
Because The Music of Strangers celebrates diversity, it is a film of utmost importance now when xenophobia plagues many places of the world.
By Jonathan Lambert
Published December 02, 2016
On November 30, the Art Gallery of Hamilton and The Hamilton Philharmonic Orchestra shared The Music of Strangers, an outstanding documentary film about The Silk Road Ensemble, a collection of musicians brought together by Yo-Yo Ma, one of the world's most celebrated cellists.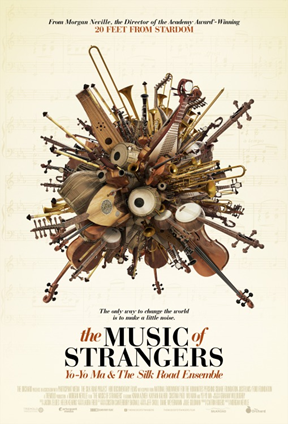 Poster: the Music of Strangers
What a brilliant, inspiring event!
But the event featured more than just a film screening.
First, composer Abigail Richardson-Schulte shared an introduction to the film and discussed the pertinent role of cultural fusion in music.
Then, violinist Suhashini Arulanandam combined her skills with the violin and her knowledge of traditional South Asian music to create a stunning experimental raga.
Such discussion and impressive live music could have been a complete event all on its own, but next came the film, which went beyond expectations.
Directed by Morgan Neville who became known for his 20 Feet From Stardom documentary, Strangers features some of The Silk Road Ensemble's most powerful performances, such as music from Cut a Rug, composed by David Bruce and starring Yo-Yo Ma on the cello.
Cinematography of the film, furthermore, is exquisite, showcasing breathtaking views from Galicia in Spain and Istanbul in Turkey, for example.
Yo-Yo Ma is clearly a leading figure in the film and the Silk Road group. But among the highlights of Strangers are Ma's fellow musicians, such as Cristina Pato, Wu Man, Kinan Azmeh, Kayhan Kalhor, Kojiro Umezaki, and Wu Tong, master artists of the Galician bagpipes, pipa, clarinet, kamancheh, shakuhachi, and sheng, respectively.
In the film they share their thoughts about life and music.
"Art is about opening up to possibility; possibility links to hope. We all need hope," remarked Kojiro Umezaki, who is also one of the ensemble's many composers, along with Osvaldo Golijov and Tan Dun.
In another conversation, Cristina Pato suggests, "Being part of this experiment makes me understand what it means to be alive."
Yo-Yo Ma comments in the film, "The clearest reason for music, for culture, is it gives us meaning."
The film also features the amazing visual arts of Kevork Mourad. Also a member of the Silk Road Ensemble, he uses techniques of spontaneous painting during which painting and music develop with collaboration and counterpoint.
The artists, at several different moments in the film, also take on critical social issues, such as racist stereotypes, cultural tourism, cultural preservation, violence, war, and poverty.
Because The Music of Strangers celebrates diversity, it is a film of utmost importance now when xenophobia plagues many places of the world. In Canada, for instance, a prominent candidate running for the leadership of the federal Conservative Party supports screening immigrants to Canada for "anti-Canadian values".
In contrast, The Music of Strangers celebrates how beauty emerges in diverse forms. As an example of fantastic collaboration among difference, the film is a superb demonstration of how humanity, because of its great diversity, is magnificently awesome.
The Art Gallery of Hamilton and its partners are bringing excellent film to Hamilton this year. The showtime for the next movie - M, a 1931 masterpiece directed by Fritz Lang - is Friday, December 16. Playing at the AGH Annex, located at 118 James St. North, it starts at 7 pm.
Post a Comment
You must be logged in to comment.