Orange the World: 16 Glowing Nights to Mark Activism Against Gender-Based Violence
In order to make meaningful, lasting changes, everyone needs to understand that gender equality is a basic human right.
By Doreen Nicoll
Published November 25, 2016
As the sun sets tonight on International Day for the Elimination of Violence against Women, the sky will take on a beautiful orange tinge as cities, towns and villages Orange the World to create a brighter future for women and girls living with gendered violence.
This is just the first of 16 glowing nights to mark the United Nations 16 Days of Activism against Gender-Based Violence.
This year's theme is Orange the World: Raise Money to End Violence against Women and Girls. The official video of the UNiTE Campaign, A Promise is a Promise, puts the magnitude of this global pandemic into perspective. Solutions exist, but they will take commitment, time, and sustainable funding on the part of governments, institutions, and individuals. In Hamilton and Halton region some wonderful women are taking this commitment to heart and turning it into action.
The Grandmothers Advocacy Network (GRAN), is a multi-partisan network of volunteers across Canada, advocating for the human rights of grandmothers, vulnerable children and youth in Sub-Saharan Africa. GRAN participants take action to raise public awareness and influence policy-makers in three key areas: ensuring access to affordable medicines, improving access to education, and ending violence against women and girls.
In sub-Saharan Africa, violence is both a cause and a consequence of the HIV/AIDS pandemic. Violence against women can take many forms including deprivation and neglect; child, early and forced marriage; violence in schools; and sexual violence against women and girls in conflict zones.
According to Irene Clarke, a founder of Golden Horseshoe GRAN, "The Orange Campaign to end violence against women and girls around the world resonates loudly with GRAN advocates because of the opportunities to raise awareness as well as provide opportunities for discussion for ending violence both at home in Canada and in sub-Saharan Africa."
Golden Horseshoe GRAN recently partnered with The Advancement of Women in Halton, a group of women representing 23 community organizations and agencies whose Mission is to promote the advancement of women by developing and supporting social, political, cultural and economic strategies to achieve gender equality municipally, provincially, nationally and internationally.
In the interest of full disclosure, I'm a member of The Advancement of Women in Halton and thoroughly enjoy every minute I spend in the company of these amazing women.
These groups recently undertook a letter writing and email campaign to convince local officials to orange their region. And, their efforts really paid off. The following cities will be lighting up significant buildings and structures for all, or part, of the 16 Days of Activism:
Hamilton City Hall from November 25 to December 10
Burlington Pier
Oakville Town Hall from November 25 to December 10
Mississauga City Hall on November 25
Peel Regional Office on November 25
Toronto letters in Nathan Philips Square on November 25
The members of Golden Horseshoe GRAN recognized that in addition to awareness about violence against women, another important piece of the solution is education. In order to make meaningful, lasting changes, everyone needs to understand that gender equality is a basic human right.
To that end, Golden Horseshoe GRAN is partnering with The Women's Centre of Halton, a volunteer driven, not for profit, charitable organization dedicated to making a positive difference in the lives of women who are in transition, crisis or distress. The services the Centre offers empowers and meets the needs of all women regardless of age, race, ethnicity, religion and sexual orientation.
DIFRET
On Thursday, December 7th, GRAN and the Centre will screen the feature length movie, DIFRET. In Amharic, the official language of Ethiopia, "difret" has several interpretations. It can mean courage or to dare, but it also has a double-entendre that means "the act of being raped." Ironically, in this case, all three meanings are apropos.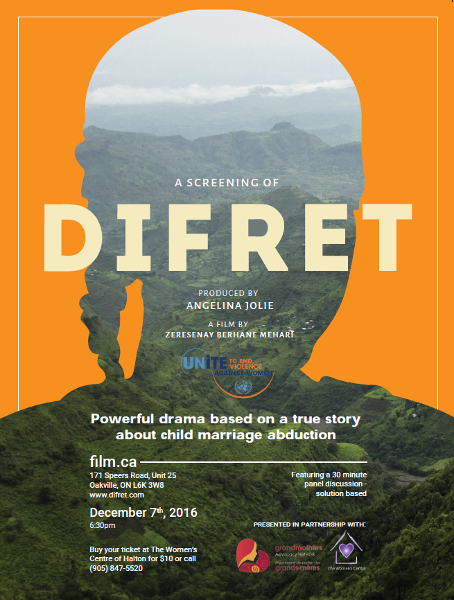 DIFRET poster
Ethiopian writer/director, Zeresenay Berhane Mehari teamed up with executive producer Angelina Jolie to create the award-winning drama DIFRET, based on the inspirational true story of a young Ethiopian girl and her tenacious female lawyer who become embroiled in a life-or-death clash between cultural traditions and their country's advancement of equal rights.
When 14-year-old Hirut is abducted she fights back, inadvertently killing her rapist and intended husband. Although the practice of kidnapping and raping young girls in order to marry them is outlawed in Ethiopia, local law demands Hirut be put to death. Fortunately, Meaza, a tough and passionate lawyer, steps in to fight for Hirut's rights.
With both Hirut's life and the future of the legal practice at stake these two women must make a case for self-defense against one of Ethiopia's oldest and most deeply-rooted traditions. DIFRET paints a portrait of a country in a time of great transformation and the brave women ready to help shape it.
Following the screening there will be a panel discussion specifically focusing on the commonalities women share when it comes to gendered violence as well as simple steps each of us can take to break the cycle of violence.
Panelists will include Sylvia Morrison, Walter Henry, and myself.
Morrison is a professor at George Brown College, community organizer, anti-oppression trainer, peace activist, humanitarian, and educator. Morrison has supported grassroots community initiatives in Cuba, Togo, Benin, Uganda, and Ghana. She has done extensive work in the violence against women sector as a counsellor and advocate for sexual assault survivors, as well as women and children who are experiencing violence in their homes.
Morrison is also the founder of Links Across Boarders, a non-profit organization with a mission to foster global citizenship through community development and education in Ghana, West Africa. Links Across Borders facilitates coordinated International Development work and learning experiences in Ghana for students and community members from the Greater Toronto Area. Participants engage in wholesome cultural immersion experiences that provide transformative learning.
Morrison will be addressing the role bystanders can play from a woman's perspective.
Walter Henry has a Bachelor of Arts Degree in History and Politics; a Post Graduate Diploma in Education from University of Guyana; and a Social Service Diploma from Seneca College. Henry has been an educator for over ten years working in Guyana, Turks, Caicos and Canada teaching high school and college students.
Henry has worked with Pathways Lawrence Heights, Seneca College, and the Toronto District School Board as a student parent worker, mentor, counsellor, and teaching assistant.
Henry is currently working as an intake worker for the Salvation Army Shelter in Peel Region. He is also coordinator for the M.A.N. Ally Program offered through Sexual Assault Victims Intervention Services of Halton. In this role, Henry educates males, and male identified individuals, about sexual violence and the roles males play in ending gendered violence.
Henry believes that as a good male ally, "we must first admit that we are all inherently flawed and that we are privileged. Why? Because we are born into a world where misogyny is cultural and embedded into every fabric of our society. Only after this can we have the conversation about unlearning the toxic ideologies of manhood and its devastating effects on society."
Henry will address the role bystanders can play from a male perspective.
I'll be looking at practical solutions to ending violence against women and what we as Canadians can learn from other, perhaps unanticipated, parts of the world.
Martha Barragan, Executive Director of the Women's Centre of Halton believes:
It's important for us to hold events like this for a greater sense of awareness of violence against women and the different forms it can take. We have to remember this is another piece of violence and it's not just a separate issue. It's part of the big picture of violence that women are experiencing around the world including here in Halton and Canada. We need to be solution based to find approaches in standing united.

I believe there is so much power in unity and often we, as women, can get side tracked by getting off course and having discussions about violence that pins us against each other with an "us" and "them" mentality. We need to consistently have the focus on an "us" mentality and then we can really continue to have these conversations and begin to move forward into a future without violence.
December 10th is Human Rights Day and the last night to Orange the World. My wish is that when the sun rises on December 11th we redouble our efforts to find ways to sustainably eradicate violence against women and girls here at home and around the world. As Barragan so eloquently articulates, "Let's stand together as women. There is so much empowerment in that."
DIFRET
$10 tickets may be purchased at The Women's Centre of Halton or by calling 905-847-5520.

Screening 6:30 pm. Wednesday, December 7 at film.ca cinemas located at 171 Speers Road, Oakville.

A 30 minute panel discussion will follow the screening.
Post a Comment
You must be logged in to comment.