Hamilton: A City Divided
Hamilton may never achieve the neat and tidy civic consensus of a place like Ottawa, but this does not excuse the rabble and disunity at the leadership level.
By Mark Robbins
Published November 04, 2016
Two Hamiltonians meet outside of the city and recognize their common origins. The first question they ask one another is invariably something like, 'Where are you from in Hamilton?' or maybe 'What high school did you go to?'
Either our interlocutors are from a similar part of town and start trying to identify connections in common, or they are not. They look at one another skeptically, with burnished credibility. This is usually followed up by something like, 'Ancaster? That's not really Hamilton.'
Hamilton is a city divided, alright.
It's said that the Scottish describe their geography as 'hilly' in spite of the clearly mountainous physical barriers between communities. The features of the Scottish highlands can reach up to 1,200 metres in height but are still known as hills.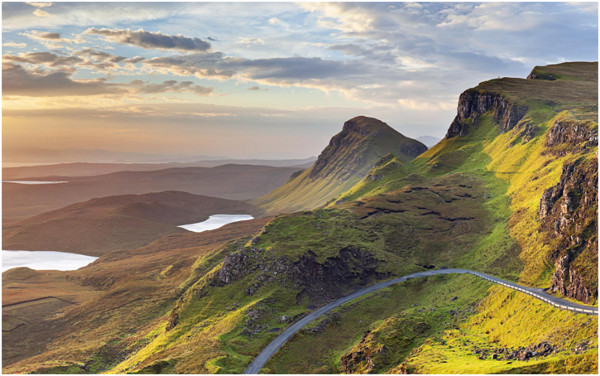 Scottish Highlands
This naming tradition comes from the Scots' strong sense of community and solidarity. "Yes, these may be mountains that separating us, but they are nothing but small 'hills' among friends."
Compare that to the Hamilton escarpment, which is 100 metres high - really just the height of a hill - but ominously known by locals as 'the Mountain'.


Hamilton's 'Mountain'
Divisiveness is quintessential feature of Hamilton, right down to how we name the landscape.
Born and raised in Stoney Creek, I can tell you that many in my tribe barely consider themselves part of Hamilton; 'Creekers' are Niagarans stuck on the wrong side of a municipal border. To this very day, I know people who refuse to write "Hamilton" in their address; they still write "Stoney Creek" regardless of how many problems it causes for mail delivery and the like.
Divisions a Major Obstacle to Progress
Hamilton is divided, but you don't have to just take my word for it. In a recent study by leading scholars Peter Warrian Alison Bramwell, a lack of unified civic infrastructure is identified as a major obstacle to progress in Hamilton.
Local stakeholders interviewed for their study specifically suggested that the 'fragmented nature of the community' is a key source of political and civic action problems.
Warrian and Bramwell go on to suggest that there are "at least seven different identifiable constituent networks in the (Hamilton) community," each pursuing varied objectives with different lexicons from one another.
Of course people can disagree, but when the leadership representing different interest groups cannot come to any compromise or achieve a baseline consensus from which to build on and move forward, the result will inevitably be inaction and stagnation.
This is bad for city policy, but especially so when it comes to representing city interest to outsiders, like other levels of government.
Case in point, Hamilton's political class and civil society continues to be locked into a life-and-death contest about the Light Rail Transit (LRT) project, in spite of having had multiple votes and elections to clarify the issue over the course of several years.
To be more precise, there have actually been 45 Council votes confirming commitment to LRT since 2008 that somehow is still not interpreted as a mandate to act. In Ottawa, as a counterexample, the two front-runner mayoral candidates in 2014 basically agreed on all but some of the more technical details of LRT, and the Mayor won over 75 percent of the popular vote.
A clear mandate to act: wouldn't that be nice?
Part of Hamilton's Character
I could go on to say that 'we need to break down barriers' and 'the community should pull together' but we have all heard that before and I'm not sure what good it will do. For one, this divisiveness is part of Hamilton's character, and as far as I can tell from several generations of oral history, this divisiveness has existed since as long as anyone can remember. While it is perhaps undesirable, it might not be changeable.
This lack of unity is not all bad either, giving Hamilton some extremely colourful neighbourhoods, personalities and identities. Celebrated urban activists like Jane Jacobs would have looked affectionately at the diversity of uses, peoples and walks of life in Hamilton as a sign of deep-seated inner livelihood.
In her own words, "There is a quality even meaner than outright ugliness or disorder, and this meaner quality is the dishonest mask of pretended order, achieved by ignoring or suppressing the real order that is struggling to exist and to be served."
Hamilton may never achieve the neat and tidy civic consensus of a place like Ottawa, but maybe it shouldn't. Yet this does not excuse the rabble and disunity at the leadership level in the city.
Their inability of to get it together is holding back a wellspring of potential. There is such a thing as agreeing to disagree, and that might be a good place to start.
Post a Comment
You must be logged in to comment.