Ensuring the Sustainability of the Gage Park Pump Track
Without water and a relatively small amount of the correct soil, a thousand volunteer hours can't fix the track.
By Greg Cowell
Published September 06, 2016
The Gage Park pump track is a two-year pilot project initiated by the Crown Point Youth Council. The BMX-style track in the southwestern corner of the park officially opened in August 2015. The park, championed by a couple of kids, not only provides a space for leisure and physical activity but a significant social space for young people.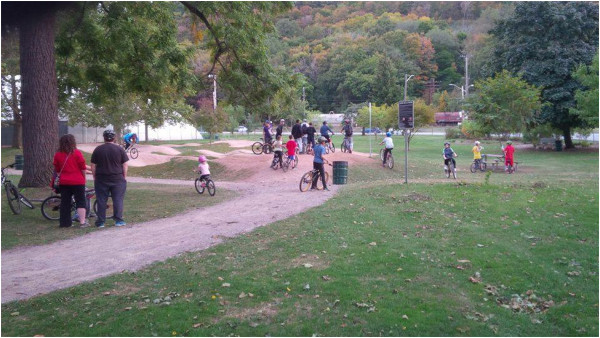 Picture taken in October 2015 (Image credit: Gage Bike Park)
Dr. Randy Rzewencki, Health Policy Officer at the European Cyclists' Federation, says it best: "Anything that gets people cycling is good. Leisure time is a good start - and it's just a small leap from sport to transport."
The bike park connects communities. I have met people from all parts of Hamilton, including Ancaster, Stoney Creek, and Dundas. Not only does it connect local communities, but it also connects cities and draws tourists from other parts of Ontario.
I regularly meet people at the track from Burlington, Oakville and even Ottawa, who say it's the pump track that first brought them to Gage Park.
Is it Sustainable?
Alpine Bike Parks (ABP), the builder of the track, was upfront with the City of Hamilton, letting it know that the success of the bike park hinges on the continuous maintenance of the track surface by city staff, contractors or volunteers. Sound like a big expensive endeavor? Not at all!
When the track first opened in late August 2015, a group of volunteers met weekly to ensure the upkeep of the track. ABP provided a professional track builder to provide peer-to-peer training for volunteers.
It became a weekly community volunteer maintenance event which allowed kids to log volunteer hours, connect with other community members, socialize with friends, build confidence, teach others and learn how to properly maintain a bike park.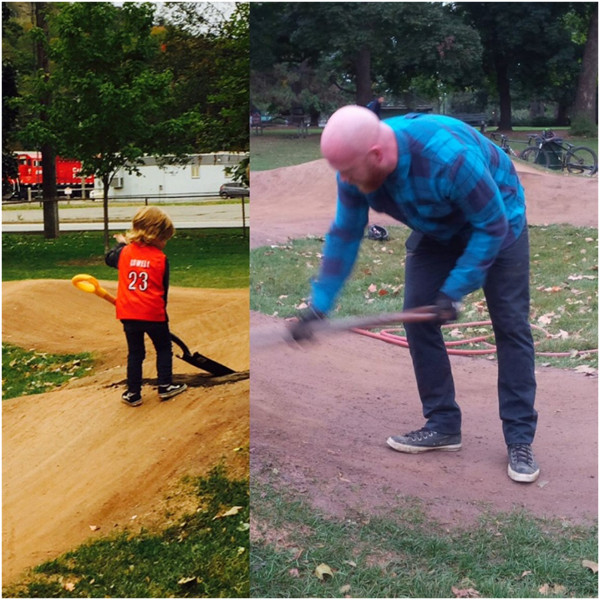 Volunteering at the track. Left pic: My son. Right pic: Me.
I showed up each week with my two-year-old son to help out and show him some of the above attributes. Within a couple of weeks, this volunteer community session started to transform me. I found myself wanting to spend more and more time at the track.
Kids would often show up to volunteer, in hopes that after doing a couple of hours of physical labour, they may have an opportunity to borrow another volunteer's bike because they didn't have one.
We started bringing extra bikes so kids could ride. We even reached out to friends and family who graciously donated multiple bikes so we could give them away to children in need. I started to see what social cohesion looked like and I wanted more!
Five Months Later...
Skip forward to April 2016 and I was excited to pick up where we left off. Although we had an easy winter, the first signs of track deterioration started to appear. I reached out to the City and Ward 3 Councillor Matthew Green to ask if the city was planning to do some pre-season maintenance and if the volunteer nights were expected.
I was told at the time to remain patient. This was a pilot project and projects like this have temporary setbacks.
I stayed patient. Two months after my initial request in April, the track was in desperate need of repair. The momentum, from just a few months prior, was dwindling and the ridership appeared to be following that same trend.
No water. No dirt. Not enough dirt. Wrong dirt. Without water and a relatively small amount of the correct soil, a thousand volunteer hours couldn't fix the track. As ABP stated:
During the maintenance process, bicycle [tracks] need to be enhanced continuously to optimize user experience, minimize safety risks, and decrease long-term maintenance costs.
I reached out again, asking how I can help. The City affirmed they were aware of the problem and were working toward a resolution.
Rumours swirled among the avid cycling users. We heard:
The City does not want to accept liability for the volunteers using a shovel, hose, and broom. I was surprised when I had to sign a City waiver for my two-year-old son to use a child-sized shovel on volunteer night.

City staff were upset that they were not being paid to maintain the track themselves.

Alpine Bike Parks wanted an extremely high hourly rate to maintain, once their contract expired.
Finally, during the week of August 21, the City attempted to repair the track; however, the dirt they used for the surface was filled with gravel.
After spending years in the BMX race community, I have a working knowledge of what works and what doesn't when it comes to building tracks. The surface for a pump track needs to have a high clay content and be free of gravel. You want the surface to be hard, fast and tacky - it's now the opposite.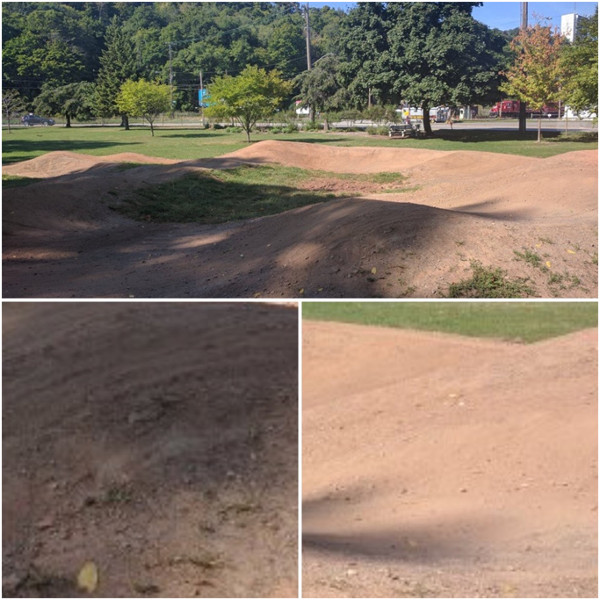 Pictures of soil added to the top surface in August. Note: Not free of gravel. (RTH file photo)
Public Meeting
After a few frustrated active community members had complained to the City, explaining how the track is now unrideable, Councillor Green arranged a Gage Park Pump Track Community Partnership Meeting.
My son and I will be in attendance along with our Pump Track friends. We will work toward a sustainable solution to ensure the vision of the local youths is not lost to politics and poor planning.
The meeting is Wednesday, Sept. 7, 2016, at 7 p.m. at the Gage Park pump track and is open to all.
Post a Comment
You must be logged in to comment.