Site Plan for 560 Grays Road and Multi-Use Path - Updated
The City's head of planning has clarified that the site plan for a new development planned at Grays Road and Frances Avenue will not replace the existing paved multi-use path with a sidewalk, forcing cyclists into vehicle traffic.
By Viv Saunders
Published August 11, 2016
This article has been updated.
Editor's Note: Jason Thorne, the General Manager of Planning and Economic Development for the City, has clarified in a response to RTH that the multi-use path will not be affected by this development.
The city giveth and the city taketh away.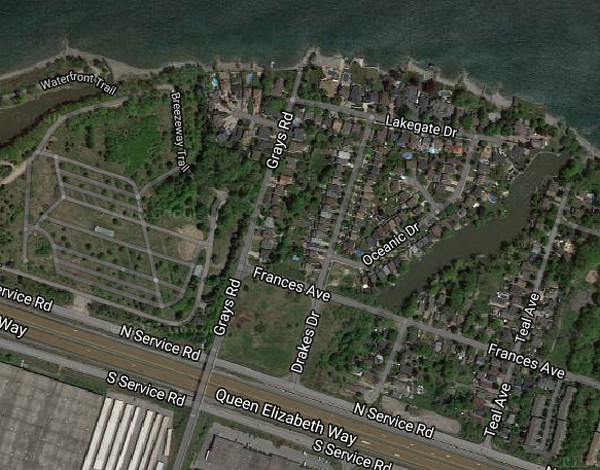 The development is planned for the block bounded by Grays Road, Frances Avenue, Drakes Drive and North Service Road (Image Credit: Google Maps)
At this week's Planning Committee meeting, a new Conceptual Plan for a development at 560 Grays Road was presented. When the applicant's representative displayed the plan, the public learned for the first time that the existing multi-use path on Frances Avenue will be replaced with a sidewalk.

Paved multi-use path on the side of Frances Avenue (Image Credit: Google)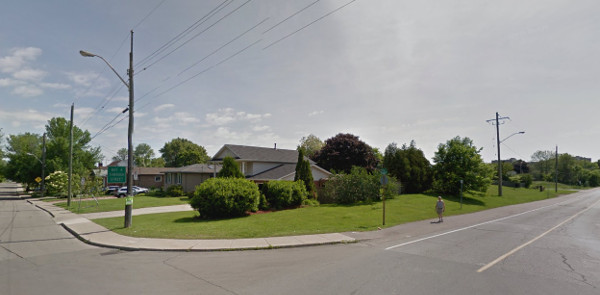 Multi-use path on Frances Avenue (right side) at intersection with Grays Road (Image Credit: Google)
The Zoning Amendment Application (Item 6.2 in the Planning Committee agenda) states:
New 1.5 m wide concrete sidewalks will be required to be constructed by the developer on the north side of Frances Avenue between Grays Road and Drakes Drive and along Drakes Drive southerly to the north limit of the proposed driveway entrance. An internal sidewalk is also recommended which would provide a connection from the proposed building to the intersection of Drakes Drive and Frances Avenue.
This particular multi-use path is the result of years of pleading to address the safety concerns associated with the previous gravel shoulder. It is now a paved route that is used continually by cyclists and pedestrians.
This is a heavily-used cycling path that is used by hundreds of cyclists to enter Confederation Beach Park for recreational cycling and is the desired path for Ontario Waterfront Trail users in order to avoid the narrow and congested Drakes Drive.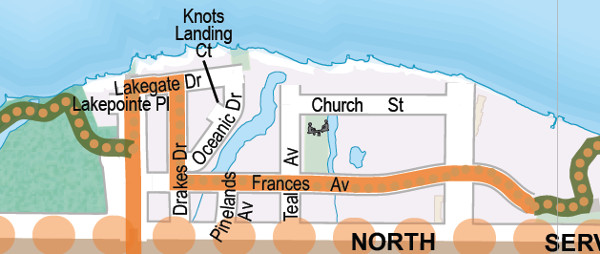 The Waterfront Trail runs along the paved multi-use path on Frances Avenue
This particular path also provides connectivity to the QEW pedestrian overpass, Cannon bike lanes, and Skyway Bridge for those who choose to cycle to work. While not a designated route, for safety reasons and travel time, it is definitely the desired route and is well used.
Approval of the rezoning at 560 Grays Road approved the removal of this path with a sidewalk replacement, which will result in cyclists having to once again share the road. The road network is also a designated truck route in this section of our residential streets. Now cyclists will be forced to share the road with vehicle and truck traffic.
This appears to be a big step in the wrong direction. It is counter-intuitive to Vision Zero and other Council-supported mandates. Approval of this rezoning plan places the city's desire for infill development ahead of the public's need for safe active modes of transportation.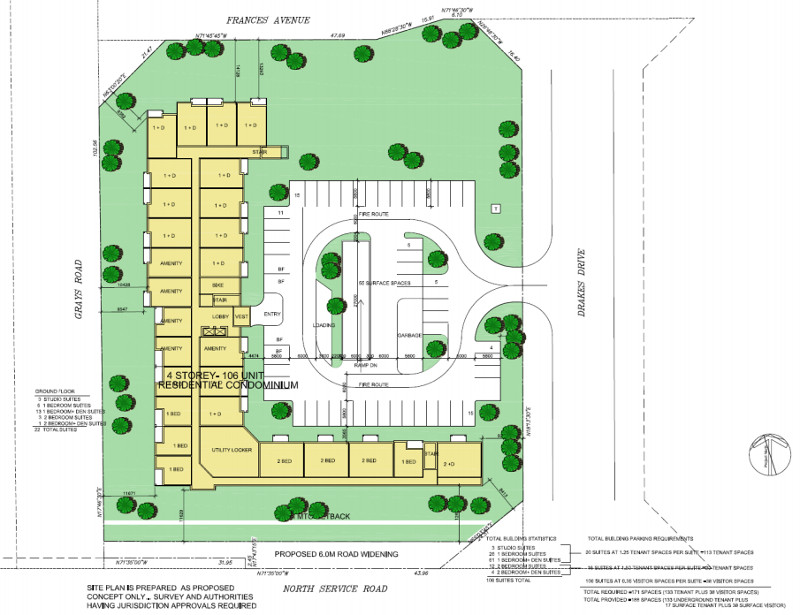 Proposed Site Plan: Planning Report PED16158, Appendix D
We originally supported this development after having great dialogue with the developer's representative, but now we're finding out health and safety remedial measures have not been adequately dealt with during the planning process. We believe approval is premature and the motion to approve rezoning of 560 Grays Road should be tabled at this Friday's Council meeting.
Good land-use planning should include enhancement to existing infrastructure, not its reduction or removal. A concrete plan should be worked out during the public process of rezoning, not behind closed doors and without public input during the Site Plan process.
Generally speaking, cycling paths are the first things to be axed when dealing with limited infrastructure resources.
Experience has taught us a "let's wait and see" what is agreed to after the fact (by people who do not live in our community)is likely to be a lunch bag we're disappointed with.
Lakewood Beach Community Council is a neighbourhood association located in Hamilton/Stoney Creek. Our advocacy efforts are focused on enhancing a community that is healthy, safe and respectful of our natural environment.
---
Update: According to Jason Thorne, General Manager of Planning and Economic Development for the City, the approved site plan for 560 Grays Road will not impact the multi-use path on Frances Avenue:
The proposed development at 560 Grays Road does not affect the multi-use path on Frances Avenue. The development approval for 560 Grays Road includes our standard requirement to add sidewalks, which would occur around the perimeter of the site, and the details of this are done through the site plan approval process.

The multi-use path on Frances Avenue isn't affected by the development. That said, the Cycling Master Plan has identified Frances Avenue for possible cycling improvements that may include a dedicated bike lane, separate from a walking path or sidewalk for pedestrians. That will be determined through the Cycling Master Plan update.
Post a Comment
You must be logged in to comment.