A Tour of Indwell's Rudy Hulst Commons
Affordable housing is a hot topic in Hamilton right now. Indwell's new project proves it can be built affordably and to a high standard.
By Graham Crawford
Published June 22, 2016
This article has been updated.
Yesterday, I had a private tour of Indwell's brand-new Rudy Hulst Commons on Main Street just east of Kenilworth. It's an affordable housing building that blows away any preconceived ideas as to what affordable housing looks like.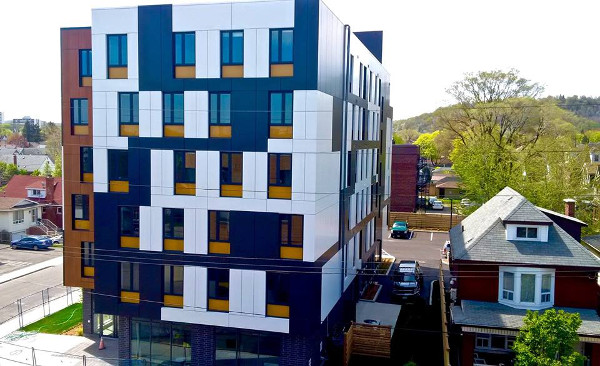 Indwell's Rudy Hulst Commons
In my view, this is affordable housing that demonstrates creativity in support of dignity. I was very impressed.
Here are ten highlights.
1. The exterior is as good looking as - actually better than - than any new private sector condo project in Hamilton, in my opinion. The materials are first class and the combining and integrating of the various materials is extremely well done.
2. The lobby has lots of natural light and uses carefully selected materials that convey quality and permanence.
3. The elevator lobbies on each floor have a wall of windows at one end that not only let in tons of natural light, but also provide amazing views of the east end that you've never seen before.
4. The units have lots of natural light, a full kitchen/living area combo, a bedroom that uses a sliding door rather than one that swings and takes up room, plenty of cupboard space throughout, a bathroom that has been positioned to get natural light from one of the exterior windows. Small but very pleasant. All of the windows come with pre-installed roller blinds of very nice quality.
5. The 6th, and top, floor features a large common room with floor-to-ceiling glass walls on two sides that overlook the east end and the edge of the escarpment. Full kitchen, accessible washroom, computers for people who don't have their own, and a small terrace with a picnic table that looks south and west overlooking Delta High School, the stadium and downtown.
6. There's also a laundry room right next door to the common room and terrace on the top floor, with a huge double window that lets in tons of natural light. Why on the top floor? Why the window? Some of the people who live in this building have suffered domestic violence and going down into a basement with no windows does not support a sense of safety. That's why. It seems no detail is too small for Indwell.
7. The building is air conditioned, with individual thermostats in each unit.
8. Each unit is wired for cable and wifi, although Indwell is not in a position to provide it as part of the rent, making it a decision for each tenant to make (there are computers in the common room).
9. There are some units that are barrier free using Hamilton's own barrier free code that is more demanding that the province's. Getting to those units on the elevators has been thought of, too. One of the elevators is wider than the other so that people in wheelchairs or scooters can turn around in the elevator.
10. Indwell's own offices are on the main floor at the rear of the building at grade and in the lower level (which has decent upper windows that let in natural light).
What's even more amazing is that the City of Hamilton put in a total of about $300,000 to build this place. The feds and the province put in more, and Indwell raised the rest itself. Total cost of this building was approximately $10 million.
This is an example of what we need more of in Hamilton. Dedicated people who know what they're doing and who are committed to treating people in need with the dignity they deserve.
This is not poor housing for poor people. This is good housing for people who need some help.
Two quick tenant vignettes from my tour.
I met a guy who moved in today while we were waiting in the lobby for the elevator. He was with his dog Sam. He told me he had just taken Sam for a walk and was heading back to his new apartment. A pet-friendly building. Not sure who looked happier, Sam or his owner.
A note was pushed through the door of one of the still-empty units we looked at (although all units have been rented, some have not yet been occupied). It was from one of the tenants inviting people to come up the common room to enjoy some chili she had made just to say hello and to meet each other. Remember, the building just opened on the weekend. Just over half of the tenants were moved in by today. Already, community was beginning.
I left the building feeling a little bit emotional, to be honest. I had just visited a building where people who needed a break were getting more than that. They were getting a home they could be proud of. That wasn't cheap and nasty and built to be just OK.
Affordable housing is a hot topic in Hamilton right now. What I saw proves it can be built affordably and to a high standard.
The building was designed by a Hamilton-based firm called Invizij Architects. The lead architect was Emma Cubitt. The construction was done by Demik Construction, also a Hamilton-based company.
I want to thank Graham Cubitt, Director of Projects and Development, for taking the time to show me Indwell's latest project.
They are to be congratulated. Loudly.
---
Update: Updated to include the name of the architecture firm and construction company responsible for the building.
Post a Comment
You must be logged in to comment.