Hamilton's Urban Forest Woes
Without an urban forest management plan, when the next invasive species, or ice storm, or severe-weather event rolls in, we will continue to lose more limbs.
By Giuliana Casimirri
Published May 12, 2016
Both Earth Day and Arbour Day have recently passed. It's the time of year when trees in cities get some much-needed attention. Hamilton's urban forest - the sum total of trees, woodlands and green patches in the city - needs all the help it can get.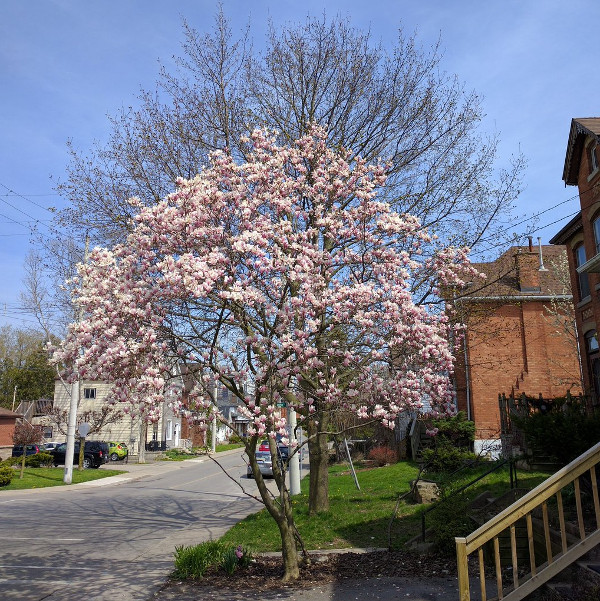 Flowering magnolia tree in Hamilton (RTH file photo)
In an April 18 Spectator editorial, editor-in-chief Paul Berton highlighted a couple of things we can do for our urban forest, including planting new trees and stewarding existing trees. However, as Mr. Berton points out, none of this is enough on its own.
Emerald Ash Borer (EAB) beetles, introduced to North America within the last 15 years, feed on and destroy ash trees. Hamilton has a lot of ash trees because ash trees made good street trees - they were hardy and did well in the urban environment.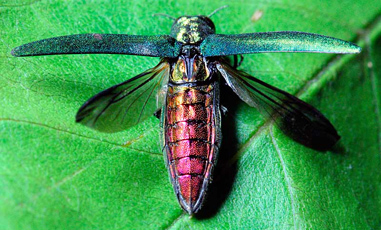 Emerald ash borer (Image Credit: Wikipedia)
Faced with the crisis of losing all our ash trees, in 2013 Council approved an EAB management plan, which includes cutting City-owned ash trees and replacing them with a new tree, at a cost to the city of $26 million over ten years.
Wrong Approach
While this seems like a big investment, Hamilton's response to EAB is not nearly enough, and it really isn't the right approach.
Imagine your leg hurts and you go to the doctor. Your doctor decides the leg should be removed and schedules an operation the next day.
Your doctor makes no effort to understand or treat any of the underlying causes of your sore leg, hasn't conducted any physical exam, orders no tests, doesn't take a family history, and doesn't consult with any other experts, or your family.
Our urban forest is like that patient presenting with a sore limb and our EAB management plan is akin to the doctor chopping the limb off, rather than treating underlying causes. We are treating the most obvious symptom of our unhealthy urban forest and ignoring other symptoms and with this, any chance of growing a resilient urban forest.
Just as you would with a sick patient, we need to assess all the symptoms, collect more data, get to the bottom of the problem(s) in consultation with all relevant City departments, experts, and the community, and search out best practices.
We need to figure out how to make our sick urban forest survive and thrive. We need to set some realistic health goals for our urban forest, so that it can continue to contribute to our community into the future. Basically, we need a holistic planning approach to our urban forest.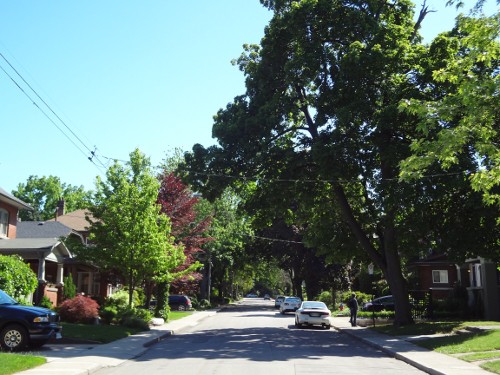 Tree canopy over city street (RTH file photo)
Urban Forest Management is Complicated
Good urban forest management in a city is a tricky thing - it's definitely more complicated then most politicians and residents realize. Most municipalities, whether they are faced with an urban forest health crisis or not, begin by developing an urban forest management plan.
In Hamilton, like the doctor scheduling a hasty surgery, we have developed a 'cut and replace all the ash trees plan' and left it at that.
Hamilton did set a goal in the 2007 Corporate Strategic Plan "to increase urban forest canopy cover towards 30 percent" but we have never, ever, since then, paid attention to where, when, who or how we will accomplish that goal.
Without a plan, that goal is just a wish.
Plan Needs a Budget
During the recent 2016 budget review process, the Planning Department requested $100,000 to support the development of an urban forest management plan. The Forestry and Horticulture Section was on board, and other agencies and groups such as the Hamilton Conservation Authority, Royal Botanical Gardens, Environment Hamilton, Hamilton Naturalists' Club, and Trees for Hamilton, all supported the initiative.
The sum was modest and the scope broad. For the second time, the Mayor and Council did not approve the budget request.
Other municipalities across Ontario, from Toronto, to Ottawa, to Cambridge and Oakville, have all seriously committed to enhancing their urban forest and have begun by developing proactive urban forest management plans. Without an urban forest management plan, when the next invasive species, or ice storm, or severe-weather event rolls in, we will continue to lose more limbs.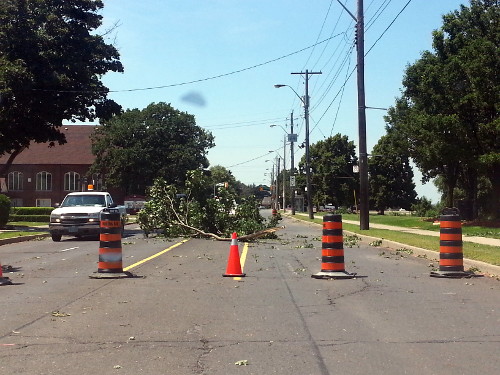 Tree down on Concession after summer 2013 storm (RTH file photo)
A new program developed by the Hamilton Naturalists' Club and Environment Hamilton, called Trees Please, hopes to fill in some of our urban forest data gaps and add more trees in areas of the City with poor air quality.
Funded by the Ontario Trillium Foundation, Trees Please gives us hope that even if the City isn't prepared to set and implement urban forest goals, residents and non-profit groups are trying to get the job done.
Post a Comment
You must be logged in to comment.