Safe Cycling Not a Priority for West Mountain Councillor
While the Minister of Transportation believes cycling is healthy, in Hamilton it remains a dangerous, unsupported method of travel.
By Jill McKenzie
Published April 25, 2016
On the same day day that the Ontario Minister of Transportation was in Hamilton promoting cycling as a healthy way to travel, I conceded defeat and carried my bike down the mountain access stairs.
The day before, I had once again been bullied by Hamilton drivers, intent on teaching me a lesson that bikes have no place on their road.
I live on the mountain and work downtown. I prefer to ride my bike to work, believing, as does the Minister, that cycling is a healthy alternative to driving a car.
To get down the access, I cycle down the West 5th access. I have ridden down that access many times, and I have ridden down significantly bigger mountains in this country and others.
I know what I am doing. I ride down the mountain at almost the same speed as those in cars, so to the extent I slow down anyone, it is for a few seconds at most.
When it became apparent that motorists would pass me despite signage indicating passing is forbidden, I began to take the whole lane in an effort to prevent being passed. Passing should be forbidden - the access is curved, short and steep.
Despite my efforts, Hamilton drivers insist on pulling into the oncoming lane, even if there is traffic coming up the opposing lane.
This is what happened on Monday. On Tuesday, another car pulled into the oncoming lane without regard for oncoming traffic. That was bad enough, but a large, black SUV revved its engines and followed in the path of the first car to pass me.
Neither vehicle was aware of - or cared about - the oncoming cars, and certainly, neither cared a whit about me on my bike. They had a point to make. Thankfully, somehow, there was no collision. When I met up with the SUV, the driver and his passenger refused to make eye contact with me - they had already made their point.
I contacted my city Councillor, Terry Whitehead, to inform him that drivers are repeatedly disobeying the traffic rules on that hill and that it was going to cause an accident.
His staffer returned my call to tell me the West 5th access is not a designated safe bike route, that there are buses with bike racks on that route, and there were no plans for bike routes on mountain accesses.
She also told me she had witnessed someone ride down the access on a skateboard, and she had personally witnessed cyclists riding the wrong way on one way streets.
None of that had anything to do with my riding or my concern, of course, but it made clear her point that the message from the councillor's office is that there is no priority given to cyclists and they shouldn't be on the road - that is what the buses are for.
So, while the Minister of Transportation believes cycling is healthy, in Hamilton it remains a dangerous method of travel. On Wednesday, I carried my bike down the access after promising my father I wouldn't ride down the access.
He told me that he didn't want to put on my tombstone: "She had the right of way."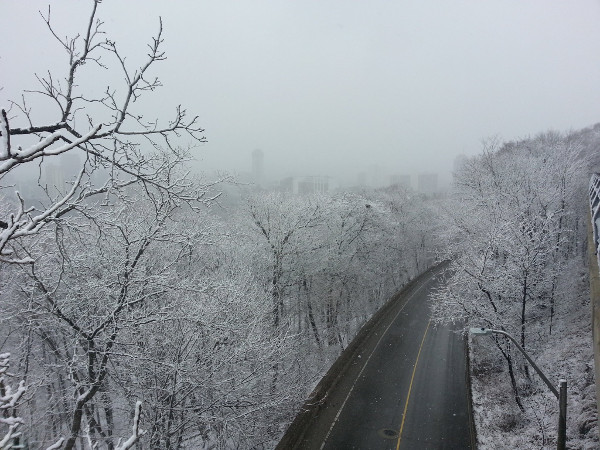 James Mountain Road in February (RTH file photo)
Post a Comment
You must be logged in to comment.