Veracious Life Productions Presents Dearest Diary
The surprisingly funny and poignant performances were not over-long and were genuinely different from each other, making it a very enjoyable evening.
By Mackenzie Kristjon Jenkyns
Published April 11, 2016
Date: Thursday March 24, 2016
Location: Staircase Theatre, 27 Dundurn St. N.
Performers: Robin Zee, Brenda Lennie, Jim Maxwell, Kenneth Salazar-Cordova, Jody Boston, Greg Moverley, Jeff Griffiths, and Linda Taillon.
If there's one thing you can say about Hamilton, Ontario, it's that there is quite a variety of eclectic performance and theatre events around the city. Nowhere was this made more apparent than at the surprisingly funny and poignant evening held recently at the Staircase called Dearest Diary.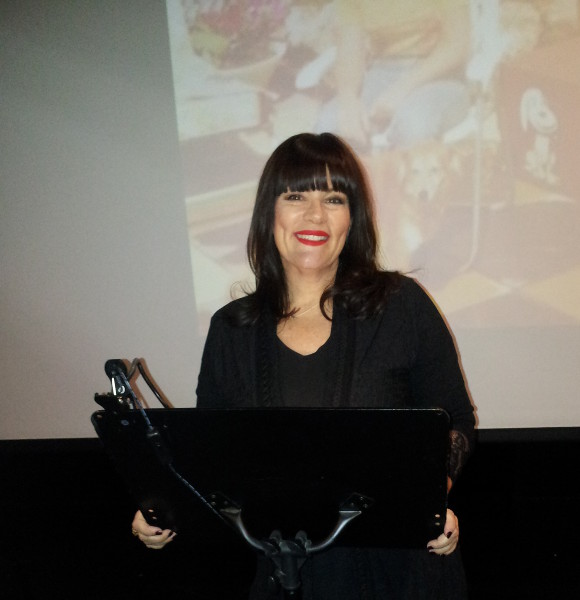 Linda Taillon
Organized by local artist Linda Taillon, Dearest Diary presented eight performers ranging from a recent Hamilton Arts Award winner to musicians and Second City people, all of whom presented stories from their younger selves - diary readings, stories, old poems, love letters, and even some rapping!
When asked what gave her the inspiration to host this event, Linda described her "years and years of reading diaries to friends and my daughters. I've always wanted to do a live reading of old diaries because I'm interested in how we were as children and what we become as adults. It's a way in which we can reflect on our lives and see how far we've come."
To stand in front of people baring their young souls takes a certain kind of bravery - as one might expect.
The evening began with music and images from the seventies as people mingled and sauntered in creating a definite nostalgic feeling. Performance artist Robin Zee started the event with some harrowing self-questioning in the vein of her recent one-woman play "Borderline Me". She was quickly followed up by Brenda Lennie, who regaled us with the tale of her first boyfriend Drew. Oh the ups and downs of young love!
Comic Jim Maxwell kept things going with a version of his ten-year-old self's diary - as read by Morgan Freeman. Not to be outdone, young Kenneth Salazar-Cordova brought us back into more modern nostalgia with some raps from five years ago.
In the second act, the audience was treated to some very funny and interesting poetry from Jody Boston and Greg Moverley followed by a short story based on the childhood of Jeff Griffiths. Linda Taillon closed off with some diary entries that indicated she may or may not have been a child TV star that cannot seem to remember where, why, or how.
Overall, the performances were not over-long and were genuinely different from each other, making it a very enjoyable evening. Linda indicated that she hopes to make this a recurrent event. The next one, with all new readers, is May 11 at The Staircase.
Post a Comment
You must be logged in to comment.