New Study Seeks to Understand Why Bike Share is So Safe
People riding bike share bikes have significantly lower risk of crashes, collisions and injuries than the general cycling population.
By Ryan McGreal
Published April 05, 2016
In a little over a year of operation with 242,435 trips totalling 509,510 kilometres over almost 73,000 hours (as of this writing), Hamilton Bike Share has not had one reported crash, collision or injury. The evidence suggests that this is not just a remarkable run of good luck.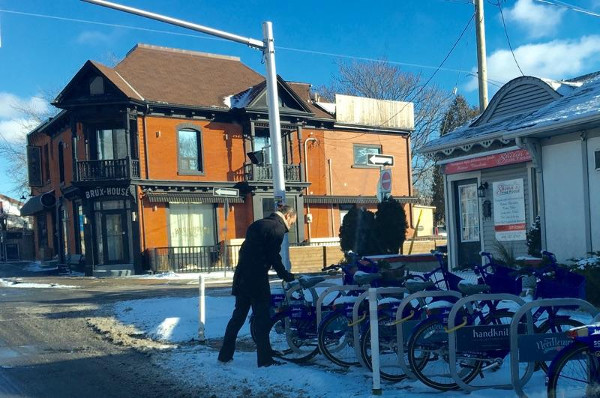 Using Hamilton Bike Share in winter (RTH file photo)
A new study looks at the cycling safety data in three cities with bike share programs - Washington DC, San Francisco and Minneapolis - and concludes that people riding bike shares have a significantly lower risk of injury than the general cycling population.
This is despite the fact that helmet use among bike share riders is low and many bike share riders are otherwise new and infrequent cyclists.
The reason or reasons for this safety boost are not yet entirely clear, and the study serves as more of a discussion piece than a set of proofs. It draws on qualitative data collected from several focus groups involving both bike share members and non-members in cities with bike share programs, as well as expert analysis, to draw out some theories on what explains the improved safety record.
Bike share bikes are designed to be comfortable, heavy and stable. This directly reduces the risk of wiping out, but it also discourages the kind of risky, high speed cycling that can lead to crashes.

Bike share bikes are also designed to be highly visible to drivers with bright colours, automatic headlights and taillights, and reflectors.

Bike share riders are more likely to ride slowly and cautiously and to comply with the law.

Bike share programs tend to be focused in areas where land use is denser and traffic is slower-moving in general.

Having a bike share increases the number of cyclists on the road, conferring the well-known safety-in-numbers effect.
Interestingly, the limited data the authors considered on the safety-in-numbers effect was inclusive: it is not clear whether bike share programs increase the density of cyclists enough to confer an unambiguous safety benefit through this mechanism.
Most focus group members strongly agreed that helmet use should be up to personal choice, and that compulsory helmet rules would prevent unplanned bike trips, which make up a significant proportion of total bike share usage. Both regular helmet-wearers and non-wearers were in agreement on this.
Not surprisingly, the groups composed of drivers and non-bike share members concentrated more on perceived cyclist behaviour, reporting frustration with cyclists running red lights, riding side-by-side, on the sidewalk, against traffic flow, and so on.
However, all the focus groups, including the drivers, agreed that the quality and extent of municipal cycling infrastructure also plays a vital role in the safety and accessibility of cycling.
The study, prepared by Elliot Martin, PhD, Adam Cohen, Jan Botha, PhD and Susan Shaheen, PhD, was published by the Mineta Transportation Institute in the College of Business, San Jose University.
The results for Hamilton Bike Share usage are from Social Bicycles, the company that provides the bicycles and data technology for Hamilton Bike Share.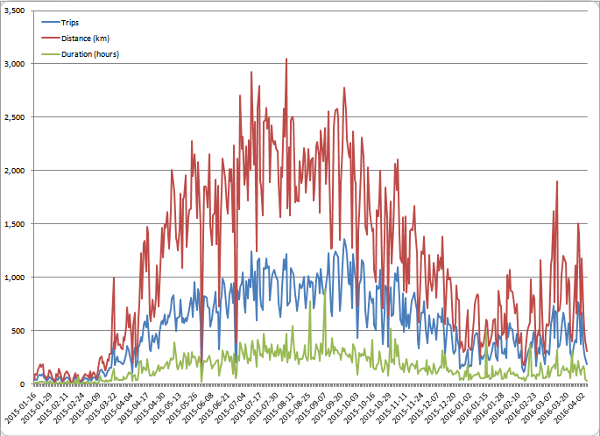 Chart: Hamilton Bike Share Trips, Distance and Duration, 2015-01-16 to 2016-04-05
(h/t to Vox for drawing attention to this study.)
Post a Comment
You must be logged in to comment.