City to Present LRT Communication Strategy after Preliminary Plan Leaked
When important operational decisions are released through media leaks rather than developed in an open, inclusive process, it feeds into the knee-jerk fear and cynicism that drives opposition to change.
By Ryan McGreal
Published March 24, 2016
This past Monday, the Hamilton Spectator published an article on a leaked draft of the city's preliminary light rail transit (LRT) plan, which calls for a "transit first" approach that prioritizes LRT to maximize the speed and reliability of the service.
The Spectator has learned that, among other features, the concept proposes to:

Run LRT on two centre lanes throughout the McMaster University to Queenston Circle corridor except for downtown's International Village.
Turn International Village from Walnut to Wellington streets into an LRT "Transit Mall" closed to other through traffic.
Limit left turns to main intersections along the corridor, with side streets and private driveways restricted to right in, right out turns to minimize vehicles crossing the tracks.
Make King Street two-way between Dundurn and the Delta.
Create a single traffic lane running in each direction alongside LRT for much of the route.
Segregate LRT from traffic with a vertical or mountable curb for emergency vehicles.
Ironically, this leak comes a week before staff present an update on the LRT communications strategy to the Light Rail Transit Sub-Committee meeting on March 29. We can't link directly to the report, since the city's committee meeting website is broken-by-design, but the document is item 7.1 under Presentations.
The communications strategy begins with a vision statement:
Rapid Transit is more than just moving people from place to place. It is about providing a catalyst for the development of high quality, safe, environmentally sustainable and affordable transportation options for our citizens, connecting key destination points, stimulating economic development and revitalizing Hamilton.
The communications strategy is aligned with the recent Citizens' Jury on Transit Report, which was presented to Councillors at the March 2, 2016 General Issues Committee meeting. (It is also impossible to link directly to that report, but a copy has been archived at RTH.)
That report emphasized the vital importance of broad and ongoing community engagement on the LRT project, which is large, complex and potentially controversial.
Communications Strategy
In keeping with this, the objective of the communications strategy is to "build awareness of the project and process" by engaging stakeholders, undertaking market research and informing Hamiltonians about the approach and timelines.
Beyond the Citizens' Jury, engagement will include a website, a project newsletter, social media, LRT Sub-Committee meetings, briefings with councillors, meetings with BIAs and the Chamber of Commerce, meetings with neighbourhood associations and community councils, media interviews, pop-up displays at public events, telephone town halls, media ad buys and a Light Rail Vehicle display.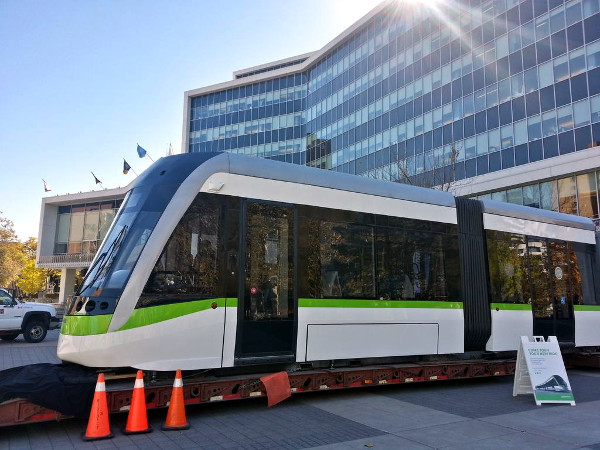 Metrolinx Light Rail Vehicle on display in front of City Hall last year (RTH file photo)
The presentation also includes a list of "key messages" to communicate about the LRT project:
LRT is an integral part of a comprehensive economic development strategy to attract new investors, create new jobs and broaden the tax base.
LRT produces no tailpipe emissions and will help to increase transit ridership and reduce noise and air pollution.
LRT will be integrated with the city's multi-modal transportation network, including transit, cycling, bike share and walking.
LRT will also be integrated with regional rapid transit by connecting to the Hunter Street and West Harbour GO stations.
One of the first details to be presented starting in May will be a preliminary design of the amended LRT route - this is the leaked document that was reported in the Spectator - as well as confirming general stop locations and finalizing a maintenance and storage facility location.
The goal is to visit every property and business along the LRT route between May and June, and to do this twice a year until the LRT is completed. The LRT team will maintain a database of contacts and feedback on operational and other issues.
Environmental Assessment Addendum
The City completed an Environmental Assessment (EA) for the original LRT route, but that needs to be amended due to the changes in the final LRT route, specifically ending the line at the Queenston Traffic Circle and extending a spur north to the West Harbour GO Station.
That EA Addendum will be completed between September 2016 and Spring 2017, and will include a formal process to provide input with Public Information Centres (PICs), stakeholder meetings and telephone town halls. In a refreshing line, the communications team will also "go where the people are" by visiting public events, trails, bus stops, go stations and malls.
The EA Addendum engagement process should be completed by Spring 2017.
Preparing for Construction
During the pre-construction phase in 2017 and 2018, the communications strategy will be to prepare the public for the impacts of LRT construction. That will include preparing a "business support toolkit", marking the route to identify station locations, support for trip planning (similar to the tool the City developed for commuters during the Beckett Drive closure) and fully-staffed community offices to meet people and answer questions and concerns.
The strategy recognizes that LRT construction will be disruptive to local businesses and is "committed to mitigating the impacts of construction, where practical." That will entail professional training opportunities, market research, advertising and a business support program.
Metrolinx also pledges to work with community organizations to ensure that local benefits include jobs, apprenticeships and "social procurement," which means taking local social benefits into consideration when making hiring, purchasing and procurement decisions.
Communication is Essential
Over the past few years, we have often lamented the fact that the City's Rapid Transit engagement strategy, so broad and inspiring in 2008, fell silent in 2011 when the project ran into political turbulence.
As the months ground on, much of the goodwill the City had accumulated during its engagement heyday evaporated. Confusion, misinformation and nonsense quickly emerged to fill the void, and the City remained silent in the face of a growing barrage of anti-LRT FUD.
That cannot be allowed to happen again, and the City's LRT communications strategy comes not a moment too soon. If anything, it should have already been in place and under active engagement before we got to the point of having a preliminary design document to release - albeit as a leak to local media.
The result is that the City has at least provisionally relinquished its own ability to frame its approach to LRT planning.
As we have learned from other cities that have implemented LRT, it is vitally important for the City to be engaging with the public continuously through a variety of channels and formats to keep receiving feedback and building consensus. That way, when a controversial but important decision is at hand, there is political space for Council to make the right choice.
When important operational decisions are released through media leaks rather than developed in an open, inclusive process, it feeds into the knee-jerk fear and cynicism that drives opposition to change.
If what the Spectator has reported is, indeed, the direction Metrolinx and the City are going, it looks like they are paying attention to the success criteria of LRT in other jurisdictions. That is encouraging, but even good policy decisions are better when they're made in a more public, inclusive way.
Post a Comment
You must be logged in to comment.