Review: Sonoluminesence Trio and Dave Gould at Art Gallery of Hamilton
The music was incredibly rich, nuanced and lively, and the musicians exhibited a palpable rapport, carefully tuned into each other to improvise music that sounded at once assured and exploratory.
By Ryan McGreal
Published March 21, 2016
My standard musical repertoire these days seems to consist of an unending succession of indie pop and electronic dance music, so it was a real pleasure to step out of my comfort zone and experience a dazzling improvisational jazz performance on Sunday afternoon at the Art Gallery of Hamilton.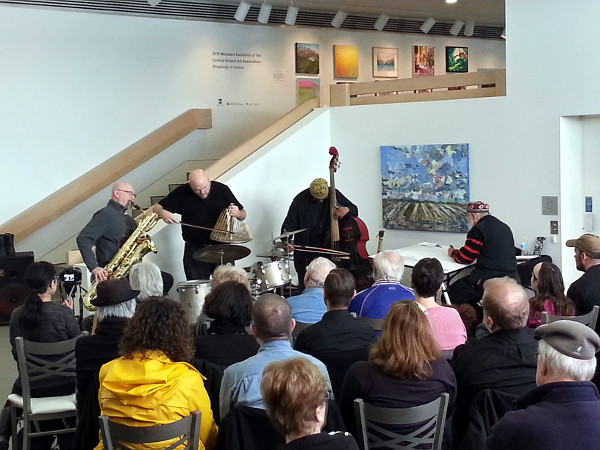 Sonoluminesence Trio: from left, David Mott on baritone saxaphone, Jesse Stewart on percussion and William Parker on Bass, plus artist in residence Jeff Schlanger painting the show
The show was by Sonoluminesence Trio: David Mott (Toronto) on baritone sax, William Parker (New York) on bass and a whirlwind of assorted woodwind and brass instruments, and Jesse Stewart (Ottawa) on drums and percussion. While the show was playing, artist Jeff Schlanger (New York) created a visual representation of the performance.
The trio's music was incredibly rich, nuanced and lively, and the musicians exhibited a palpable rapport, carefully tuned into each other to improvise music that sounded at once assured and exploratory, coherent and playful.
Each song followed a clear emotional arc like a narrative unfolding, and indeed their 2015 album is titled "Telling Stories". The band name refers to the process by which sound waves passing through a liquid can produce light, and it is an excellent metaphor for what these hugely talented musicians created on stage.
One of my favourite aspects of the music the exploding of the common arbitrary line between melody and rhythm. This music was a conversation, narrative vibrations passing back and forth fluidly among the various instruments.
Mott was the only musician to stick with one instrument - his baritone sax - but he expertly squeezed an almost unbearably lovely breadth of tones and feelings from it.
Parker is billed as the bass player but spent half his time coaxing gorgeous, nuanced sounds from a number of flutes among which he circulated while the music continued seamlessly.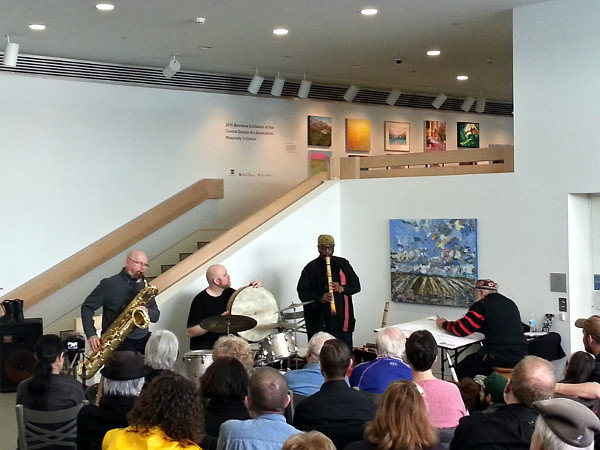 Mott on baritone sax, Steward on bodhran and Parker on flute
Stewart created a tremendously versatile cascade of rhythm, switching often between hand-held instruments and his kit, all of which which he animated using his hands, various sticks and handlings and even a bow.
A featured instrument was his waterphone, a round steel pan with a handle grip in the middle and varied-length tines around the sides which can produce a haunting expanse of percussive and resonant sounds. Steward was generous enough to invite me to try it out after the show.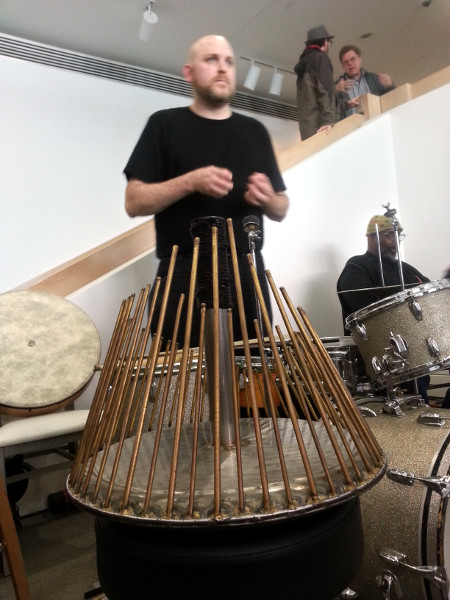 Waterphone with Jesse Stewart in background
It would be remiss not to discuss the awesome opening performance by Hamiltonian one-man band Dave Gould, a highly talented experimental musician who invents and plays his own instruments, including a harp made out of a caribou antler.
Gould's spacious and arresting music sounded at times like Vangelis and at other times like bizarro rockabilly from a parallel universe.
For the Sonoluminesence Trio's finale, they invited Gould to join them and the improvisational piece they created together beautifully merged their respective talents.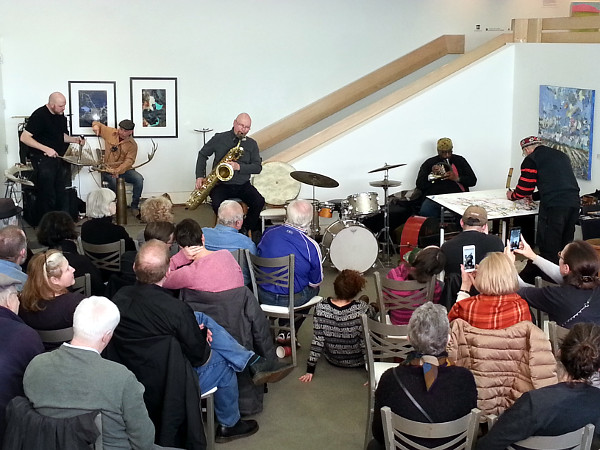 From left: Jesse Stewart, Dave Gould, David Mott, William Parker and Jeff Schlanger
The quartet explored the concert space, walking around the gallery while they played, but no matter how far they travelled, their music remained held together by their great talent, empathy and sheer musical acumen.
This amazing performance was the first show in a series of collaborations between Zula Presents arts collective and the Art Gallery of Hamilton to bring innovative music into the AGH's Fischer Gallery performance space. It's an inspired marriage between the visual and sonic arts, and I strongly look forward to more of this in future!
Post a Comment
You must be logged in to comment.