End or Rebirth for Stelco's Remaining Steelworkers
One possible solution for US Steel Canada's operations is a government-supported worker buyout of the company, but currently there appears to be no political appetite.
By Paul Weinberg
Published January 07, 2016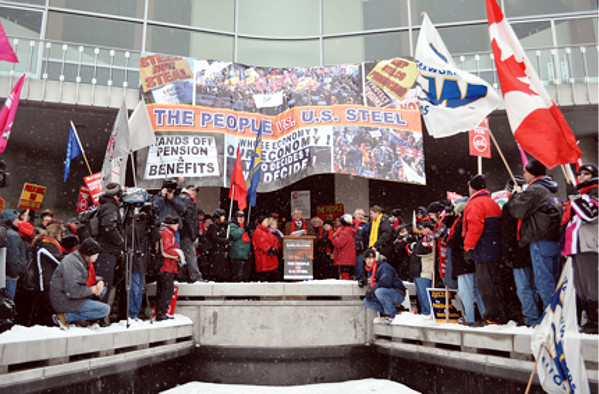 Former Hamilton mayor Bob Bratina speaks at a 10,000-strong rally in support of locked-out US Steel workers in January 2011. (Image Credit: Ontario Federation of Labour)
The Labour Day marchers were out in force in Hamilton, Ontario this September, with their banners and other distinct paraphernalia to signify union allegiances. Conspicuously absent was the usual clarion call in the ranks of Local 1005 of the United Steelworkers to save the city's century-old Stelco factory, known since 2007 as US Steel Canada, now under bankruptcy protection.
"I noticed that the 1005 T-shirts at Labour Day were not so much about the fight, and more about how you could never steal their identity as a steelworker," says Peter Graefe, a political scientist at McMaster University who was at the march. "Well, I saw that as an admission of defeat, but you don't want to say that too loud."
To be fair, this might be a reflection of the weakness of labour's position in general in 2015. "I don't like to use the word 'worried,' because it gives a sense of hopelessness," says 1005 President Gary Howe, whose local represents 600 active workers at US Steel Canada's Hamilton Works and the German-owned Max Aicher North America, as well as over 8,000 pensioners in the area. No matter how you squint, though, the situation for The Hammer's unionized steelworkers is bad.
Back in the early 1980s, the Hamilton-based Canadian company Stelco employed 26,000 workers. Today, as a branch plantof Pittsburgh-based US Steel Corporation, operations are a more automated at both the older Hamilton Works plant and a newer, more modern Lake Erie Works in Nanticoke, south of Brantford. In total, the plants employ about 2,200 people.
Things went sour for the steelworkers shortly after the takeover in 2007. Despite making promises to the federal government related to production levels, employment and investment, US Steel was complaining a year later of a glut in global steel supply. It shut down its Canadian operations, locked out workers and shifted production to U.S. steel mills.
The Harper government sued the firm for breach of its Investment Canada Act conditions, but dropped legal action after US Steel made further, still secret promises to the government in 2011. Since then, iron- and steel-making operations at Hamilton Works have ended permanently with the shutting down of the blast furnace, among other tribulations for local workers.
Uncertain Future
The Canadian subsidiary filed for bankruptcy protection in late 2014 (those hearings continue). Furthermore, in an October 2015 decision, Ontario Superior Court Justice Herman Wilton-Siegel severed all legal ties between the U.S. parent and US Steel Canada. Equally controversial, the judge permitted US Steel Canada to suspend paying health care benefits to 21,000 retired workers and property taxes to Hamilton and Haldimand County.
According to Marvin Ryder, a marketing professor at McMaster's DeGroote School of Business who has been watching it all unfold, the Superior Court decision has turned what was US Steel Canada into a new Canadian operation - a Stelco-2 if you will - with an uncertain future. He is not sure it will be able to survive in a weak market that has seen the price of steel drop from $650 to $450 per tonne in the last year.
Ryder argues US Steel Canada, in its present diminished form, "is a sick company," and that it might be better for the bankruptcy to proceed so that a buyer can be found, at least for the more modern Nanticoke plant. "My fear is that 15 months from now, US Steel Canada is back in the same place and the judge will have no choice but make the bankruptcy decision then."
Aside from the Steelworkers, the company and (you would hope) the federal government, the Ontario government and Hamilton city council also have a stake in the fate of the steel plants, though, according to Graefe, the main political concern seems to be how to avoid getting stuck replenishing the underfunded US Steel Canada pension plan, reported to be $838 million in deficit. (The province agreed in December to cover benefit costs until March 2016.)
Like Ottawa, the Wynne government in Toronto is just not interested in developing a strategy to maintain and nurture the steel industry in Canada, he says, even when one solution is staring them in the face.
In the early '90s, Bob Rae's NDP government helped fund and support a USW-led worker buyout of the Algoma steel operations in Sault Ste. Marie (bought by India-based Essar Steel in 2007). Graefe sees no political appetite for pursuing a similar plan in Hamilton and Nanticoke.
"It is a non-starter if the governments aren't willing to play," he explains. "In 2008 to 2010, they might have been more willing to try something in the wake of the financial crisis and the questioning of the neoliberal consensus, although it would have taken a real push to make it happen: occupation, community mobilization, etc. [by the Steelworkers]. More of a push than one might ever realistically imagine. In 2015, that is not longer the case."
Failure of Imagination and Courage
David Livingstone, professor emeritus in social justice at the University of Toronto's Ontario Institute for Studies in Education, accepts the merit of a worker buyout and laments that the union is not pushing the option now. "In my mind [this is] a gigantic failure of both imagination and courage," he says.
Livingstone is the co-author of the 2011 book Manufacturing Meltdown: Reshaping Steel Work, a culmination of research on the Stelco/US Steel Canada operation since the early 1980s. He says the evidence proves a vital manufacturing sector and domestic steel industry go hand-in-hand in ensuring a healthy economy.
In the book, steel is described as "the most essential material," since you need it to make everything from thumb tacks to transport trucks, tin cans to transmission towers. "Without steel the world we know would not exist."
And though a domestic steel industry is preferable to a branch plant version as exists in Canada, it's important not to romanticize the old Stelco, says Livingstone. The Canadian company's history includes atrocious labour relations and a reluctance to invest in technological innovation, unlike Stelco's Hamilton-based rival, the non-union Dofasco (now ArcelorMittal Dofasco Hamilton).
When the hedge fund Tricap sold Stelco to US Steel Corporation in 2007 for about $2.2 billion, the union applauded. "When Stelco was sold and US Steel came in, there were a lot of people who were excited about US Steel buying us. It was going to be great for Hamilton. But it hasn't been," says Howe, ruefully.
The federal government-approved purchase included a commitment to produce 4.5 million tonnes of steel a year and maintain 3,100 employees in the plants to be operated by US Steel Canada. But according to Ryder, the U.S. parent company did not foresee its business becoming more difficult in the global recession the following year. "I think they regret buying into the Canadian operations at all," he says.
Heated Legal Battle
On top of the bankruptcy proceedings and recent court-approved severance of US Steel from its Canadian subsidiary, a heated legal battle continues with respect to the secret agreement between the firm and the Harper government in 2011.
Though it was raised locally by NDP and Liberal candidates in the federal election campaign, none of the three major party leaders, including Prime Minister Justin Trudeau and NDP leader Tom Mulcair, made any commitment to opening up the agreement for public scrutiny, notes Graefe.
"My view is that none of the parties really want to do anything drastic, so the easiest thing is to criticize the Conservatives for doing it badly without really saying what you would do differently. I noticed that it is the local [Hamilton area] candidates who wanted to open up the secret deal. But they made sure that Trudeau did not say a thing. Much like Mulcair [who] more or less admitted that he didn't think you could open the deal."
Ryder warns we should not jump to conclusions about what is in the secret agreement.
"There are a lot of people who want to give a very black hat to US Steel: you can't trust them, they cheat, they lie. And so the common wisdom is that they violated the second deal," he says. "We don't know [that]. If the deal was made public we could [be] accountable to it."
But Ryder expects the new Liberal government may be advised by its lawyers not to divulge the contents of the secret agreement. "This could jeopardize a future ability to keep these [kinds of] deals secret. Generally, businesses do not want to make any deals with the government public as they do not want competitors to know the details."
Decisions Made by Head Office
At the moment, there is no bidding process to find new buyers for US Steel Canada, but that could change. One much discussed scenario is that the Canadian operation could end up in the hands of Essar, like its relatively successful Sault competitor. Former USW research director Peter Warrian says it is the best option even though Algoma is also going through bankruptcy protection.
Essar's Algoma plant and the old Stelco operations are entirely complimentary, explains Warrian, now a senior research fellow at the Munk School of Global Affairs at the University of Toronto. Algoma would make the slabs of steel then ship them by boat through the Great Lakes to the Stelco operation for processing. "It would continue Hamilton in the steel business and produce the larger gains, long term, for the Hamilton economy," he says.
Livingstone and his Manufacturing Meltdown co-author Warren Smith (a former president of USW Local 1005) are opposed to such a plan. US Steel Canada was robbed of its productive capacity by one transnational and we should expect little better from Essar, they argue.
That's because typically in global companies the crucial decisions about investment and technological innovation are made in the head office, based on changing finances and priorities.
Furthermore, Smith points out, US Steel did not establish any research and development activity in its Canadian operation. Production was stripped away from the Hamilton and Nanticoke plants, and Stelco's customer lists and order books were handed over to the Pittsburgh office and US Steel's American sales force.
"US Steel bought [Stelco] for one reason and that was to capture a customer base and the order list. And make those people comfortable dealing with US Steel people and then shut this fucking plant," says Smith.
As proof, he says US Steel is trying to move the finishing production lines out of Hamilton Works-those parts responsible for producing high-value steel components important to the auto industry, among others. "If you take that production out of that plant and transfer that to an American plant, that is pretty well the last bullet in the head," says Smith.
Independent Canadian Company
Livingstone says a much better option to another foreign takeover would be to forge an independent Canadian steel company. The raw steel could be produced from coal, iron and coke at Lake Erie Works, which has its own blast furnace, while the finishing work is accomplished in the Hamilton Works plant.
"They could be an effective steel operation for Canadians, and build the base for the reclamation of the Canadian steel industry," he says. "That may sound like a dream at this point, but the elements are there at Lake Erie for a separate and efficient steel production at the front end and in relationship to finishing facilities. Some of the finishing mills at Hamilton Works could be resuscitated and that relies on the strengths of its two plants."
Instead, he adds, US Steel has been winding down the Hamilton Works facility, while shipping the hot coils of steel it produces at Lake Erie Works to its U.S. plants for finishing. "If you go around Hamilton Works there are 400 people just keeping the fires burning and not really producing anything."
Worker buyouts continue to be supported at USW's international office in Pittsburgh by the union's president, Leo Gerard (a Canadian), who played a central role in the Algoma buyout decades ago. Toward these goals, the union has established a collaborative relationship with the largest worker co-op in the world, Mondragon, which is based in the Basque country in Spain.
But the Canadian section of the steelworkers' union continues to hold its tongue on the subject. "It's been discussed, that's all I can tell you right now," says Howe, who is also bullish about the potential for a domestic Canadian steel industry, pointing to the new Liberal government's infrastructure spending plans for bridges, tunnels and other large projects that will all require steel.
Ryder says USW probably could have made a bid for the old Stelco operations last July and that the chance might arise again in the future.
"Now, I don't know what its source of funding would be. It would not likely get a loan for $2 billion," he says. "As well, once it 'owned' the operations, it would need to 'operate' the plant. Most steelworkers focus on the steel production side of the business but the union would also need to hire salespeople and find buyers for its steel.
"There was never a question that US Steel Canada or Stelco could make steel. The problem has always been finding buyers, and buyers willing to pay a price that allows the company to be profitable."
Meanwhile, just to make things more complicated, Graefe warns the entire Canadian steel industry will be affected if Canada signs and ratifies the Trans-Pacific Partnership free trade agreement, which loosens the rules for auto parts made outside North America and Mexico in a way that can only encourage more offshoring to Mexican and Asian plants.
"I just think if TPP hits the parts sector, that makes it harder for both Stelco and Arcelor [Dofasco's parent company], given that their highest value products is auto-grade steel," he explains.
This article was first published in the January/February 2016 issue of The Monitor, the Canadian Centre for Policy Alternatives' national magazine.
Post a Comment
You must be logged in to comment.