Miracles Don't Come Cheap at Theatre Aquarius
This new play is written and performed entirely by Hamiltonians and their collective holiday wish is to make you laugh.
By Kevin Somers
Published December 17, 2015
There's nothing like mirth to beat the blues and bah humbugs. Ergo, why not roll into the festive season with a smile? This weekend, Miracles Don't Come Cheap, a Christmas play unlike most, is playing at the Theatre Aquarius studio. The play is written and performed entirely by Hamiltonians and their collective holiday wish is to make you laugh.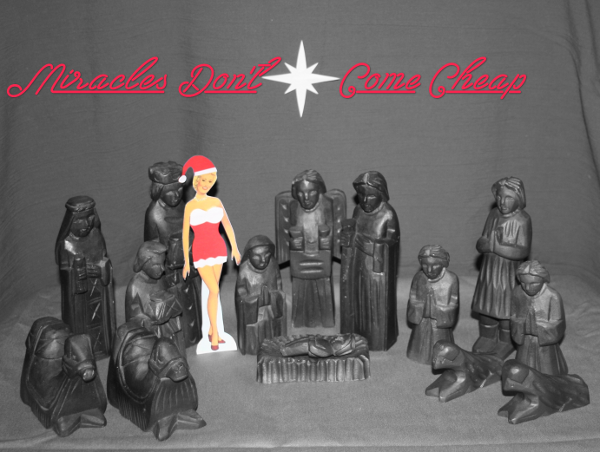 Miracles Don't Come Cheap
Ryan Sero wrote the comedy. Sero is a well-regarded, award winning playwright whose comedic scripts include: Romeo & Juliet: An Escapist Comedy, winner - Critics' Choice at the 2014 Hamilton Fringe Festival (read the RTH review); The Cheese, a show about two pseudo-intellectuals arguing over the last piece of expensive cheese in the refrigerator and winner - Audience Choice at the 2012 HamilTEN Festival; and A Modicum of Freedom, a sci-fi comedy about a dystopian future and winner - Audience Choice at the opening weekend of the 2009 Hamilton Fringe Festival.
Sero said, "I also wrote Scroogissimo with Charly Chiarelli for Artword Theatre - a foray into Christmas plays in which I turned Charles Dickens' A Christmas Carol on its head, making it over as a vaudevillian spoof."
The cast is large. The eight performing are Sero, Sean Emberley, Annalee Flint, Rose Hopkins, Tara Smith, Carlos Jimenez, Erin Burley, and Tyler Brent. Local theatre aficionados will be familiar with the gentlemanly Mr. Brent, who is also directing.
I attended a rehearsal and asked the cast what they enjoyed most about the script. The universal response was its humour. "It's fun," "It's funny," I heard repeatedly. Indeed, Sero scripts are rapid-fire and fearlessly peppered with puns, popular culture and classical literature references, as well a call for daring physical comedy to match the dialogue.
Theatre productions rarely run smoothly and when asked how things were coming together, Sero said, "Surprisingly good. There were venue issues, but the people at Theatre Aquarius really helped us out."
Given what has happened at CHCH this week, and the abysmal way people were treated, it was heartening to hear the region's biggest theatre is accommodating and obliging with smaller, local companies.
As Sero explained, "Ron Ulrich [Theatre Aquarius's Artistic Director] encouraged me to look into the studio space and got the ball rolling. Luke Brown [Artistic Associate] answered some initial questions and then directed me to Kathleen Fric, who is in Operations. Kathleen was my primary contact. She handled the negotiations with me and was really, really nice at holding my hand through all the legalese and contracts and stuff.
"Also, Greg Dougherty, whom I didn't speak with directly, has worked on looking over my technical requirements and has been making estimates, recommendations, etc.
"I'm grateful." Indeed.
The shows are 7:00 PM on Friday, December 18; 7:00 PM on Saturday, December 18; and a 1:00 PM matinee on Saturday, December 19. Tickets are $17 + tax. They are available online through Aquarius' website (Box Office tab) or at the Aquarius box office on the night / afternoon of the performance. It is all-ages, ("PG, roughly," Sero said, with a laugh.) It runs about an hour and a half, with the intermission.
http://theatreaquarius.org/community-events/miracles-dont-come-cheap/
The cultural renaissance of Hamilton's downtown has been creating a buzz around the country. There's an abundance of great new and established eateries and drinkeries in the core. Dinner, drinks, and funny theatre sounds good to me.
Mirthy Christmas.
Post a Comment
You must be logged in to comment.