Hamilton Bike Share Exceeding Membership, Ridership Expectations
Hamilton Bike Share has already generated 7,500 active members, almost 200,000 trips and 426,000 kilometres since it launched this past March.
By Ryan McGreal
Published December 08, 2015
An information report presented to the Monday, December 7 Public Works Committee meeting provides an encouraging update on the status of Hamilton's new Bike Share program. I can't link directly to the report, since the City's Council/Committee website is an unusable quagmire, but you can access a short-term link to the report under item 5.1 in the meeting agenda.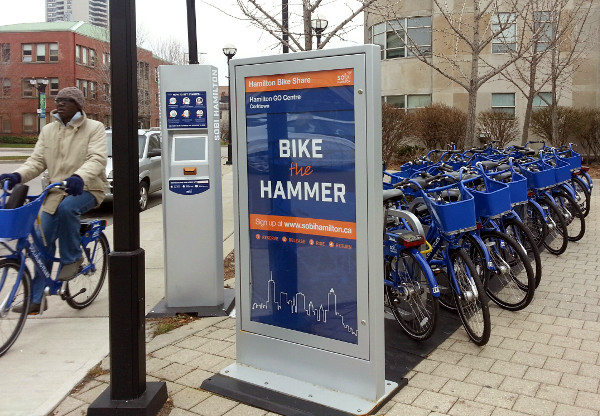 A cyclist rides a Hamilton Bike Share bike past the hub at Hunter GO Station
The bike share program was funded with $1.6 million in capital funding from the Metrolinx Quick Wins fund. The system uses technology from Social Bicycles and is operated locally by Hamilton Bike Share Inc, a not-for-profit corporation.
Hamilton Bike Share has been officially in operation since March 20, 2015 after a two-month pre-launch beta test from January 16 to March 19. Both membership and usage have exceeded staff expectations.
Membership and Revenue
The staff report notes that the system has some 7,500 active members out of a total of 8,700 people who have tried the system since start-up. 1,227 members have annual memberships, 800 have monthly memberships and 5,527 have pay-as-you-go memberships.
Gross Member Revenues, Projected and Actual for Year 1
Member Type
Year 1 Projected
Year 1 Actuals
Cost
Number
Dollars
Cost
Number
Dollars
Annual
$79
1500
$118,500
$71-149
1,227
$82,000
Monthly
$29
100
$2,900
$15
800
$78,800
Hourly
$5
4000
$20,000
$4
5,527
$78,600
Hourly Usage
$2
6500
$13,000
Total
$154,400
$239,400
While revenues exceed first-year projections, the report notes that the system does not yet have a major corporate sponsor, which is needed for the bike share to become revenue neutral by the end of the three-year pilot. Efforts to secure a corporate sponsor are ongoing, but I hope its early success at attracting riders and usage will encourage a company to take the plunge.
The report also notes that the service area is much larger than was envisioned when the bike share system was proposed. It has been extended west into Dundas, east to Ottawa Street and south to the top of the Escarpment for a total service area of 38 square kilometres.
As a result, some areas have a density of stations that falls below the level necessary to make bike share a highly convenient, usable transportation system.
Strong Ridership
I recently signed up as a research partner with Hamilton Bike Share, and the following ridership totals are based on an analysis of anonymized ride data provided by Hamilton Bike Share.
Ridership grew rapidly after the official launch on March 20 and averaged 2,139 km per day during July and August, with a peak of 3,046 km on July 7.
From January 16 until December 6 this year, Hamilton Bike Share members collectively took 196,539 trips, covering a total of 426,419 kilometres. For a sense of scale, that represents 10.6 trips around the earth at the equator.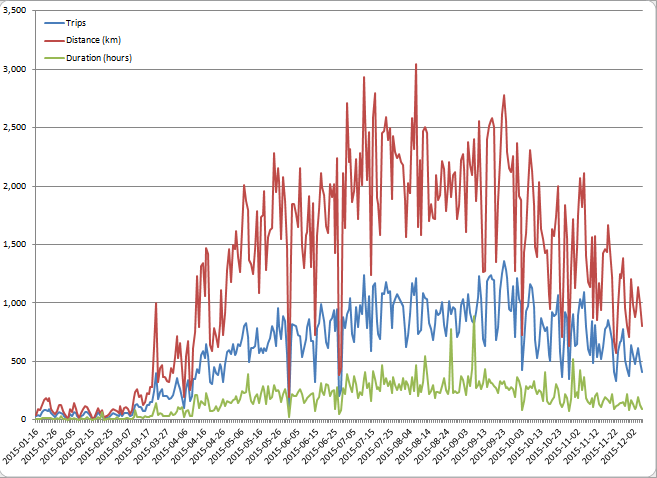 Chart: Trips, Distance and Duration by Day, January 16, 2015 to December 6, 2015
Daily ridership continues into the colder season. From December 1 to 6, the members took an average of 512 trips a day, riding a total of almost 1,000 km a day.


Hamilton Bike Share routes heat map, December 1, 2015 to December 6, 2015
But with winter nearly upon us, Hamilton Bike Share will be reducing the fleet by 20 percent and taking some low-use stations, like the hub on Van Wagner's Beach Road, out of operation until spring. The following hubs will be closed for the winter:
Van Wagners Beach
Pier 4
Princess Point
Fennel at West 5th
Upper Wentworth at Mountain Park
Concession at East 26th
Concession at Mountain Drive Park
Albert at King
Dundurn Castle
As a personal anecdote, I rode several bikes last January through March during the beta test, and found the bikes to be highly performant in winter weather. They are heavy, sturdy and have a low centre of gravity, so they feel very stable even in snow and ice.
Everyone Rides
Currently, the density of hubs gets thin east of Wentworth Street, where the neighbourhoods have more low-income residents and have been identified for support under the City's Neighbourhood Action Strategy. Hamilton Bike Share Inc and city staff would like to extend service further wast through an Everyone Rides Initiative (ERI), which would add five to seven new hubs and 75 to 125 new bikes.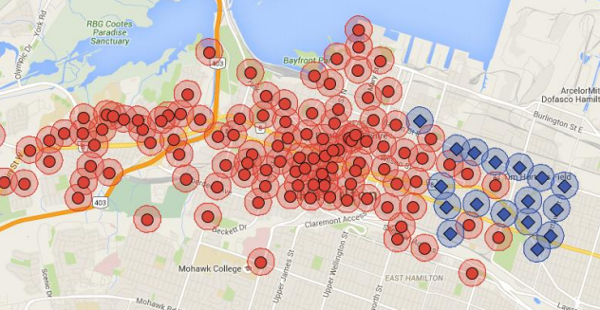 Map of existing hubs (red circles) and proposed ERI hubs (blue squares)
As the report notes:
The ERI pilot program aims to install bike share infrastructure in underserved and low income communities, while also providing supports for residents in the form of subsidized access, education and trip planning to ensure that the infrastructure is highly used and successful.
The capital, design, implementation and operating costs for this initiative are expected to total a little over $500,000. The work to date has been funded with a $25,000 grant from Union Gas.
Everyone Rides Initiative Design and Implementation Costs

| Item | Cost |
| --- | --- |
| 5-7 hubs capital cost | $40,000 |
| 75-125 bikes capital cost | $165,000 |
| Site selection, capital deployment, testing, installation | $75,000 |
| Operational and capacity building costs | $250,000 |
| Total | $530,000 |
So far, staff plan to submit a funding request to the Federation of Canadian Municipalities (FCM) Green Municipal Fund for half the cost, with the balance proposed to come from the following sources:
Sustainable Mobility Strategic Initiative funding: $125,000
Barton-Kenilworth Urban Renewal funding: $75,000
Hamilton Community Foundation grant: $75,000 (not yet confirmed)
The research from other cities indicates that the program will be more successful if it includes efforts to reduce the barriers to access for low-income residents.
Post a Comment
You must be logged in to comment.