Transportation Master Plan Public Meeting Results
The results from participants at the most recent Transportation Master Plan review public meeting.
By Bob Berberick
Published December 06, 2015
The City is currently reviewing its City-Wide Transportation Master Plan and held a public meeting last week. It was extremely interesting and interactive.
Everyone was given a remote then shown a question. You selected the answer that best reflected your view. Once everyone had made their selection, the results were displayed.
There were a lot of very good questions, and I took pictures of the results.
The first result was that 72 percent of attendees picked "segregated bike lanes on arterial roads" as the best opportunity to allow more cycling for trips between 2 and 5 km.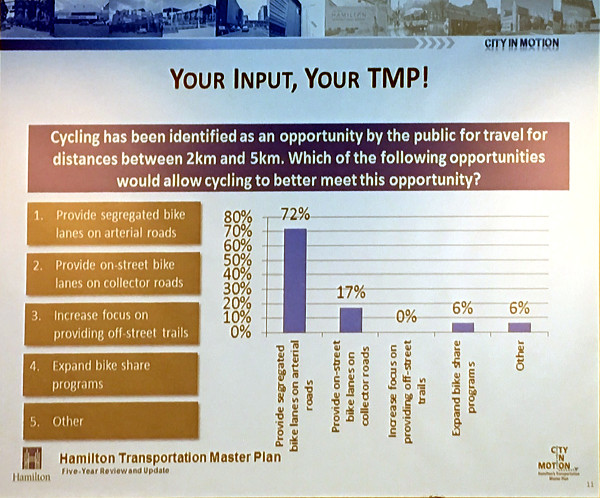 Cycling opportunities
Next, 62 percent picked "integration of health and transportation planning to promote active transportation" as the most beneficial to one's travel within the city.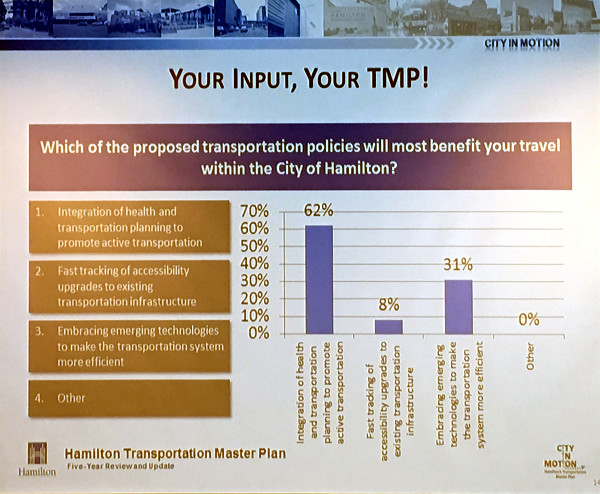 Benefit travel within City
44 percent picked "coordinated travel apps" as the emerging technology that will have the greatest impact on one's travel within Hamilton.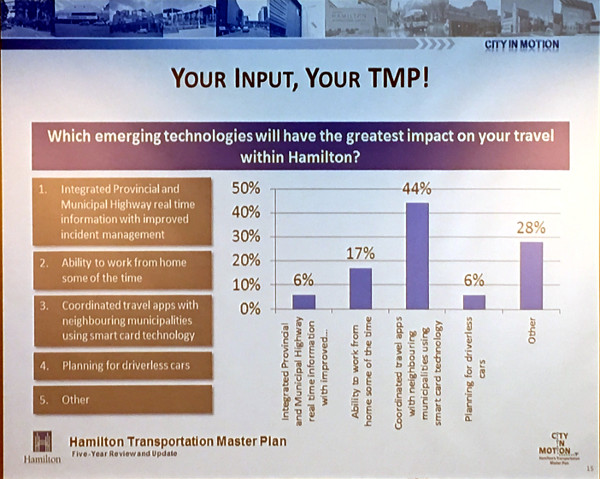 Emerging technologies
71 percent picked "Downtown corridors" as the existing area experiencing congestion that most impacts morning and afternoon peak travel.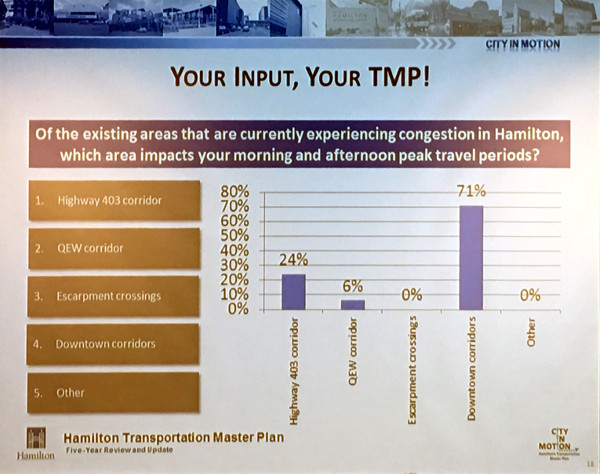 Congested corridors
50 percent picked "Increased transit service frequency between Upper and Lower Hamilton" as the corridor improvement that will best address one's long-term travel requirements.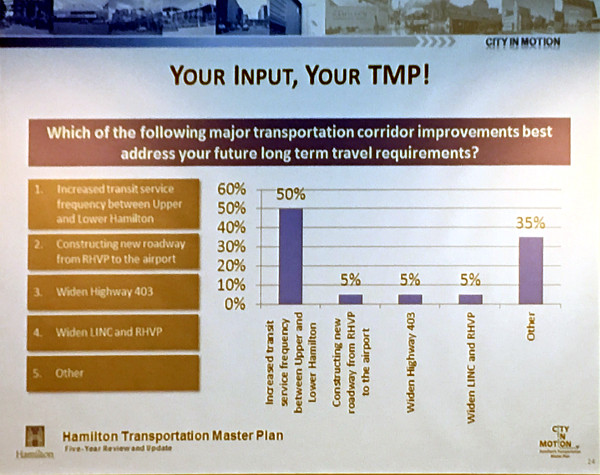 Long-term travel requirements
68 percent picked "Implementing BLAST network" - the City's planned network of rapid transit routes - as the improvement area that best addresses one's transit requirements.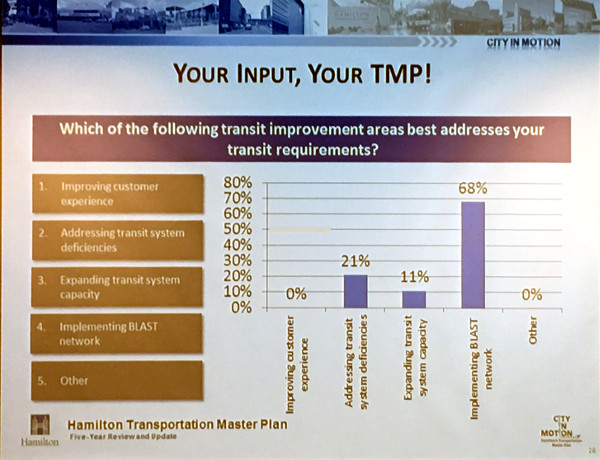 Transit requirements
41 percent picked "Provision of gondolas to address the Escarpment" as the most beneficial bicycle/pedestrian network improvement to benefit the overall system. (35 percent picked "Other").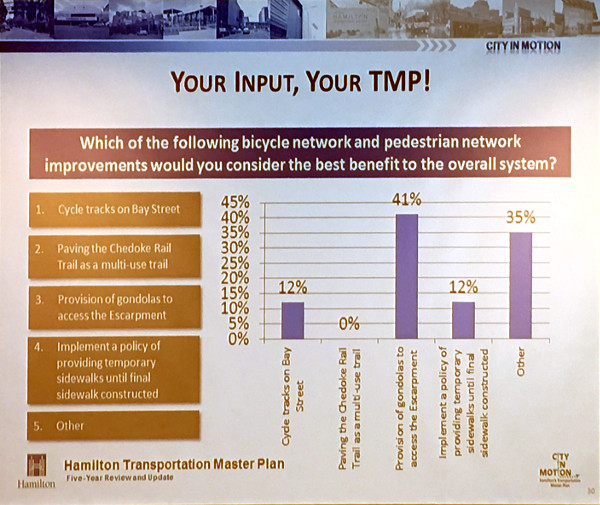 Overal bycle/pedestrian improvements
46 percent picked "Off-peak delivery" as the best opportunity to mitigate goods movement within Hamilton. (31 percent picked "Other".)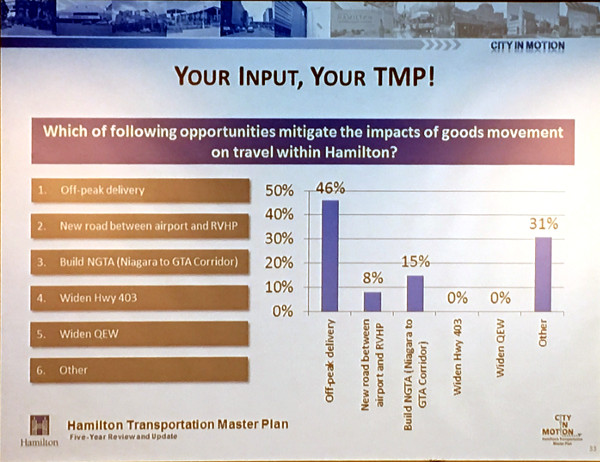 Goods movement
85 percent answered "Yes" when asked if the proposed "Complete Livable Better Streets" concept and policy is moving the right direction.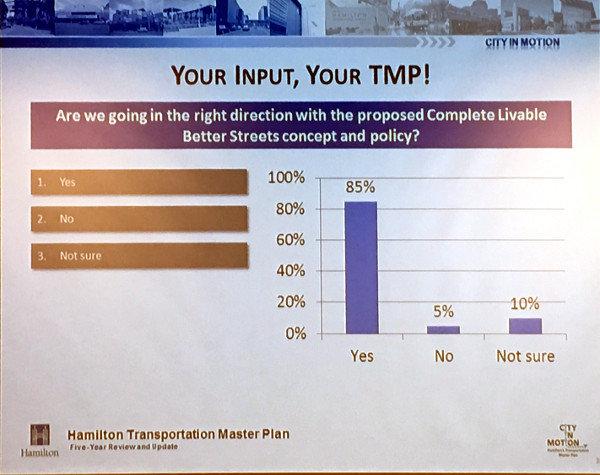 Complete Livable Better Streets
42 percent picked "Improved bicycling/pedestrain experience" as the most important consideration during evaluation of one-way streets to two-ways.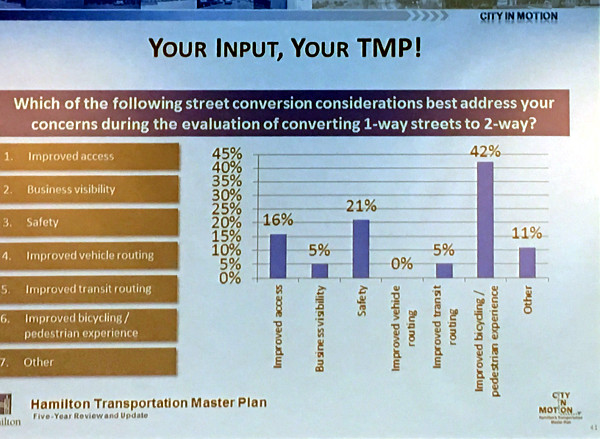 One-way to two-way street conversion
The City has two more upcoming public meetings on the Transportation Master Plan review:
And:
Post a Comment
You must be logged in to comment.