Brampton's LRT Loss Could Expand Hamilton LRT
Brampton City Council just voted to reject LRT capital funding. Hamilton could use that money to expand its LRT system instead.
By Mark Rejhon
Published October 28, 2015
Last night at 1:00 AM, Brampton City Councillors voted down their light rail transit, in a vote of 7-4 against.
We were rooting for the full Hurontario-Main LRT. Brampton would benefit from an LRT that went through its downtown. However, while this is unfortunate for Brampton, it is an opportunity for Hamilton. Brampton's LRT loss could indeed be Hamilton's LRT gain.
The Hurontario-Main LRT Gets Shortened
The Hurontario-Main LRT is a planned $1.6 billion 23km LRT for Mississauga and Brampton. The announcement of 100 percent capital funding was made by Ontario on April 23.
This LRT was to connect three different GO lines, the Brampton Züm bus, and the Mississauga Transitway.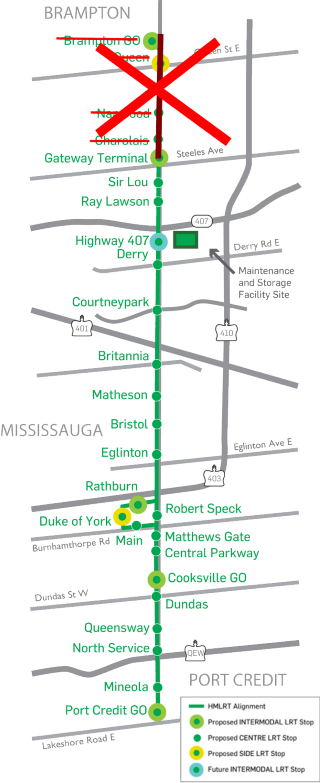 The canceled Brampton section of the Hurontario-Main LRT
Now the Hurontario LRT will end at Steeles Avenue, freeing up a share of LRT funds - reportedly between $208-261 million.
What happens to surplus LRT funds?
We reached out to Anne-Marie Aikens of Metrolinx for this article, and can provide this response:
It is disappointing that Council did not support the work that had been completed over the past six years by Brampton, Mississauga and Metrolinx.

We respect Council's decision and will revise the scope of the project so that the northern terminus is at Steeles Avenue. Funds that would have been provided to the segment of the project north of Steeles Avenue will be returned to the Province's Moving Ontario Fund.

Our objective remains to begin construction in 2018 and begin service by the end of 2022. Immediate next steps include retaining an Owner's Engineer and Technical Advisor to help move the project forward.
This is potentially more funding available to extend the Hamilton LRT.
Many earlier newspaper reports have speculated a ballpark of between $300-$400 million of funds, though the exact figure needs to be calculated.
Brampton city meeting saw Hamilton LRT advocacy in real-time
In an unintended but surprising development, the whole Brampton auditorium saw the Hamilton LRT advocacy in action in real-time. A Brampton LRT advocate made a last-minute decision to include this Hamilton LRT advocacy tweet in their presentation, only mere minutes after it was tweeted.
Last night, all 400 people in the auditorium, including the Brampton city council, saw this on the big screen: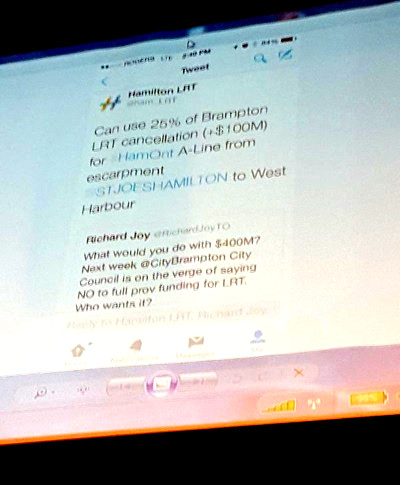 Brampton saw Hamilton LRT advocacy in action, during the city meeting. (Credit: Fight Gridlock)
For those not familiar, the Hamilton LRT advocacy is currently very highly active on social media, with daily posts on both Twitter and Facebook, with a growing team of local volunteers, not funded by either the city or Metrolinx.
Apparently, City of Brampton noticed in real time, unintended, but a fascinating #HamOnt social media development.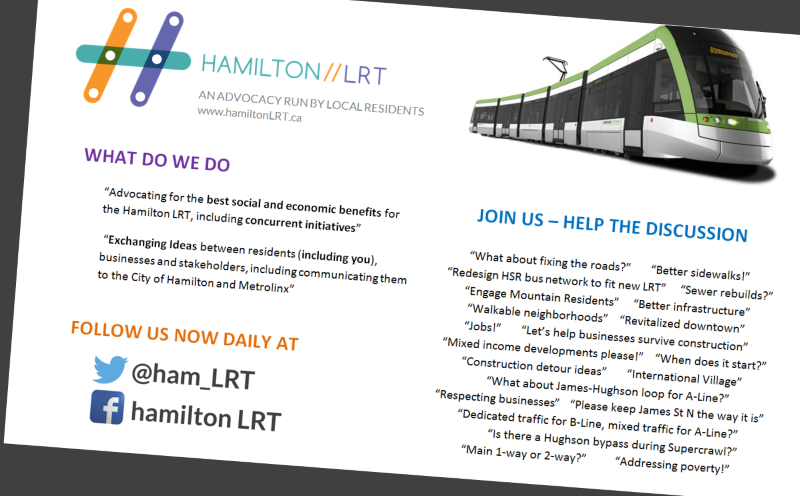 The flyer handed out by volunteer residents yesterday at the LRT booth (photos of volunteers)
Hamilton LRT could get enhanced
There are several possible enhancements if the funds get returned for other LRT projects.
Time is limited. Metrolinx is already hiring for Hamilton LRT, and the local LRT office is reopening in the near future. The current plan is to begin LRT procurement (signing of contracts) by 2017 before the next election, and begin construction in 2019.
Due to a limited time window, Hamilton LRT enhancements are likely limited to route studies that are already completed.
Option B-Line: Possible Extension to Eastgate Square
This route, already widely discussed, involves the B-Line extension to the Eastgate Square mall:

This extension to Eastgate Square (through Ward 5) is currently unfunded.
This was originally part of the Hamilton LRT proposal. However, the funding was reassigned to the new Stoney Creek GO station as well as the A-Line stub ($1.2 billion combined funds for GO and LRT).
The environment assessment and studies have already been completed and is mostly shovel-ready,
However, it is observed that both Ward 5 Councillor Chad Collins and newly-elected Hamilton East - Stoney Creek MP Bob Bratina have historically shown resistance to the Hamilton LRT. It could be politically risky to try to extend the LRT to Eastgate at this time, given Brampton's cancellation of their LRT.
Otherwise, this is technically the "most shovel-ready" LRT extension, given the study completed.
Option A-Line: Possible Extension to Waterfront / St. Joseph Hospital
It is favourable to extend the A-Line LRT all the way from the escarpment to the waterfront. The southern terminus could be a stop at the St. Joseph Hospital: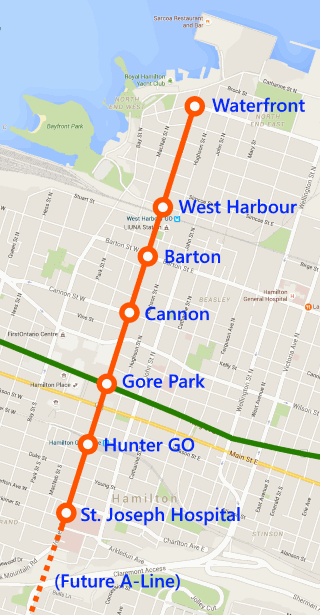 Proposed escarpment-to-waterfront LRT with stops
This is perhaps a politically easier route; given Ward 2 Councilor Jason Farr is supportive of the Hamilton LRT.
It also brings it closer to being extended up the Mountain, and perhaps sooner (e.g. Phase 2 funding occurring during 2018 or 2022 election cycles).
Ottawa received Stage 2 LRT funding in 2013, while Phase 1 of their Confederation LRT is still currently under construction!
With all three levels of governments working together, an extension up the Mountain could possibly happen sooner than some of us may expect, just like it did for Ottawa.
St. Joseph Hospital would benefit from being an A-Line stop, and being connected to both GO stations (West Harbour and Hunter) as well as additional destinations.
It fits well with a gradual A-Line extension all the way towards the Hamilton International airport, once ridership and transit funding warrants.
Less study already done on A-Line than B-Line
Some preliminary studies have already been done on the A-Line. However, A-Line studies are more preliminary than those for the B-Line. As the local LRT office reopens, the A-Line will undergo accelerated study.
There are many unanswered questions about the A-Line of the Hamilton LRT, which include: Station locations, station spacing, mixed traffic north of Wilson Street (to protect James St N heritage), or the idea of using James-Hughson loop (1 track each), alternate transit during Supercrawl road closure, etc.
These questions will need to be researched quickly, during 2016-2017, before LRT procurement.
Hamilton should immediately apply for additional LRT funds
Brampton's loss could be Hamilton's gain. Toronto is currently focused on SmartTrack and other transit.
This is a great opportunity for Hamilton to make a pitch for LRT enhancements.
We believe that the City of Hamilton should immediately and promptly investigate for enhancements to the current funded Hamilton LRT, to make it even more useful and expansion-ready.
Post a Comment
You must be logged in to comment.