Queensdale Bike Lanes: A Farce in Three Acts
This is what happens when policy decisions are overtaken by narrow parochialism and the reflexively conservative rejection of meaningful changes to the unsustainable status quo.
By Ryan McGreal
Published October 21, 2015
Act 1
In 2009, Council approved Shifting Gears, the city's Cycling Master Plan. The network was modest and the implementation timeline was highly unambitious, but for the first time the city actually had a plan with dedicated staff to start installing bike lanes.
But the plan contained the seeds of its own undermining. For one thing, if a street wasn't already identified in the plan as a cycling route on the bare-bones network, staff would not even consider adding cycling infrastructure to it.
More nakedly pernicious, Council also granted themselves the entitlement to veto any project in their ward that they did not support. (So much for the "streets are for everyone" excuse that is routinely used to deny the steady request of lower city residents to make their streets safer and more inclusive.)
One of the first vetoes came from Ward 6 Councillor Tom Jackson, who killed the bike lanes planned for Queensdale Avenue in his ward after a disrespectful public meeting that demonized cyclists as rogue scofflaws who don't deserve dedicated infrastructure.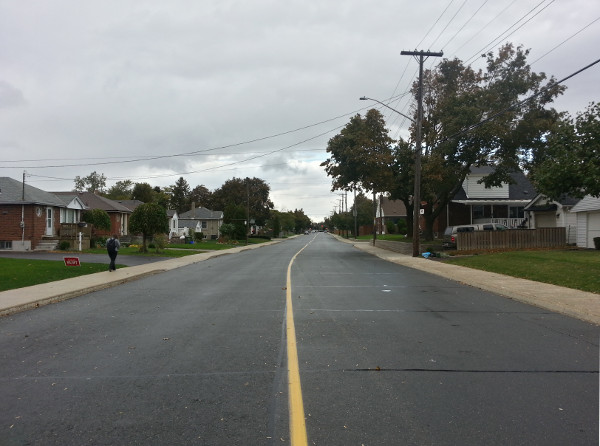 Queensdale Avenue near Green Meadow Road, Ward 6
Queensdale is a wide residential street that runs east-west across a large swath of the upper city. It would be a great candidate for a continuous east-west bike route that avoids fast, multi-lane arterials like Fennel and Mohawk.
Jackson defended the veto by claiming that cycling is for recreation, not transportation, and that Hamilton's exceptional geography and climate means the number of commuters would not increase even if there was more infrastructure.
Act 2
Three years later, the City installed painted bike lanes on Queensdale west of Upper Wentworth Avenue in Ward 7. They didn't extend east into Ward 6, but they were better than nothing and didn't cost motorists any lane capacity or parking, since Queensdale is such a wide street.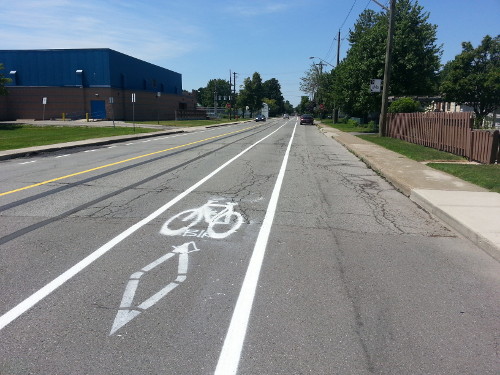 Queensdale Avenue bike lanes in 2013 (RTH file photo)
According to city staff, the short segment of bike lane was installed as a "pilot project to assess whether to continue bike lanes easterly to Upper Sherman". It was never made clear what the terms of reference were or how it would be determined whether the fragmentary bike lanes were successful.
It's also hard to imagine how successful any transportation network will be if it is composed of short, fragmentary, discontinuous segments. Imagine how many people would drive if our streets were just short strips of asphalt that didn't connect to each other.
In any case, not long after the lanes were installed, the City began ripping up Queensdale Avenue to replace the water mains. Bad timing for the bike lanes, but a great opportunity to extend them across Ward 7, if not into Ward 6.
If only.
Act 3
The Queensdale reconstruction is complete and all the bike lanes have been removed. Instead, the city has painted sharrows on the new asphalt. Sharrows are not bike lanes; they are merely a way of reminding people in cars that they might have to share the lane with someone on a bike - you know, like any street that doesn't have dedicated bike lanes.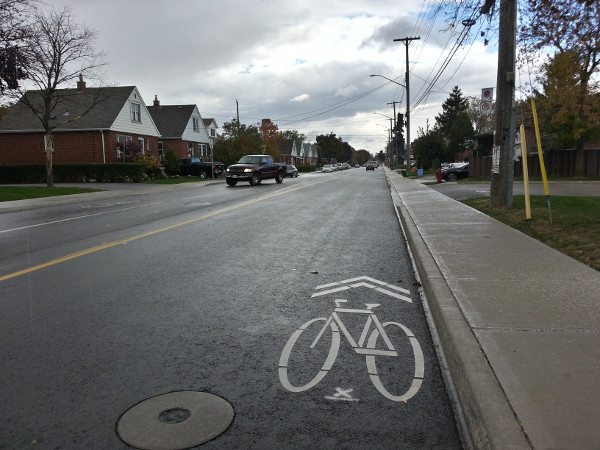 Queensdale Avenue near Upper Sherman, Ward 7
The sharrows don't even pretend to carve out dedicated space for cyclists, as you can see just west of Upper Wentworth where the sharrow points directly at a parked car.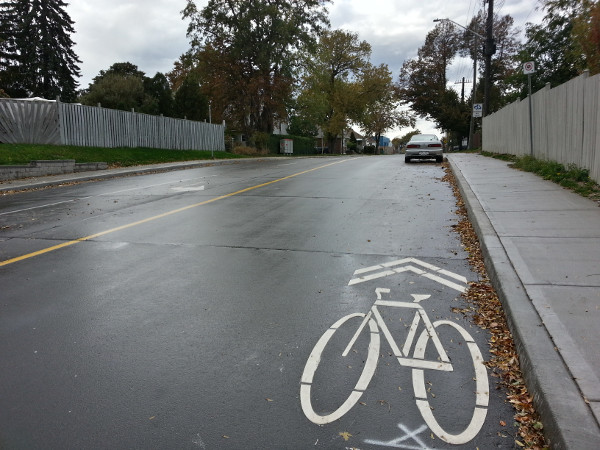 Queensdale Avenue near Upper Wentworth, Ward 7
For some reason, farther west the sharrows move out to the middle of the street, serving mainly as a stark reminder of how easy it would have been to paint actual bike lanes into the wide roadway.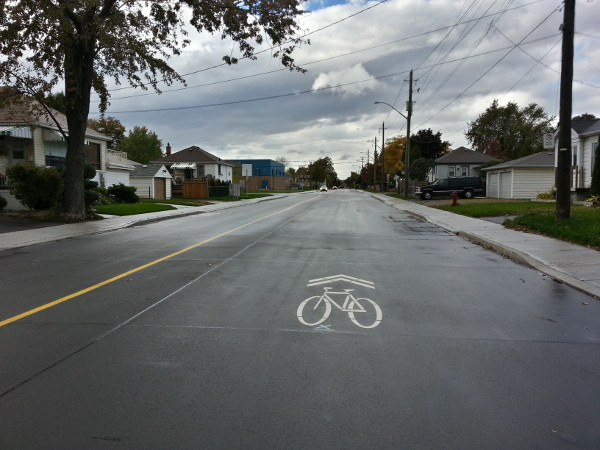 Queensdale Avenue near East 19th, Ward 7
Ironically, the one stretch of Queensdale that is too narrow for dedicated bike lanes doesn't even have sharrows.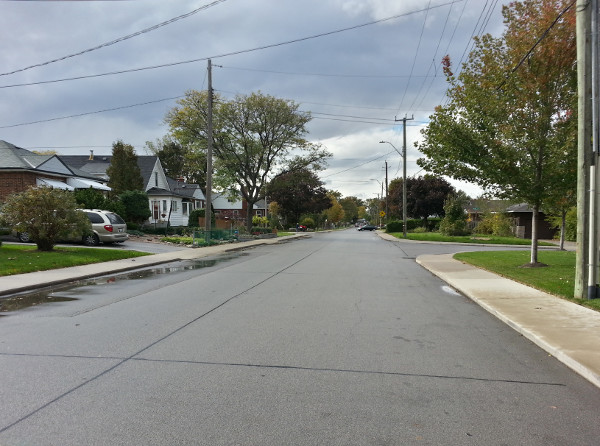 Queensdale Avenue near East 9th, Ward 7
So we're in a situation where the City not only didn't extend the fragment of bike lanes that were on Queensdale, but they actually removed the little bit that was installed there just a couple of years ago!
Ward 7 Councillor Scott Duvall, who just won election as the NDP Member of Parliament for Hamilton Mountain, claimed on twitter that "bike lanes are marked on Queensdale in Ward 7". But on Friday I rode the full length of Queensdale and the only markings are the sharrows.
Perhaps Duvall is trying to claim that sharrows are bike lanes. If so, it is alarming that an experienced City Councillor doesn't know the difference between the two.
It's almost 2016. Cities all around the world are quickly recognizing that the 20th century fetish for designing streets around the assumption that almost everyone will drive cars almost everywhere is a dead end. It leads inexorably to polluted air, greenhouse gases, unhealthy commuters, cardiac and respiratory illness, high stress, catastrophic injuries, degraded public spaces, inequality, social isolation and ever-worsening traffic congestion.
The farce of the Queensdale Avenue Bike Lanes reminds us of what happens when policy decisions are overtaken by narrow parochialism and the reflexively conservative rejection of meaningful changes to the unsustainable status quo.
Post a Comment
You must be logged in to comment.