City to Install New Crosswalk at Queen and Herkimer
The new crosswalk will be a Pedestrian Crossover (PXO) based on new designs recently approved by the Ontario Ministry of Transportation.
By Ryan McGreal
Published October 15, 2015
Last week, Ward 1 Councillor Aidan Johnson announced on Twitter that the City plans to install a new controlled pedestrian crossing at the corner of Queen and Herkimer Streets in the first half of 2016. This will not be a signalized crosswalk like those the city recently installed at Hunter/MacNab and Caroline/Herkimer. Rather, it will be a button-activated pedestrian crossover (PXO) - the first PXO the City has installed in more than a decade.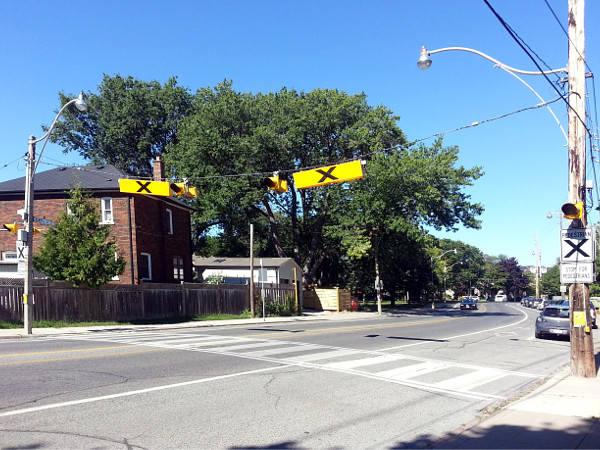 Old-style PXO at Orchard Park in Toronto (RTH file photo)
For years, the City's policy has been not to install PXOs, which are common in Toronto and other Ontario cities, citing research that they are more dangerous than crosswalks that are controlled by standard traffic signals.
According to a 2012 email from Steve Molloy, a Transportation Manager in the Public Works Department, "Toronto has been slowly eliminating their PXO's as they do not have a good safety record due to poor compliance by motorists and the false sense of security they provide to pedestrians."
Instead, the City would install signalized crosswalks, in which a pedestrian button-press would trigger a standard traffic signal to turn yellow and then red before deploying a walk signal. This design is a lot more expensive than a PXO, so the City could not afford to install as many. Before Councillors had access to their area rating capital levy to spend on crosswalks, the City installed almost no crosswalks for a decade.
In response to the poor safety record of old-style PXOs, the Ontario Government has come up with a new design that increases their visibility to motorists and makes the intent - a safe crossing for a pedestrian - more obvious.
The new design has been codified in the latest edition of the Ontario Traffic Manual, which the Ontario Government recently adopted. Book 15 [PDF] of the Manual, which covers Pedestrian Crossing Facilities, specifies several new PXO designs for different street configurations.
PXO Concept for Queen and Herkimer
According to David Ferguson, a Transportation Manager at Public Works, staff are considering installing a PXO across Queen from the west side to the island, and then two more PXOs connecting the island to the northeast corner and the southeast corner.
The crossing from the west side to the island is expected to be a Type B PXO, midblock across a two-lane, one-way street: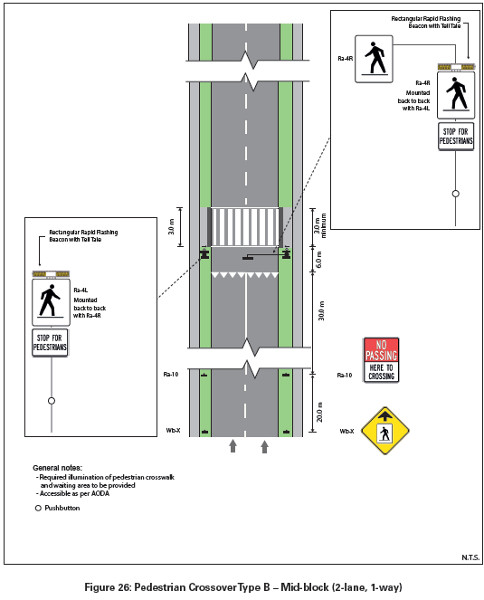 Pedestrian Crossover (PXO) Type B, midblock across a two-lane, one-way street (Image Credit: Ontario Traffic Manual, Book 15, June 2014)
The crossings from the island to the east side are expected to be Type D PXOs, turn channel from island to sidewalk: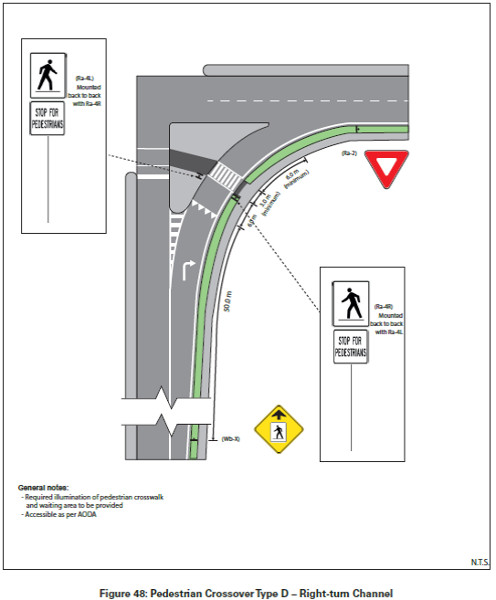 Pedestrian Crossover (PXO), Type D, turn channel (Image Credit: Ontario Traffic Manual, Book 15, June 2014)
Ferguson stresses that staff are still at the planning stage and this is currently a conceptual design that will need to be finalized before the crosswalk is installed in the new year.
He also noted that staff plan to install a PXO at Queen and Aberdeen, an intersection that also has an island and a turn channel for southbound vehicles turning right onto Aberdeen.
Staff will be presenting a Road Safety Report to the Public Works Committee in December that will include more information about the City's new PXO installation program, which will include an education component for drivers who may not be accustomed to the new PXO designs.
Desperately Needed
It is exciting to see the city move ahead with this new pedestrian crosswalk. For years, Queen Street has been a poster child for the City's destructive impulse to sacrifice urban neighbourhoods on the altar of vehicle traffic flow.
The street is three lanes wide, all one-way southbound, with very few safe places for pedestrians to cross between Main Street and Aberdeen Avenue despite high residential population densities on and around the street.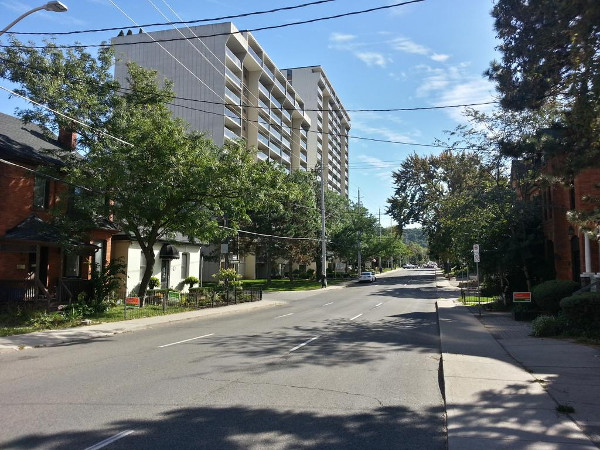 Queen Street South
The street has been plagued with serious collisions involving pedestrians who sustained serious injuries as a result.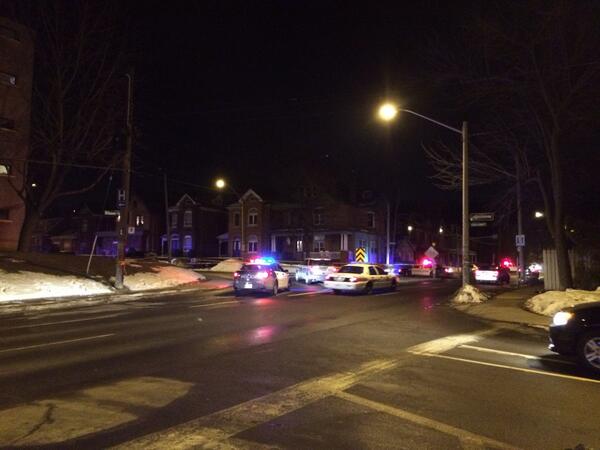 Police cruisers at the site of a collision at Queen and Herkimer, March 7, 2014 (Image Credit: Andrew Spearin)
Last year, in response to the collisions, the City conducted a safety review and identified a number of quick, easy changes that could improve the street, including painting new ladder crosswalks at key intersections and lengthening the crossing time for pedestrians at signalized crosswalks.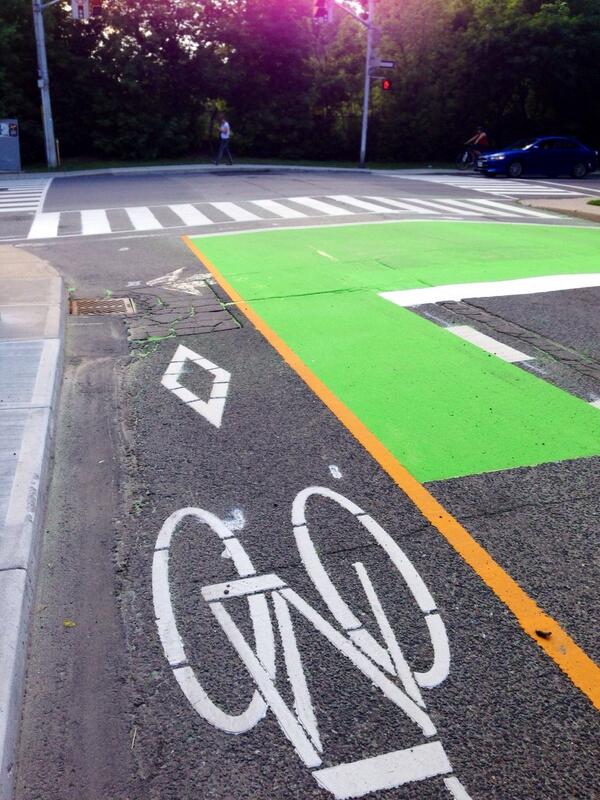 Ladder crossing at Hunter and Queen (RTH file photo)
The intersection of Queen and Herkimer is particularly unpleasant for pedestrians. Queen transitions from a three-lane, one-way street north of Herkimer to a four-lane, two-way south of Herkimer, while Herkimer west of Queen is slightly north of Herkimer east of Queen.
Both the northbound left and southbound right lanes of Queen turn into slip channels for vehicles turning east onto Herkimer, allowing drivers to make the turn without slowing down very much. A small triangular island occupies the leftover space.
The intersection is currently uncontrolled but carries a lot of pedestrian traffic. Aside from the island, which serves as a "pedestrian refuge", the crossing is difficult and feels highly unsafe.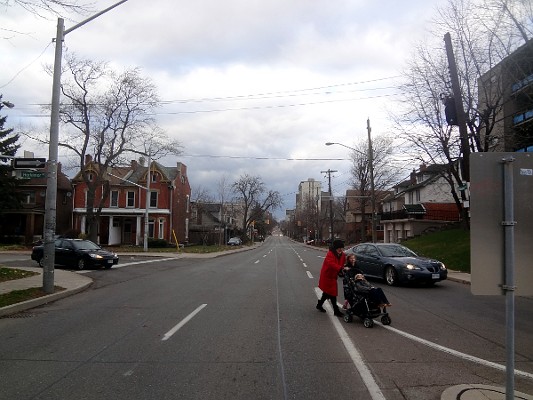 Looking north on Queen from Herkimer (RTH file photo)
For years, the City resisted installing any kind of pedestrian improvements at Queen and Herkimer, so it is very exciting to see this new initiative from Public Works. We look forward to seeing the final design and implementation early next year.
Post a Comment
You must be logged in to comment.