Future Burn at Our Future Hamilton Event
In some ways, the future is already here, but Hamilton needs to get a lot better at distributing it more evenly across our various neighbourhoods and communities.
By James Arlen
Published September 20, 2015
After an awesome orbit with Col. Chris Hadfield at Hamilton Place on Friday night, I attended the all-day Our Future Hamilton workshop session with my almost-14-year-old-daughter to try and ensure that she has a say in what Hamilton will look like when she's 39 years old.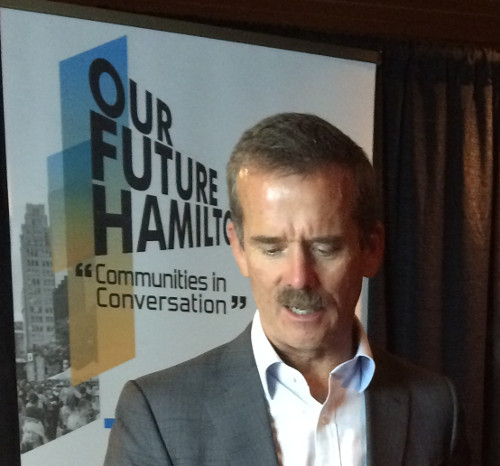 Chris Hadfield at the Our Future Hamilton event (Image Credit: Tadhg Taylor-McGreal)
She's opinionated and puts up with her Dad's lack of selfie skills.
But 2040 is a long time away - especially for a teenager living in the moment. And unfortunately for her, in many ways she lives in the future already.
William Gibson, the Canadian Science Fiction author famously said: "The future is already here, it's just not very evenly distributed."
Her world includes so many elements of the future discussed by the three speakers during the morning session that she's truly unaware of the differences between the average reality and her reality. In part because I'm a technologist by trade and a bit of a geek, our home is a toe-hold on that future.
She's accustomed to a world that includes:
Ubiquitous high-quality networking;
Only seeing commercial advertisements when you choose to;
Regular access to a makerspace with laser cutter, 3D printer, soldering, and more;
School-work and homework are entirely online;
Parents with multiple remunerated jobs, unremunerated jobs, volunteer positions, part-time students and still are busy raising a family; and
Friends and family who are geographically dispersed and yet immediately close because of video-conferencing.
During the morning sessions, she heard about a lot of those things as being future possibilities for a city like Hamilton.
She's wondering why the rest of Hamilton can't have the future now - just like her.
During the second round of speakers, the President of Mohawk College, Ron McKerlie, brought the stories of Charlie and Josh, children from Code Red neighbourhoods, and these stories resonated with her. When we moved to Hamilton, we moved to Ward 3, north of Barton, and she counts kids like these among her friends.
She spent the summer as a counsellor at the Rotary Club Summer Literacy Camp held annually at Cathy Wever Elementary school - she does her part to help these kids dream of the future.
She wants them to have her future. And she thinks that it should be something we all strive for.
I didn't have the heart to tell her that Hamilton has a tag line - "The Best Place to Raise a Child". She'd be crushed to hear that what we've got now is the best we've been able to do since she was in Jr. Kindergarten at Gibson School.
Post a Comment
You must be logged in to comment.