PARK(ing) Day Party Comes To Hamilton
Take an hour out of your work day on September 18th and enjoy the new park in a former parking space!
By Graham McNally
Published September 18, 2015
On September 18, 2015, the HBSA will be participating in the international PARK(ing) Day Party movement – a form of Tactical Urbanism - taking advantage of a new permit process implemented by the City of Hamilton to facilitate short term events in public spaces.
Recognizing that a metered parking spot is an inexpensive short-term lease for a plot of precious, underutilized urban real estate, Park(ing) Day challenges inhabitants worldwide recognize the need for new approaches to making the urban landscape, and realize that converting small segments of the automobile infrastructure - even temporarily - can alter the character of the city. From public parks to free health clinics, from art galleries to demonstration gardens, Park(ing) Day participants have claimed the metered parking space as a rich new territory for creative experimentation and activism. For more information on PARK(ing) Day see the website.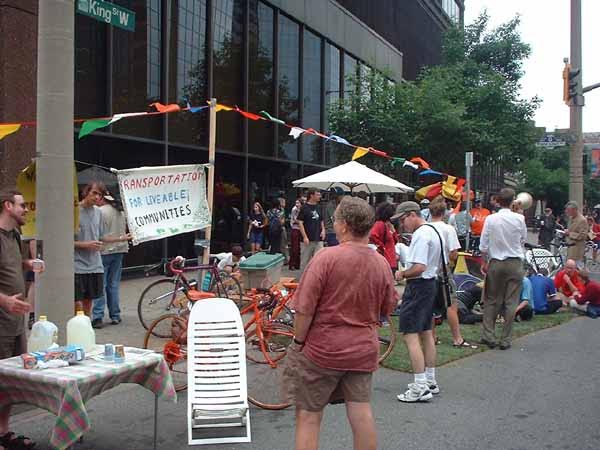 Image source: Transportation For Liveable Communities
PARK(ing) Day Parties have a history in Hamilton. In 2001, the Transportation for Livable Communities advocacy group hosted a "Meter Party". According to noted Tactical Urbanist Mike Lydon, this "Meter Party" was the first occurrence of a PARK(ing) Day party. Thanks to the wonders of the internet, we still have a record of that event and subsequent parties.
This year, the City of Hamilton created a new permit to allow PARK(ing) Day Parties. The permits (available here) were created as pilots for both the permitting process and for the events. The permits, while a very small scale pilot, is an encouraging move from the City that signals, I believe, that bureaucrats are starting to try to find ways to engage citizens and encourage and facilitate resident's involvement in our city and on our streets.
The HBSA will be utilizing two parking spaces, together, as close to the CBC on James Street as possible. Approximate address:
118 James St N
Hamilton, Ontario
Click here for a map.
So take an hour out of your work day on September 18th and enjoy the new park in a former parking space!
Post a Comment
You must be logged in to comment.