A Case for a Protected Cycle Track on Park Street in Dundas
A cycle track on Park Street would provide a crosstown cycling link through the downtown and link closely to the commercial centre on King Street.
By Ryan McGreal
Published September 10, 2015
Dundas has a vibrant cycling community, but the town is surprisingly stingy by way of actual cycling infrastructure.
Dundas has the Hamilton-Brantford Rail Trail, of course, which runs through Dundas Valley Conservation Area and connects to downtown Dundas via Old Ancaster Road and Ogilvie Street. But those streets have no cycling infrastructure on them.
Dundas also has the off-street multi-use path running beside Cootes Drive between East Street in Dundas and Main Street West in Hamilton. That path connects to McMaster University and the bike lanes on Sanders Boulevard, but it doesn't connect to any dedicated network on the Dundas side.
There's also a paved shoulder on Olympic Drive between Cootes and where it turns into York Road. Otherwise, there is no dedicated cycling infrastructure at all in Dundas proper. (Sorry, but a "signed on-street route" does not count as cycling infrastructure.)
The City's "Building the Bike Network" page cites a project to add some kind of cycling infrastructure on Highway 8 from Bond Street up the escarpment to Greensville at some point in the future. There's also mention of something planned for Hatt Street, albeit with no details.
I'd like to make a case for installing a protected two-way cycle track on Park Street.
Cycle Track on Park Street
Downtown Dundas is anchored by King Street West, an intact central commercial district framed by two- and three-storey buildings with retail uses on the main floor, sidewalks protected by curbside parking and one automobile lane in each direction.
The street is quite pedestrian-friendly (though there is definitely room for improvement), but it is not cycling-friendly at all - and it would likely be an extremely tough sell politically to trade a lane of curbside parking for a lane of cycle track.
But just a short block north, Park Street runs parallel to King from York Road to Bond Street North and would make an excellent route for a cross-town cycling route that connects easily to the commercial district on King.
I propose that the City consider installing a protected, two-way cycle track on Park Street.
Park is a wide residential street with low automobile traffic volumes. It is just 100 metres north of King Street West, and is connected to King by frequent cross-streets as well as a number of alleyways that currently provide off-street parking with walking access to King.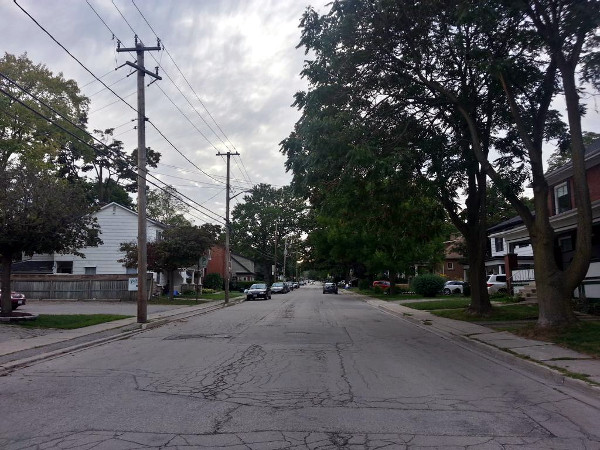 Park Street West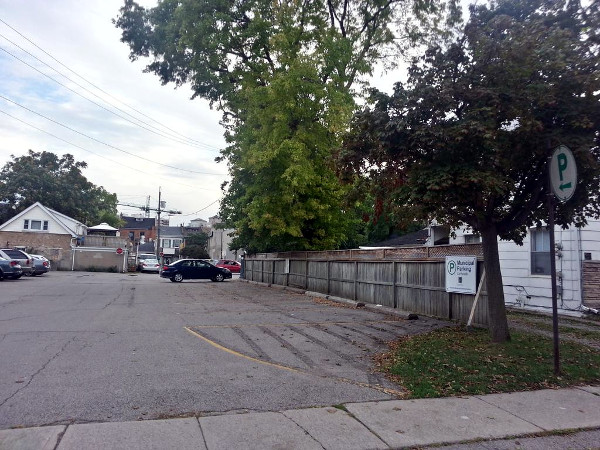 Easy access to King Street via alley and off-street municipal parking that meets King just east of Miller's Lane
By my unofficial measurements at several points along Park Street West, the street has a uniform width of approximately 33 feet (10 metres). That gives us plenty of room to work with, going curb to curb:
6 foot (1.8 m) curbside parking
9 foot (2.75 m) eastbound automobile lane
9 foot (2.75 m) westbound automobile lane
9 foot (2.75 m) protected two-way cycle track
For comparison, the protected two-way cycle track on Cannon Street is 2.8 metres wide west of Victoria (widening to 3 metres east of Victoria).
At present, there is only curbside parking on one side of Park Street, alternating between the 1st-15th of the month and the 16th to end, so the addition of a protected cycle track will not remove any existing on-street parking.

Park Street looking west from Sydenham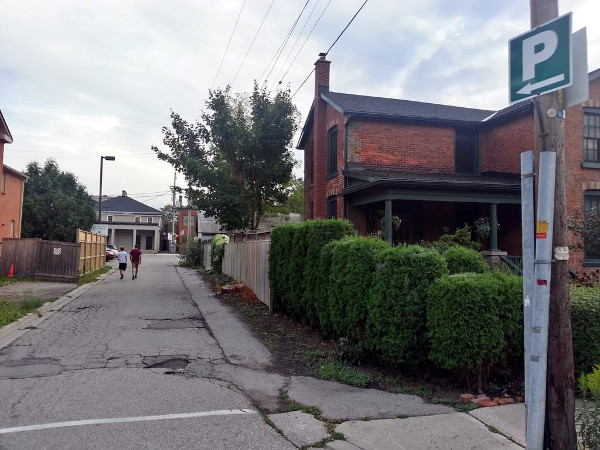 Easy access to King Street via Wilson Lane and off-street municipal parking
For a residential street with fairly low automobile traffic volume, there is abundant public space between the curbs that is just begging to be put to better use than very wide lanes that encourage dangerous speeding.
Narrowing the automobile lanes and adding a protected two-way cycle track accomplishes three goals at once: it acts to slow and calm automobile traffic by using narrower roadway as a strong psychological signal to slow down; it adds dedicated, physically protected space for cycling to encourage more bicycle trips; and it physically buffers pedestrians on both sidewalks from automobile traffic.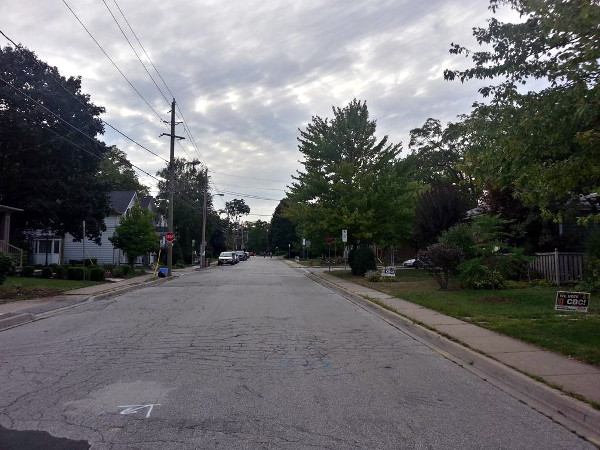 Park Street West: lots of public right-of-way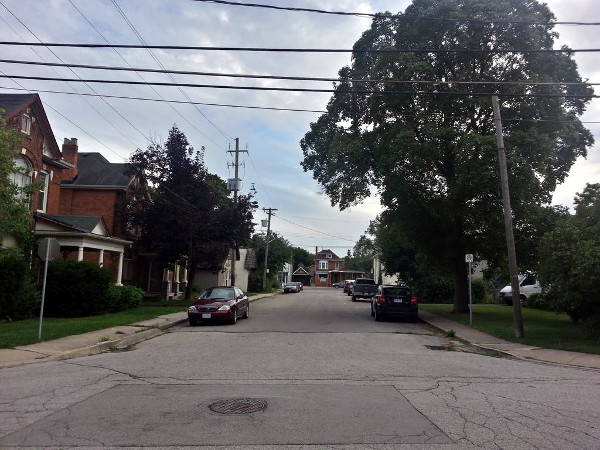 Easy access to King Street via Church Street
The total distance from York Road in the east to Bond Road in the west is 1.8 kilometres. Using the cost to install the Cannon Street for comparison, that means a maximum cost of around $350-400,000 to build a dedicated, protected cross-town cycling route through downtown Dundas.
And the actual cost is likely to be considerably lower than that, because it will not require expensive traffic signals - most intersections are currently controlled with stop signs.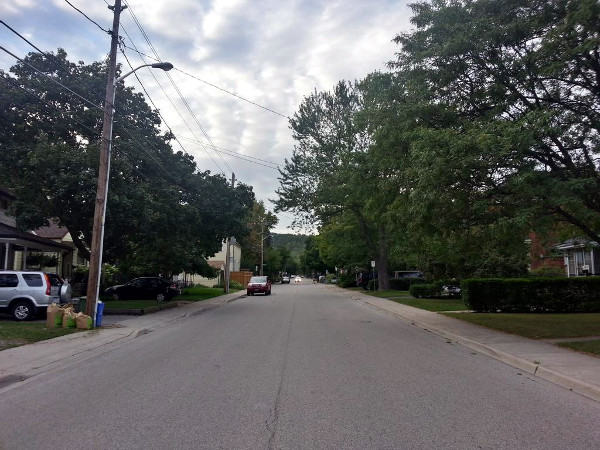 Park Street looking west from Matilda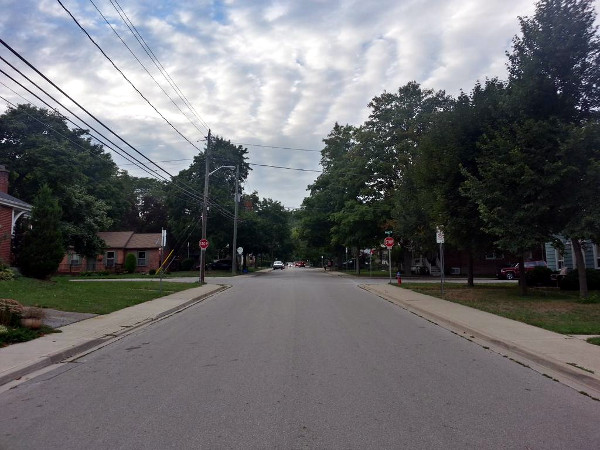 Park Street near Peel Street
Easter Connections
On the eastern end of the cycle track at York Road, there are a few options for how to connect to the Cootes Drive path. One option is a bike lane on York to the York Road Parkette and a path through the Parkette. From there, a protected cycle track on Cootes Drive could link to the multi-use path that begins at East Street.
West of York Road, King Street is one lane in each direction and the buildings adjacent to the street are urban in form. West of York Road, King switches to Cootes Drive, a very wide five-lane, highway-style road that still has a speed limit of 50 km/h until 150 metres east of East Street.
In its current state, that section of Cootes is unsafe by design. There is no good reason not to dedicate some space for a protected cycle track that connects the Park Street facility with the Cootes path.
Alternately, bike lanes could run from the Parkette along King Street East to East Street North and south to Cootes; or else south on West Street to Dundas Street and east to Cootes.
It would also be really nice to connect the Park Street cycle track to the Rail Trail with dedicated cycling infrastructure. One way to do this is a cycling route down Miller's Lane across King, west on the midblock alleyway between King and Hatt that connects to the municipal parking lot, a dedicated path through the parking lot to Creekside Drive, and on dedicated lanes up Ogilvie to Old Ancaster Road and the Rail Trail.
Alternate Route: Hatt Street
When I proposed this on twitter last night, a few people argued that Hatt Street also makes sense - and may make more sense - as an east-west cycle route through downtown Dundas. And some kind of infrastructure on Hatt Street is already mentioned in the City's list of cycling projects in the future planning stage.
I haven't taken a tour of Hatt to evaluate it for this purpose, but it certainly seems feasible from my general knowledge of the street, coupled with a look at the map.
Like Park, Hatt intersects with other streets mostly in four-way stops, with a signalized intersection at Creekside. That means the cost to install protected cycling infrastructure will also be on the low end, compared to the cost for Cannon Street.
A cycle track on Hatt would be easier to connect to the Rail Trail, but it wouldn't get cyclists as close to the Cootes multi-use path. One option would be to extend the cycling route past the soft dead end of Hatt Street to the intersection of Main Street and Dundas Street and extend east along Dundas to Cootes.
To my mind, a couple of other issues also somewhat inveigh against preferring Hatt over Park. Its route diverges away from King at both ends - it's 160 metres from King at Ogilvie and 280 metres from King at Bond. It's also a more industrial street than Park, at least on the east end, and traffic feels heavier (though this is impressionistic - I'm happy to be proven wrong with traffic data).
Since Hatt has curbside parking on both sides, it seems to make a lot more sense for protected bike lanes on that street to be parking-protected, like the lanes the City is planning to install this fall on Charlton and Herkimer Streets, rather than protected with bollards like Cannon Street.
Frankly, I'd be delighted to see the City install high-quality protected bike lanes on either Park or Hatt (ideally both!). That will require leadership from Dundas Councillor Arlene VanderBeek, who expressed support for complete streets and improving the Cycling Master Plan during her election campaign in 2014. It will also require leadership from cycling advocates in Dundas and their friends and supporters from across the city to make it happen.
Post a Comment
You must be logged in to comment.