Considerations For Alleyway Cycling Proposal
The proposal to turn the alley behind Barton Street into a cycling route must be sensitive to the ways that the alleys are currently being used.
By Liz Duval and Walter Furlan
Published September 04, 2015
This week, Kevin Love wrote an RTH article about opportunities to add cycling infrastructure on Barton Street. Thanks to Mr. Love for starting this conversation.
This area must have the highest ridership rate in the city. Many of these riders are utilitarian cyclists, rather than recreational. This corridor is also a very organic and authentic neighbourhood with significant diversity.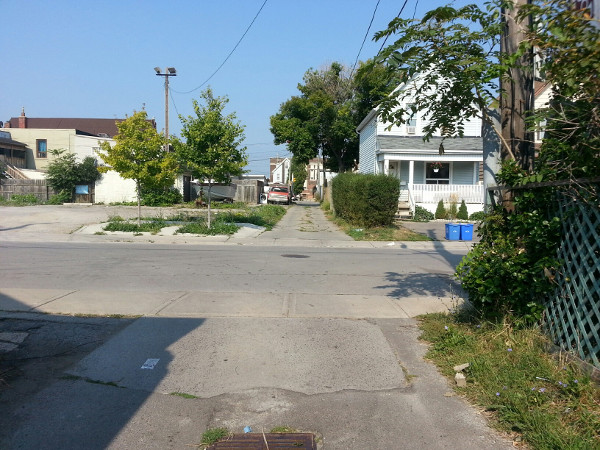 Alleyway north of Barton Street (RTH file photo)
One of the options presented is to turn the alleyway running just north of Barton between Wentworth Street and Lottridge Street into an off-street cycling route. This is an intriguing idea, but it is important to be sensitive to the ways that the alleys are currently being used.
The alleys are often an extension of residents' backyards. Many are currently maintained by hard-working volunteers. The article proposes removing vegetation to clear the alleys, but we need to consider the wonderful critters that it attracts.
For example, the wild thistle growing unnoticed behind our studio in the alley on Barton attracts bees, monarch butterflies and finches.
In addition, we need to consider that if the City repairs or replaces non-existent paving, that will remove a natural deterrent to the speeding vehicles that sometimes use these alleys as cut-throughs.
Anyone who would like to know more about the alleys on Barton is welcome to come to the monthly open house at our studio. The next one is on Friday, Sept 25 at 767-769 Barton Street East (just west of Lottridge).
Post a Comment
You must be logged in to comment.