A New Urban Agenda with Bill Freeman
With clear, no-nonsense prose and well-organized chapters, Bill Freeman's new book calls on the Greater Toronto and Hamilton Area's civic leaders to be bold and ambitious.
By Ryan McGreal
Published September 01, 2015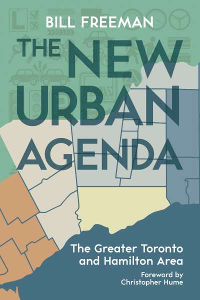 Bill Freeman has done the Greater Toronto and Hamilton Area a great service with his most recent book, The New Urban Agenda, published by Dundurn Press.
The Greater Toronto and Hamilton Area (GTHA) has become one of the largest and most diverse urban agglomerations in North America, despite a long history of fragmented regional planning and a short-sighted approach to infrastructure investment. Successive waves of urban development have produced a region divided into multiple solitudes with conflicting interests and needs: the downtown core, the older inner suburbs and the newer outer suburbs.
Rampant suburban sprawl has produced a built environment that requires enormous amounts of driving and long, grueling commutes, with all of the negative health and environmental harm that follows. Meanwhile, regressive tax policy and the lack of a coordinated housing strategy has created a crisis of income inequality that threatens the integrity of the entire region.
The Ontario Government is finally taking some belated steps to weave the GTHA together. The Greenbelt plan is an attempt to hold the line on sprawl and protect the region's remaining farm land, while the Regional Transportation Plan is an ambitious 25-year effort to play catch-up on decades of lost time building the rapid transit infrastructure the region needs to function.
The New Urban Agenda is essentially an overview of where we are, how we got here, where we need to go, and how well we are doing at getting there. Through ten well-organized chapters, it unpacks the challenges facing the GTHA: confronting the crisis of inequality; managing ongoing reductions in pollution and environmental degradation; building a robust, integrated transit system that makes effective use of public resources; tying effective planning into regional goals; and dealing with the perennial struggle to push local governments beyond their comfort zone of parochial, short-sighted politics.
Freemen's writing is clear and no-nonsense, and he infuses it with the warmth of his personal voice and his own direct experience over many decades as an engaged citizen, community activist, historian and social researcher. He eschews a one-size-fits-all appraoch, taking care to explore the diverse needs of each area within the region.
While Freeman himself is an urban progressive who lives in a close-knit community on Toronto Island, he is clear that a successful strategy for the region must address the needs of the inner and outer suburbs as well as the downtown.
Hamilton readers will enjoy the care Freeman takes to treat the city as a distinct entity within the GTHA with its own history and dynamics that interact with the larger region. Indeed, Freeman argues that Hamilton contains its own microcosm of the downtown/inner suburbs/outer suburbs organization of Toronto and its surrounding municipalities.
It is refreshing to read a book on urban policy that uses our own region: it brings the general issues home and embeds them in our own direct lived experience. This isn't a book about how to make a city more successful, it's a a book about how to make this city more successful.
Above all, Freeman calls on civic leaders to be bold and ambitious - to face the region's challenges head-on and seize the opportunities to leave a legacy of visionary policies that nudge the GTHA toward a more sustainable, more equitable and more prosperous future.
Talk in Hamilton This Saturday
Bill Freeman is coming to Hamilton this Saturday to give a free talk on his book, The New Urban Agenda.
Date: Saturday, September 05, 2015
Time: 3:00pm
Location: Westdale United Church
Address: 99 North Oval, Hamilton (Google Maps)
Contact: Bryan Prince Bookseller
Email: events@princebooks.net
Phone: (905) 528-4508
The event is organized by Bryan Prince Bookseller, Dundurn Press, the Westdale BIA, the McMaster Alumni Association, Westdale United Church and Raise the Hammer.
Post a Comment
You must be logged in to comment.