Music, Merch, and So Much More at HamiltonArtists.Ca
Its fundamental purpose is to help artists and musicians by providing materials and methods to promote and market their work.
By Shiona Mackenzie
Published August 21, 2015
A couple of years ago, the junk shop across from No Frills on Main Street East near Gage Park faded away and in its place a new store emerged, boldly declaring: "We print anything on anything"! I had to check it out.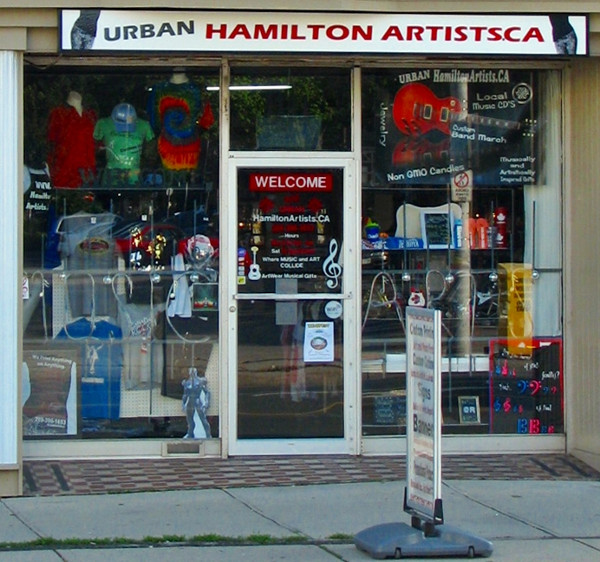 HamiltonArtists.CA storefront
HamiltonArtists.Ca is a business offering a multitude of fun, music-themed gift items like treble clef, grand piano, and violin brooches, not to mention beautiful candles and handmade, upcycled chalkboard signs created from old picture frames.
But its fundamental purpose is to help artists and musicians by providing materials and methods to promote and market their work. You can order custom CD covers, personalized t-shirts, mugs, posters, tote bags, clocks, banners, bottle openers, key rings, automotive decals, bumper stickers, car magnets, and much more - all printed here in "Hammertown".
HamiltonArtists.Ca, owned by Bob and Eva Stosic, is the vision of Maggie Ciere, a multi-talented singer-songwriter who has been performing in the Hamilton area since the tender age of 15; she now lives in the Crown Point hub.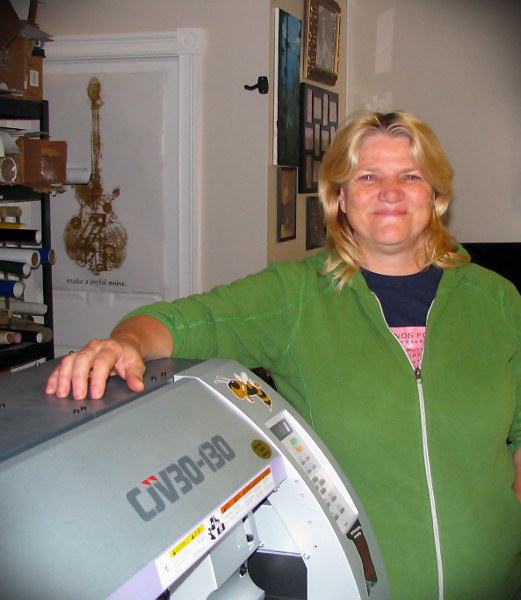 Maggie Ciere
She says the new store attracted attention from popular Hamilton-based musicians and artists and is thriving, despite quizzical looks and doubts expressed by several local entrepreneurs with whom she shared her concept before it was launched.
"Many people didn't know if there was a market for another screen, digital and sublimation printing company in Hamilton, but, as an artistic person myself, I had a strong sense of what was missing," she said.
"Musicians and artists needed a service that would print, package and deliver their merchandise, allowing them to concentrate on doing what they love most - playing music and making art."
Ginger St. James, Greater Hamilton Musician, Duane Rutter, Mississippi Bends and Diane Beatty-Wearing are among HamiltonArtists.Ca clients who have feature pages on the website, where fans can order one of their designs on a selection of products.
The system is set up to notify the artist by email when an order comes in and payment is automatically deposited in the artist's bank account. "For a small fee, it allows musicians to earn money from promotional items without having to carry inventory," Maggie explains.
At the store, you can also purchase CDs such as "Echoes of Legends" by the George Rose Big Band, "Innominate" by Social Animal, and "Shameless Subversion," a compilation produced by Kevin Barber at Boxo Studio, in support of mental health awareness.
Maggie's health limits the number of hours she can volunteer in the store helping her granddaughter, Oryanna Walsh, a singer in the Halton Regional Police Service Chorus who manages the social media and sales for HamiltonArtists.ca, but it gives her something meaningful and enjoyable to do.
"It's all hands on deck, with my nephew, Chris Ciere, who trained at Sheridan and Mohawk College, as the in-house graphic artist, and Bob Stosic taking care of signage installation and vehicle wrapping." Bob is a respected vintage car restoration expert.
HamiltonArtists.Ca also mentors Delta Secondary School co-op students who are interested in design. Here they can develop new skills and meet some enterprising and creative people who are making a difference in our city.
So, if you need something unique for somebody creative, you'll probably find it at HamiltonArtists.Ca, and if you want to see your original design come to life, pay them a visit, because they really can print anything on anything.
Address: 1141 Main Street East, Hamilton, ON
Phone: 289-396-1653
A version of this article was first published in The Point community newspaper.
Post a Comment
You must be logged in to comment.