King East Sails off a Sandbar
I look forward to the day – and it's coming soon – that King East and The International Village can shine proudly on the city like it so deserves.
By Trey Shaughnessy
Published March 18, 2006
On March 7, 2006, Hamilton made history (read issue 5 of H Magazine for other Hamilton firsts). Ontario's Attorney General seized the infamous Sandbar 'Tavern' property at 193 King Street East.
This was the first time a property was seized using the 'conspiracy' section of the Civil Remedies Act, otherwise known as the Remedies for Organized Crime and Other Unlawful Activities Act. The law enacted under Premier Mike Harris gave power to the Attorney General of Ontario to seek forfeiture of money or other property if it can be proved that the property was a proceed of "unlawful activity."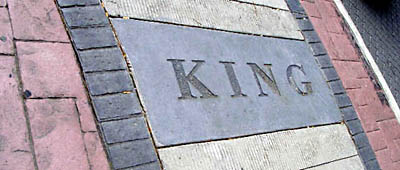 The Walkway on King Street East
A person doesn't need to be found guilty or even charged with committing a crime for the property to be seized. However, the property owner must prove to the Court that s/he did not acquire the asset(s) as a result of committing an unlawful activity. The onus of proof is then on the property owner. The law is being challenged as unconstitutional.
Although drastic, it was passed to help fight what was seen in 2001 as a looming organized crime biker war. The Satan's Choice North End clubhouse seizure was the first of its kind in Canada, alleging the property was purchased with proceeds from crime. The property of two high-ranking Hell's Angels members who lived in Hamilton are among a dozen seizures in the five-year-old law.
Although an interesting application of the law, for the merchants and patrons of King Street East's International Village district this is a huge victory. Mary Pocius, Executive Director of International Village BIA says, "Kudos to Hamilton Police Services for their efforts, and enforcing property owners to be responsible for the activities that take place at their properties."
Hamiltonians have been hearing about the Sandbar and the trouble it caused for years. It was no secret the building was a crack house. The trick now is to prove that the property owner knew it was a crack house. Then the Province can sell it and King East can get on with life.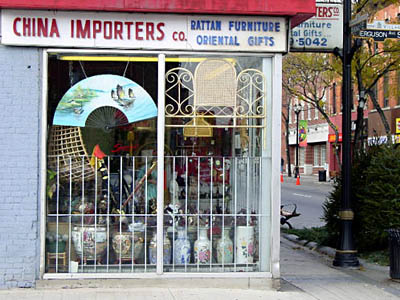 Signs in the window of China Importers (Ferguson and King) indicate a new Kitchen and Bath store is opening soon.
King East has tremendous potential to be a healthy, vibrant urban neighbourhood. In many regards it already is. Recent announcements of developments planned for King William and Fergusson and the St. Deny's building are major breakthroughs for a neighbourhood that struggles to gain recognition that LoSo, Westdale and Concession have. It is a collection of eclectic, galleries, t-shirt shops, jewelry stores, a cannabis café, restaurants, antique, vintage clothing and used shops.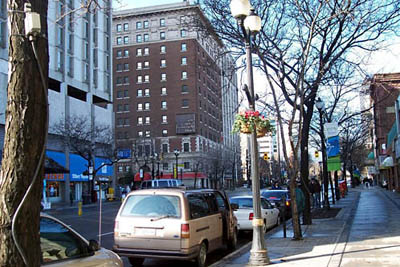 View of the Holiday Inn
However, the local residential area is one of the highest crime areas of the city, despite the Central Police Station being in the area. Indeed, the area is somewhat an enigma to me. I patronize the area and enjoy it, but at times haven't felt safe.
I talked to a shopkeeper who opened a collectables store (coins, comics, stamps) four months ago. He's a lifelong Hamiltonian and knew the area. He was robbed two months ago.
His store is clean, unique and legitimate, the kind of store that need encouragements to locate there. However, some of the "stores" are a source of the problem. So-called pawn shops are quick ways for petty thieves to fence their "goods," as well a quick way to sell what meager possessions a crack addict may have to feed their habit. When the possessions are gone, their body is only thing left to sell, often performed not far from the source of crack cocaine.
I am haunted by an experience I had at one of these stores. A certain used goods store was recommended to me as I was waiting to purchase a video game controller for my son's discontinued Nintendo. The store seemed to be a warehouse of everything that was stolen from a B&E in Hamilton for the last five years.
A girl not more than 15 years old held up a tiny ring. She was obviously a street person, although she was trying to give every impression that she wasn't. She should have been in school, laughing with friends and talking about boys, but her childlike face had an empty gaze of experiences she shouldn't know.
The shopkeeper looked at the ring for a second and said, "a loonie." She mumbled something quietly and after a few more exchanges she walked away with a toonie. A toonie! I shuttered to think why she needed a toonie or what she would do for ten toonies.
These pawnshops have strict guidelines under which they are supposed to operate. The shopkeeper is required to record names and addresses, have identification produced and most importantly they are not supposed to give money right away.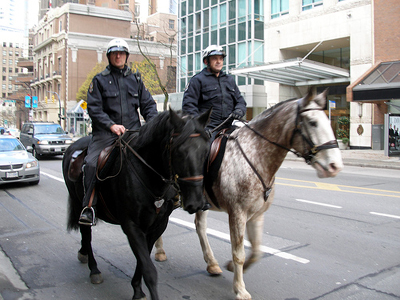 Vancouver Police on patrol. Photo source: http://www.flickr.com/photos/91994044@N00/
After leaving the store, I recalled a conversation I had with a Buffalo beat cop many years ago. He was an old fashioned Irish cop who swung a well-dented night stick with circus-like precision. He was the kind of cop you'd want walking on your street at night.
After a few moments of talking it was obvious to me that he enjoyed walking the beat. I was so very intrigued as to why he did this type of police work. He told me very simply, "Sometimes it's the only thing that works."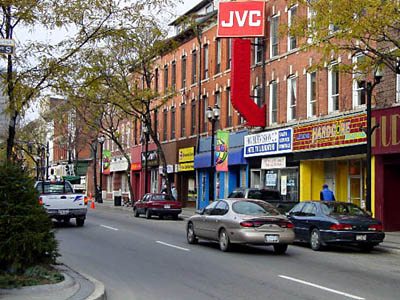 View of the Holiday Inn
King East and International Village is an old urban neighbourhood, built around walking. There are alleys, back laneways, frequent side streets and second and third floor apartments over the street front retail. It is a very different experience from walking along King East and from driving 45km/h on King East.
The only effective method to police such a neighbourhood is by foot patrols. Mary Pocius notes that as of March new officers will be on foot and bicycle, this is an increase to the existing foot patrols in the area.
The police presence will go a long way in demonstrating that the city supports the area. It demonstrates to patrons and residents that the city cares about their personal safety. It demonstrates to investors and shopkeepers that the city cares about the economic viability of the area. The visibility of the police will show criminals that they are not wanted there. I look forward to the day – and it's coming soon – that King East and The International Village can shine proudly on the city like it so deserves.
For more information, visit the website of the International Village BIA: http://www.hamiltoninternationalvillage.ca/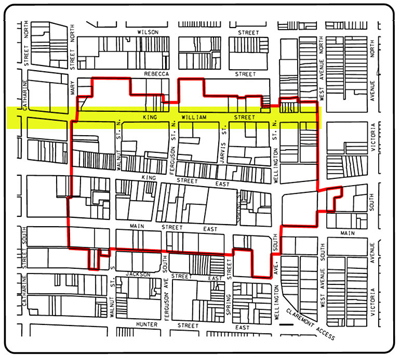 International Village BIA (click on the map to pop up a larger version)
Post a Comment
You must be logged in to comment.