Taking Hamilton's Cycling Network to the Next Level
The City of Hamilton is currently reviewing the Cycling Master Plan as part of its Transportation Master Plan review. Here are my two cents.
By Jason Leach
Published July 29, 2015
First off, I want to mention how exciting it's been to see the success of the Cannon Street Cycle Track and Hamilton Bike Share. We should be making a huge deal about how well our bike share has already done compared with other bike-shares, notably Toronto.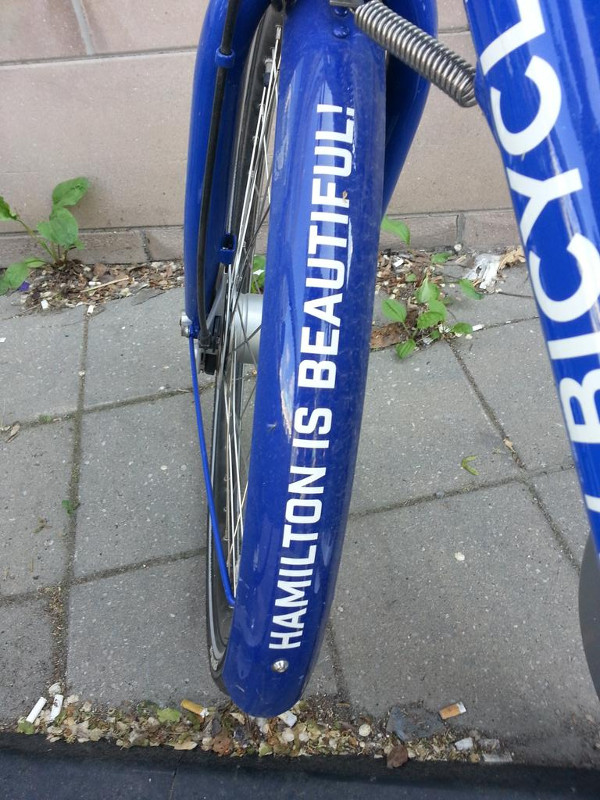 Hamilton Bike Share bike: HAMILTON IS BEAUTIFUL!
Add Bike Lanes
I believe there is great momentum in the cycling arena and it would be a shame to see no new bike lanes added in 2015. Here are some suggestions for easy, low-hanging fruit that we could grab in 2015:
Install parking-protected bike lanes on Herkimer and Charlton, as requested by the neighbourhoods. Parking-protected bike lanes are among the safest in the world. The evidence is clear on this. Copenhagen, Montreal and every other city on the World's Top 20 cycling cities have grown ridership with these lanes city-wide.

Install a bike lane on Locke from Hunter to King. This has been delayed far too long and could be done overnight. Parking could remain from Hunter to Main and the stretch from Main to King is very easy.
Wayfinding
We need much clearer signage city-wide. Here is a simple example that is used all over the world: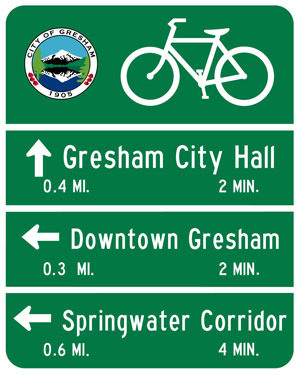 Bicycle wayfinding sign (Image Credit: City of Gresham, Oregon)
We need to design and label our network as though we are riding a bike for the first time or are tourists.
This also applies to our multi-use paths. Some are more suited to leave as simple black asphalt with basic signage as shown above. Others, such as the new ones on Longwood/Aberdeen and on the side of York Boulevard, need markings on the road and signage on the route making it ultra clear that it is part of the network:

Multi-use path pavement markings (Image Credit: American Trails)
Linkages
We need to do better at linking our bike lanes - especially through intersections, where the bike lanes tend to disappear. One example of a bike lane link that should be improved is the corner of York and Dundurn.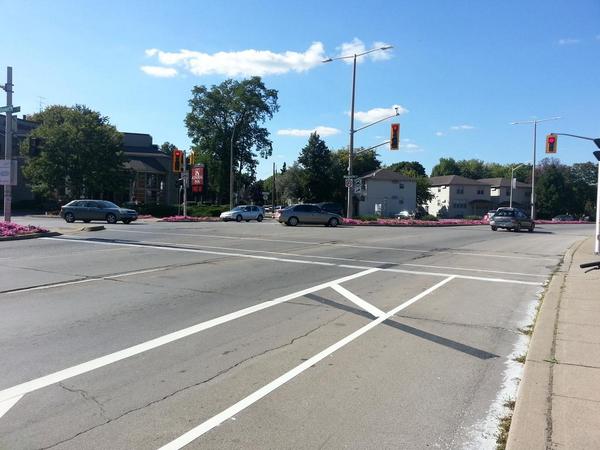 Bike lane on York at Dundurn: no obvious way to turn left (RTH file photo)
There is ample space in all directions for the bike lanes to connect on these streets. Simply ending bike lanes before corners is dangerous and creates a huge gap in the network. It is a major barrier to new cyclists.
Neighbourhood Greenways
The evidence from other cities shows huge uptake from riders on these stress-free, low speed limit, speed-humped routes. RTH editor Ryan McGreal and I drafted up a proposed network for Hamilton: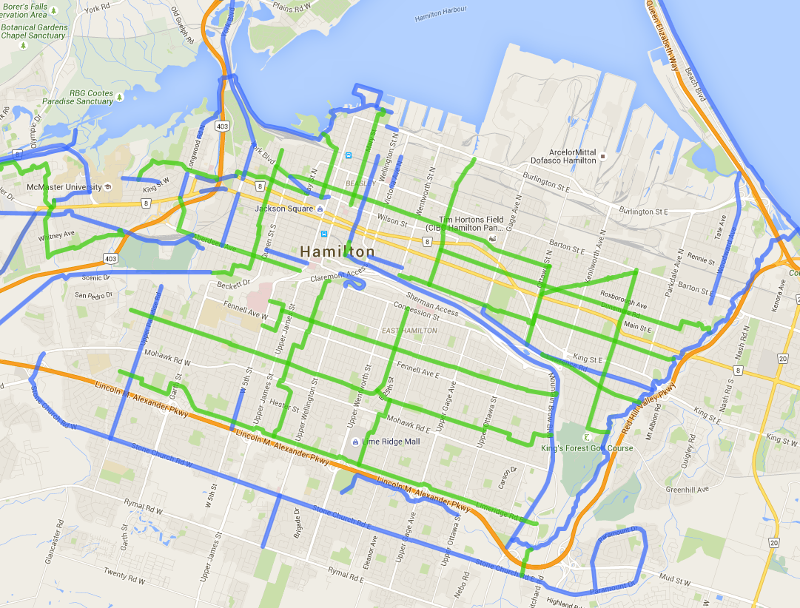 Map of proposed neighbourhood greenways
The City of Portland defines neighbourhood greenways as "streets with low traffic volume and speed where bicycles, pedestrians and neighbors are given priority." over through traffic.
They're designed so it's easy to walk or bike down the street but hard to cut through in a car. Speed humps slow traffic, diverters stop drivers from "rat-running" through the neighbourhood, and safe crossings allow pedestrians and cyclists to get across busy cross streets.

Neighbourhood greenway in Portland (Image Credit: City of Portland)
Neighbourhood greenways are great because they not only make the street better for walking and cycling, but also make it safer and more pleasant for people who live on the street.
Hydro Corridor Development
We literally have a 'ring corridor' around and through the east/west ends of the city. I realize Hydro companies initially say 'no' when approached by cities, but we need to push the way Toronto has to take advantage of these great routes: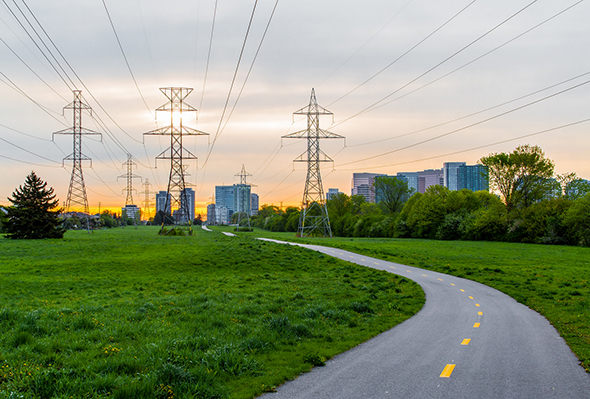 Cycle track on Hydro corridor in Toronto (Image Credit: BlogTO)
Here is an initial map I did up, but I've since learned of more corridors: through the Cootes-Escarpment Eco Park for example, and across various rural areas.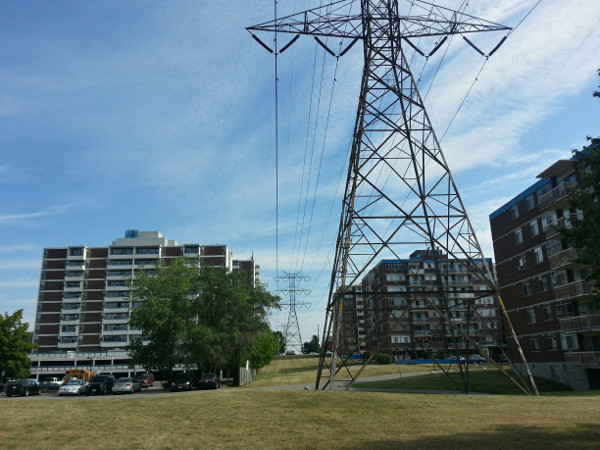 Hydro corridor crossing Lawrence Road in east Hamilton (RTH file photo)
Connecting these pathways to the city network would be a dramatic improvement in our cycling network.
Protected Bike Lanes
When City streets are being reconstructed, bike lanes should be built at the sidewalk level, not the street level. Otherwise, they should be physically protected with bollards, curbs or parallel parking as a standard practice. We know that protected bike lanes get a lot more people riding bikes in a way that painted lanes just don't.
Here are some great routes for protected cycle tracks:
Queen Street two-way cycle track from Aberdeen to Stuart
Stuart from Queen to Bay
Bay Street bike lanes from the harbour to the escarpment with two-way conversion
York Blvd: there is ample space to paint a westbound bike lane from Bay to Hess.
Hess: two-way bike lanes from King to Stuart
Wilson: left turn lanes aren't needed from James to Wellington. Removing them provides two eastbound car lanes, one westbound car lane and bike lanes in both directions
Catharine: two-way bike lanes
Charlton: space exists for bike lanes from James to Wentworth
Wentworth: two-way bike lanes along its length
Sherman: two-way bike lanes
SanfoRoad: two-way bike lanes
Cannon/Britannia: two-way bike lanes from Sherman to Red Hill Trail
King: massive width of the curb lane and unnecessary 5th lane west of Locke allow for a one-way bike lane from John to Dundurn
Paradise Road: two-way bike path from Main to King
Main: extend protected two-way bike path to Paradise and Dundurn
Hatt Street in Dundas
Sydenham Road in Dundas
Ogilvie in Dundas
Hwy 8 from King Street to Niagara
King Street from Hwy 8 to the Delta
Dundurn: Main to King
Queen Street hill: narrow traffic lanes, remove centre yellow wasted space and create up-bound walking/bike path
West 5th hill: narrow lanes to create up-bound walking/cycling path
Claremont Access: walking/cycling path on northern lane from Fennell Avenue to Hunter Street
Claremont Access: walking/cycling path on southern lane from Inverness to Charlton
Bike stairs constructed from Ferguson to Sam Lawrence Park as previously approved in the Ferguson Avenue master plan
A couple of gondolas or bike lifts crossing the escarpment
Reconstruct the popular Wentworth stairs to be more bike-friendly with a stair gutter
Button-activated stoplight on the Wentworth Stairs crossing the Sherman Cut
Mountain Brow bike path from Albion Falls all the way to the Hydro Corridor on Scenic Drive: south side of Upper Kenilworth traffic circle can house a bike path, and St Joes/Fennell Avenue can link Sam Lawrence Park neighbourhood to Scenic Drive
Limeridge Road protected bike lanes throughout
Fennell Avenue w/ road diet
Rymal Road
Upper Sherman entire length
Victoria-Wellington: two-way cycle tracks on their entire lengths.
Hughson Street. Call this the GO station route. From Hunter GO to LIUNA station
We should also be providing this on all north-south mountain arterials that don't have a Lincoln Alexander Parkway interchange.
Another opportunity lies in adding off-street multi-use paths on every large institutional/retail property or city park where appropriate. Examples:
McMaster grassy area from Cootes Drive signal all the way east to Dalewood Recreation Centre
Mohawk College/Hillfield Strathallan/St Joes Hospital from top of Mountain Access on West 5th to the southern edge of Hillfield property on Garth
Centre Mall/Limeridge Mall/Eastgate
I feel these streets are well suited for such facilities. All of these types of bike facilities would launch us into a top cycling city, along with completion of the rural cycling path network.
Post a Comment
You must be logged in to comment.