This is What a Feminist Looks Like
There has always been a segment of the male population that has openly supported and promoted gender equity. What's needed now is wholesale buy-in.
By Doreen Nicoll
Published May 27, 2015
Feminism is the belief that men and women should have equal rights and opportunities. A feminist is any person who supports feminism. In other words, feminists believe that women's rights are human rights.
I'd like to start by thanking for a few of the Canadian feminists who helped make life for women and girls more equitable:
Nellie McClung, The Famous Five, Agnes Macphail, Cairine Wilson, Rosemary Brown, Doris Anderson, Michele Landsberg, Buffy Sainte-Marie, Stephen Lewis, Henry Morgentaler, Jack Layton, Adrienne Clarkson, Naomi Klein, Maureen McTeer, Olivia Chow, Elizabeth May, Emily Carr, The Women of Beaver Hall, Lawrence Hill, Sheila Copps, Deepa Mehta, Margaret Atwood, Jean Augustine, Maude Barlow, Judy Rebick.
Canadian women have been working for gender equality for a very long time. There has always been a segment of the male population that has openly supported and promoted gender equity. What's needed now is wholesale buy-in.
Let's be clear from the outset, Canadian women live in a culture of rape. Women and girls make up the majority of sexual assault and rape victims. Men overwhelmingly are the perpetrators. The lived experience of women and girls makes them the experts.
Men need to play a supporting role. The men who work and volunteer with The White Ribbon Campaign are wonderful allies. They understand the importance of helping women move society from the destructive patriarchal model that we currently have to an equitable model that is inclusive and supportive of all marginalized groups.
This organization started in Toronto 24 years ago and has grown to one of the largest worldwide movements of men, and boys, working to end gendered violence by promoting gender equity, healthy relationships and "a new vision of masculinity."
Support groups like Toronto based Abuse: Survival Stories, bring women and men together to share stories of survival. Workshops create a safe space where participants can share their original music, spoken word, poetry, one person plays, and speeches.
Reesee Zigga Zagga, creator of Abuse: Survival Stories, has also launched a weekly radio program: I Reclaim My Voice! on VoiceAmerica.com. A recent show included interviews with two male allies. Jeff Perera from White Ribbon Camapign Toronto discussed men's role in ending violence against women.
Glen Canning, father of Rehtaeh Parsons, spoke about the role he played in his daughter's life as well as his current role of advocate for victims of sexual violence and cyber bullying. It's well worth listening to this hour-long program.
Street harassment, another form of assault that has been normalized, is in fact stalking which is a crime. Hollaback! provides a forum for women who have experienced street harassment to share their stories so that they know:
They're not alone
Harassment is a way men exert power and control over women
That most cities have "hotspots" usually found in high pedestrian traffic areas
Men have a role to play in ending street harassment. If you're with a friend who hollers at a woman, tell him it's not cool. If you're a bystander, assess the situation and speak up if you feel safe. Ask the woman if she's alright or if she needs help. Call 911 if you feel the situation warrants it. Take a photo of the abuser with your cell phone to show to officials.
If you have a young kids with you, make this a teachable moment. Tell boys and young men why it's unacceptable to treat women in this fashion. Teach girls and young women that this is abuse and that no women should ever be treated this way when they go out in public. It's time to start teaching our children and youth that women and girls deserve respect and equality.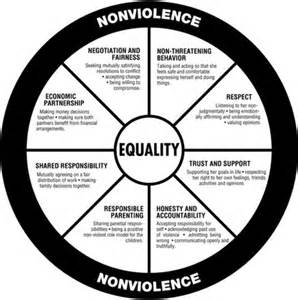 Post a Comment
You must be logged in to comment.