Magnificent Magnolias and other Beautiful Blooms
These flowers are here for a good time, not a long time, so you need to hurry if you want a chance to appreciate them in person.
By Ryan McGreal
Published May 07, 2015
After a hard, frigid winter, spring has definitely arrived in Hamilton. The weather is beautiful, with sunny days and temperatures from the high teens to the high twenties. The snowdrops have released their petals and the tulips are opening. Grim, brown patches of grass are teeming with new growth and the city's flower trees are in spectacular bloom.
Perhaps the most splendid of these are the magnolias, a family of ancient flowering trees that predate bee pollination. The trees are architecturally interesting year-round, but they really shine in spring during their brief but brilliant spring blossom.
These flowers are here for a good time, not a long time, so you need to hurry if you want a chance to appreciate them in person. Here are just a few I've been able to photograph during my daily walks in the neighbourhood.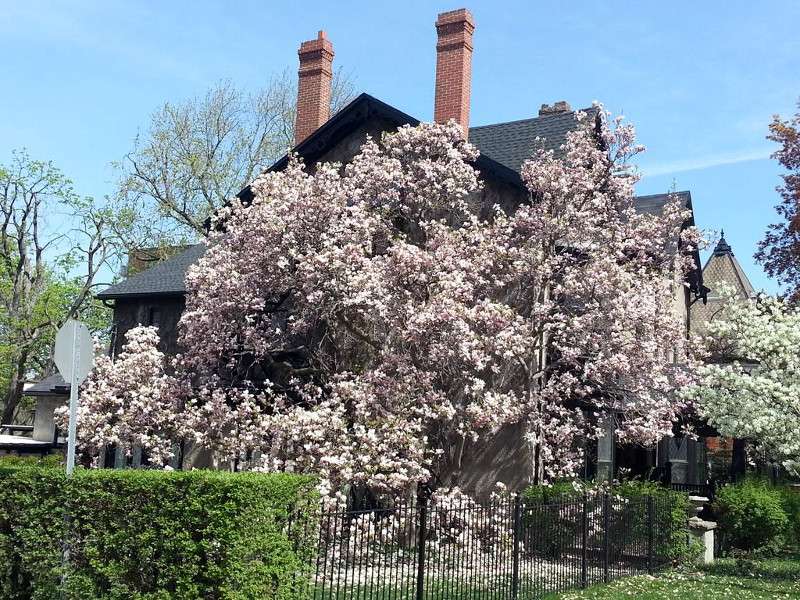 Magnolia at Bay and Markland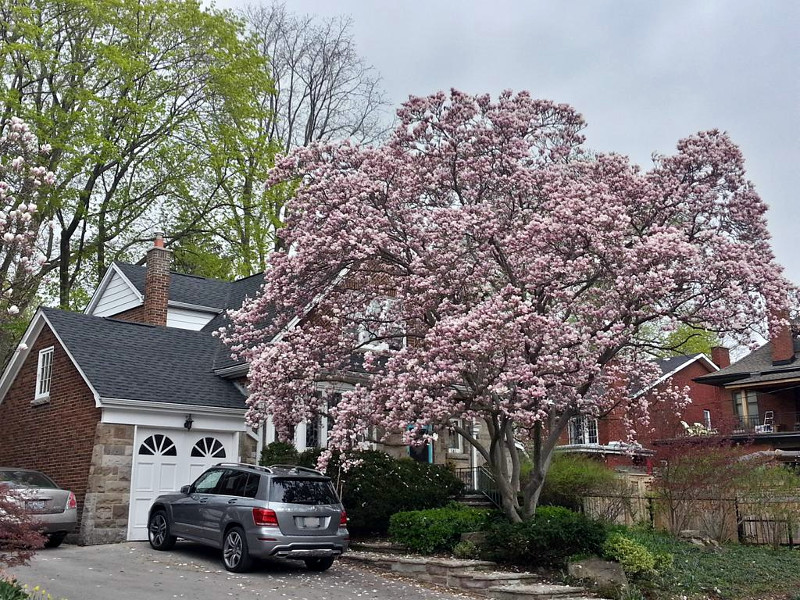 Magnolia on Glenfern near Mountain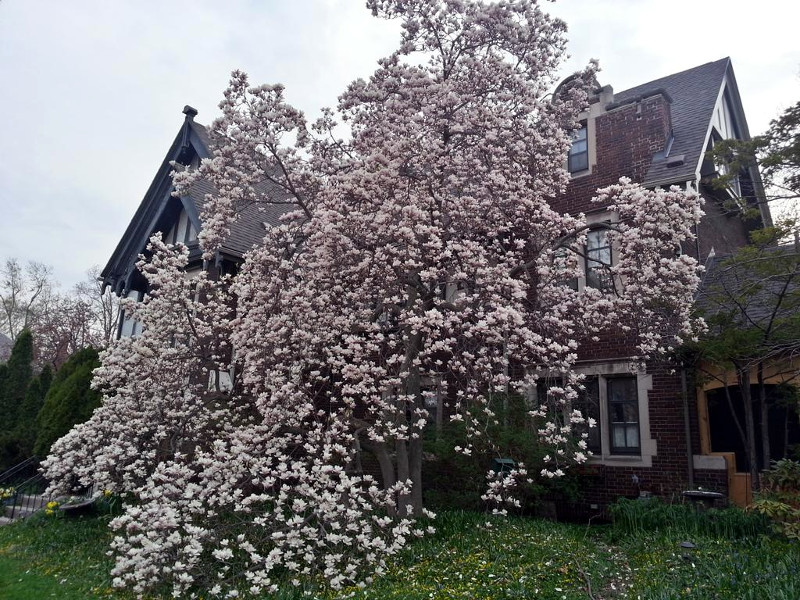 Magnolia on Kent near Herkimer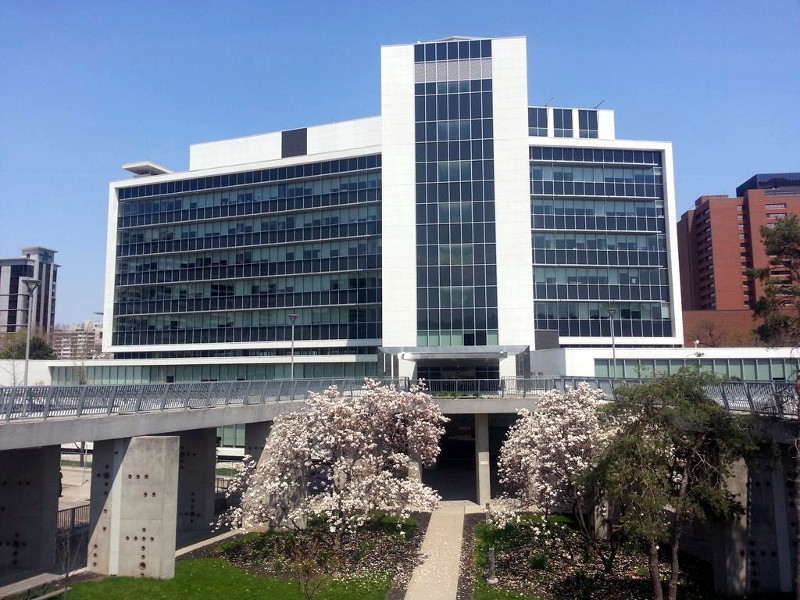 Magnolias behind City Hall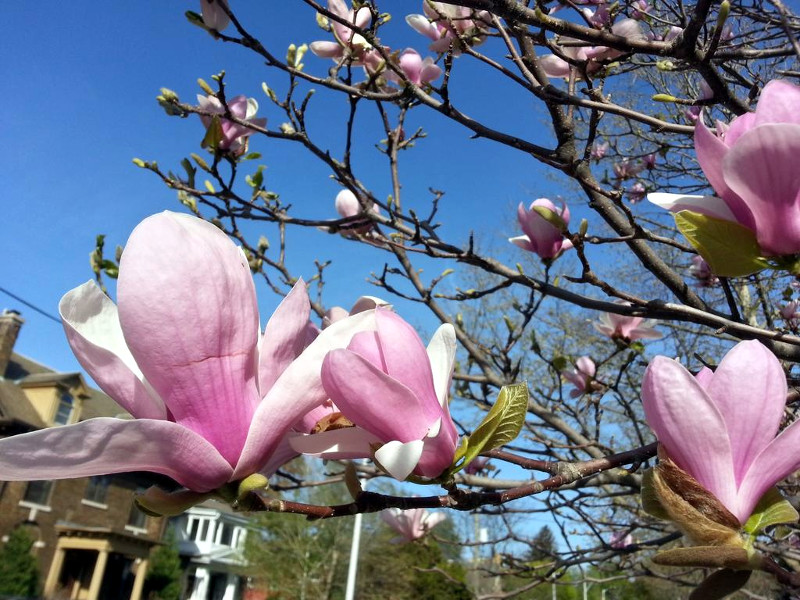 Magnolia blossoms on Homewood near Locke
Sakura and other Blossoms
In 2002, the Consulate General of Japan contacted the City of Hamilton with an offer to donate a number of sakura as a gesture of goodwill between Japan and Canada.
Sakura are the iconic Japanese ornamental cherry trees that blossom so beautifully in the spring, allowing for the annual tradition of Sakura Hanami, or cherry blossom viewing. The sakura is the national flower of Japan.
The Japanese Sakura Project donated 3,000 trees in total to a number of Ontario cities as an ongoing symbol of friendship, cultural exchange and goodwill between the two countries.
Perhaps the most famous Canadian sakura are the tall, mature trees in Toronto's High Park. The first tree was planted in 1959, with another 34 donated in 2001.
Trees were also planted at Queen's University in Kingston, where Prince Takamado of Japan attended as a student between 1978 and 1981, as well as Brock University in St Catharines, York University in Toronto, Exhibition Place, and the cities of Brampton and Oakville.
Hamilton is a partner city with the Japanese city of Fukuyama, in Hiroshima Prefecture. In 2002, two rows of sakura were planted in Hamilton along the walkway from Bay Street into Bayfront Park. (Another ten trees were planted at T. B. McQuesten Park on Upper Wentworth just south of the Linc.)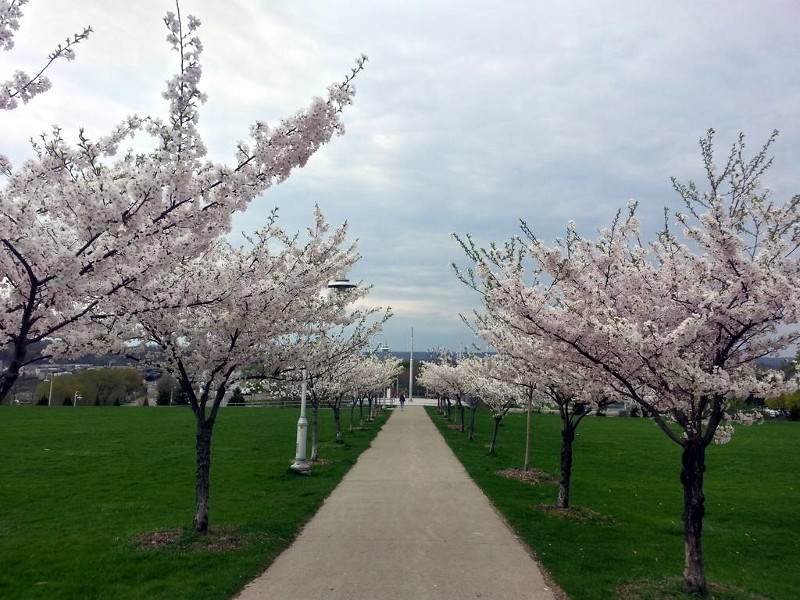 Blooming sakura at Bayfront Park
The sakura are truly a gift that keeps on giving, as the trees bloom afresh each spring to signal new life and remind us of our common humanity.
And throughout the city, other cherry trees and ornamental flower trees are in bloom as well: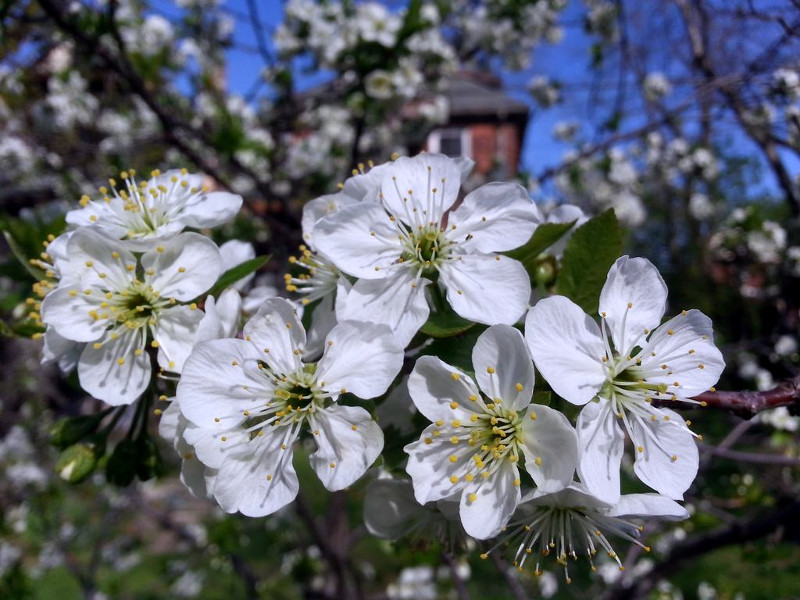 Blooming cherry tree
It's all happening right now, and it will be over before you know - so get outside and enjoy the best that spring has to offer in Hamilton.
Post a Comment
You must be logged in to comment.