An Evening With Waterloo Regional Chair Ken Seiling on City Building and Transportation Investment
Seiling will be in Hamilton to discuss how Waterloo Region is using LRT to help shape future growth more affordably and sustainably.
By Ryan McGreal
Published February 25, 2015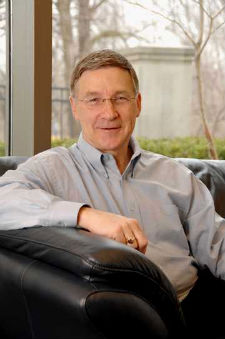 Ken Seiling
Ken Seiling, Chair of the Region of Waterloo, will be in Hamilton next Tuesday evening to discuss city building and transportation investment.
Date: Tuesday, March 03, 2015
Time: 7:00 PM - 9:00 PM (Doors Open at 6:30 PM)
Location: Mills Hardware
Address: 95 King St E, Hamilton, ON (Google Maps)
Contact: Useful Knowledge Society of Hamilton
The evening will feature a 20-25 minute talk by Seiling on why Waterloo Region chose LRT as the anchor for its growth plan, followed by a moderated panel discussion and Q&A.
Some of the topics to be addressed include:
What transportation choices are currently available to municipalities?

Does Hamilton share similar problems as those identified by Waterloo? Does this call for a similar solution?

What other transportation options are available to us?
The evening will also be an opportunity for Hamiltonians from across the city to connect and discuss how to start building a coalition of the willing for an infrastructure project, large or small, that crosses multiple neighbourhoods and whose benefits may not be directly enjoyed by all.
Waterloo LRT
Waterloo Region is currently building an $818 million light rail transit (LRT) system, which was approved in 2011 with the capital cost split between the Federal, Provincial and Municipal governments.
Waterloo is investing in LRT - $253 million, or 31 percent of the capital cost - because its planning department calculated that the Region cannot afford not to make the investment.
LRT will allow Waterloo to concentrate new high-quality development around the line, increasing the productivity of the region's existing municipal infrastructure and reducing the need to build expensive new suburban roads.
The LRT project is already attracting new private investments around the line from developers focused on urban intensification:
Perimeter [Development Corp] will have invested about $70 million in the Breithaupt Block on King Street when the project is complete.

"We've been very urban-focused for some time and a project like this just adds to that," said Craig Beattie, a founding partner of Perimeter. "Some of the decisions that we've made in terms of acquisition of projects and properties have been fuelled by the positives that we see of the LRT up and down the line."

Tax assessment for the region will increase to about $1.1 million annually from $136,000 for the property.

Zehr Group will invest about $100 million on a planned project at 607 King St.

Don Zehr, chief executive officer of Zehr Group, said urban living is catching on locally and LRT has helped drive that.

"I don't want to say it's all because of LRT but it's the thing that pushed it over the top," Zehr said. "It just kept snowballing - it's pretty incredible, we're a very fortunate community."
Seiling supports the LRT plan, backed by the Region's Planning Department and business and community groups, including the Tri-Cities Transport Action Group (TriTAG) advocacy organization.
Difficult Re-Election Campaign
Seiling has been the Waterloo Regional Chair since 1985, but his re-election campaign in the 2014 municipal race was the most difficult in many years.
Local business owner Jay Aissa, head of the "Coalition Stop Waterloo LRT", ran against Seiling on an aggressive "time for change" campaign that argued LRT is expensive and unnecessary and represents poor value for taxpayers.
Aissa wanted to cancel the LRT plan and invest in bus rapid transit instead.
He maintained that the election would be a referendum on LRT, but Seiling won re-election handily with 63,885 votes, compared to 25,615 for Aissa.
The LRT project survived the vote and is going ahead. It is scheduled to open in 2017.
A Lot in Common
The City of Hamilton and the Region of Waterloo have a lot in common.
Hamilton is an amalgamated municipal government that encompasses the former City of Hamilton and the towns of Ancaster, Dundas, Flamborough, Glanbrook and Stoney Creek.
Waterloo Region is a regional municipal government that encompasses the cities of Cambridge, Kitchener and Waterloo and the townships of Wellesley, Woolwich, Wilmot and North Dumfries.
In 2000, Waterloo Region amalgamated its regional transit system under Grand River Transit. In 2001, Hamilton was amalgamated for municipal governance and services, including transit.
The similarities are uncanny even when you drill down into the detailed numbers.
Population, Area, Ridership, Hamilton and Waterloo

| | Hamilton | Waterloo |
| --- | --- | --- |
| Population (2011) | 520,000 | 507,096 |
| Area | 1,117 | 1,369 |
| Urban Area | 231 | 202 |
| Total Annual Ridership | 21,000,000 | 22,000,000 |
| Daily Ridership - LRT Corridor | 20,000 | 20,000 |
| Bus Fleet | 221 | 251 |
| Total Service Hours | 650,000 | 640,000 |
| LRT Capital Cost | $811 million | $818 million |
Both municipalities have multiple historic downtowns, relatively dispersed populations and large rural areas. Both municipalities are planning how to grow over the next 25 years.
Both municipalities struggle with the question of how to accommodate growth in an affordable manner. Both have adopted policies to encourage intensification within the existing urban boundary.
Both municipalities have LRT plans on the books to help achieve that goal. But one municipality is going ahead and the other is stuck in limbo.
Planning Leadership
One big difference between the two municipalities is that in Waterloo, the planners are strongly in support of the City's LRT plan.
Craig Dyer, Chief Financial Officer for Waterloo Region, wrote an op-ed in the Waterloo Region Record last September to explain that Waterloo can afford to borrow the money it is contributing to the LRT project: "Big projects are best undertaken when interest rates are low."
In Hamilton, the Planning Department has not been actively involved in LRT planning since undertaking a land use study for the B-Line corridor a few years ago.
Likewise, the Public Works Department, which undertook the LRT engineering and design process, fell silent on the file right after publishing its Rapid Ready LRT plan two years ago.
After Rapid Ready was published, the Rapid Transit office was quickly disbanded and its project manager, Justin Readman, left Hamilton to head up Waterloo's LRT construction project.
Hamilton City Council unanimously approved the LRT plan in February 2013. But since then, several councillors have publicly expressed misgivings about it, even though none of the reasons to support it have changed.
In fact, the Province just recently reaffirmed that it will pay 100 percent of the capital cost for Hamilton's rapid transit system once Hamilton makes a final decision.
Current Mayor Fred Eisenberger was elected on a promise to estbalish a Citizens Forum on Rapid Transit, composed of a random cross-section of Hamiltonians, which will review the studies and reports and make a recommendation to Council.
Useful Knowledge Society of Hamilton
The event in Hamilton with Ken Seiling is hosted by Mills Hardware and organized by the Useful Knowledge Society of Hamilton: a new community organization inspired by the Enlightenment-era intellectual movement of the same name, which had the goal of collecting, compiling and sharing useful knowlege - practical, evidence-based information that people could apply in their own lives and communities.
This evening will be the first in a series that explores what Hamilton can learn from other communities, and what we in Hamilton can learn from each other.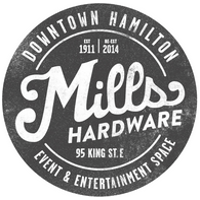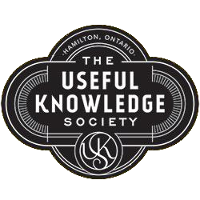 Post a Comment
You must be logged in to comment.